American Capital Agency Corp. (NASDAQ:AGNC) is finally getting some much needed love. After posting a standout Q1 2014, the stock is once again seeing its share price tick higher. It is easy to see why investors are buying. American Capital's book value is growing while its dividend of $0.65 per quarter is well covered short-term, good for a 11% yield. In addition, American Capital's $400 million gamble on buying equity in its mREIT peers paid off handsomely, with at least a 12% gain.
Greenlight Capital initiates a position in American Capital
On May 21 it was revealed via an SEC Form 13F that Greenlight Capital had acquired over 5.24 million American Capital shares. Below are the details of the sizes for the three reported transactions, the amounts paid, and the prices per share:
3,377,208 shares for $72.576 million ($21.49 per share)
752,900 shares for $16.180 million ($21.49 per share)
1,108,200 shares for $23.815 million ($21.49 per share)
As shown, Greenlight acquired the 5.24 million American Capital for around $112.5 million in three lots at roughly $21.49 per share. At current prices, Greenlight's stake is already worth over $122 million, good for a 8.7%, or $10 million, gain.
What does this investment mean?
While this is one of Greenlight's smaller investments, it may signal a shift in market sentiment regarding mREITs. In 2013, stocks such as American Capital were poor investments as interest rates rose and book values declined. However, so far in 2014, mREITs have staged a recovery, with many up well nearly 20%, including American Capital, Annaly Capital (NYSE:NLY), and CYS Investments (NYSE:CYS). While mREIT ETFs Market Vectors Mortgage REIT ETF (NYSEARCA:MORT) and UBS E-TRACS Monthly Pay 2x Mortgage REIT ETN (NYSEARCA:MORL) are also up nicely.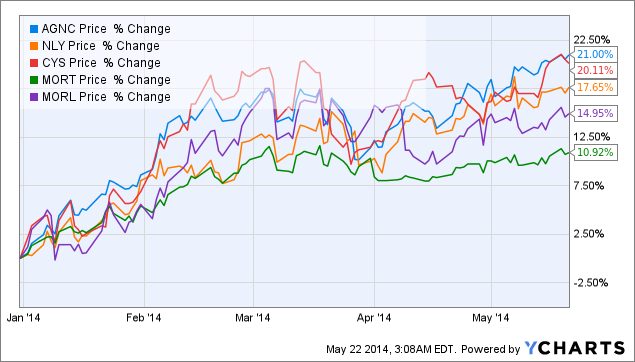 The primary reason for these increases is simple: the market got the 10-year wrong. Nearly every pundit was arguing that rates were heading higher, straight for 3.00% or even 3.50%. Instead, rates have been going lower, threatening to breach the crucial 2.50% level. This is good news for mREITs as prices and yields mortgage backed securities "MBS," the primary assets held by mREITs, are usually linked.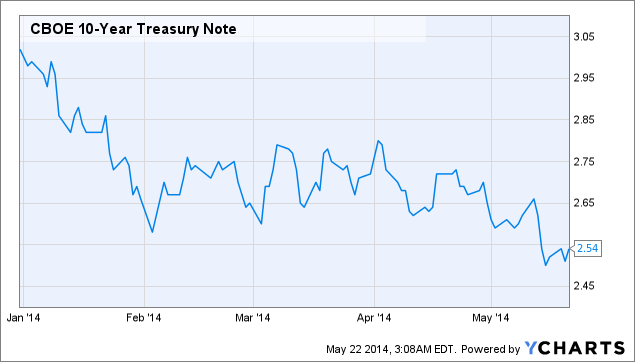 Indeed, some analysts, including Jeffrey Gundlach at Doubleline, are now suggesting that we may be in the middle of a massive short-squeeze in treasuries. The main argument here is that American's retiree population is growing, leading to higher demand for safe, low risk, income producing investments. These changing demographics could result in Treasury yields remaining low for years to come.
The future is looking bright for American Capital
As for American Capital, things were looking good so far in Q2 2014. During its Q1 conference call, CIO Gary Kain noted that he remains "optimistic" about the agency MBS market given the lower origination volumes, largely offsetting the impact of the Fed's tapering. Mr. Kain also noted that "April has been a very good month for agency MBS providing a solid 'tailwind' for economic returns so far during the second quarter."
In addition, American Capital greatly reduced its hedges during Q1 2014. The company noted that "implied volatility" was decreasing in the MBS market, prompting the company to sell a large chunk of its swaptions and other hedges.
Given that rates have only moved lower since April, American Capital could see another large book value increase when it reports next quarter. However, these moves may impact the net interest margins for the company, putting pressure on the dividend. As I noted in my prior article, mREITs prefer a stable market as that is when they can deliver the best economic returns.
Conclusion
During Q1 2014, American Capital posted an over 20% annualized economic return (dividends plus book value gains/losses). Some may think that this performance may have been an outlier. However, Q2 2014 has the potential to be nearly as good.
With its 11% yield, the market is telling you that American Capital is a risky stock. However, as Mr. Kain noted despite Fed tapering, "supply and demand equation and the overall positioning in the mortgage market remain very favorable." With Greenlight joining the bandwagon, the bullish case for mREITs just became stronger.
Disclaimer: The opinions in this article are for informational purposes only and should not be construed as a recommendation to buy or sell the stocks mentioned. Please do your own due diligence before making any investment decision.
Disclosure: I am long AGNC, CYS. I wrote this article myself, and it expresses my own opinions. I am not receiving compensation for it (other than from Seeking Alpha). I have no business relationship with any company whose stock is mentioned in this article.