Salesforce.com (NYSE:CRM) presented first-quarter 2015 results on May 20, 2014 which were worthy of respect. Strong y-o-y revenue and operating cash flow growth, a second-quarter sales guidance that beat analyst expectations as well as a raised full-year outlook were, in theory, enough to cause increased investor interest and send the stock price higher. What happened? Shares of Salesforce.com stumbled more than 5% in yesterday's trading session in an environment of broadly rising equity prices.
The Federal Reserve caused a spike in equities yesterday as it became clear that investors don't have to expect an end of loose monetary policy any time soon. Translation: Low interest rates are here to stay for the moment, which, obviously is what investors like to hear.
So why are shares of Salesforce.com down against the trend? Well, the reason seems to be that many investors started to doubt the sustainability of Salesforce.com's sales growth. With sales growth in the 30% neighborhood and oftentimes exceeding 30% in the past, how long can a company grow before it runs into constrains? Also, despite another quarter of fantastic sales growth, Salesforce.com's full-year earnings guidance is disappointing.
First quarter results
Let's go through Salesforce.com's first-quarter 2015 accomplishments. The maker of consumer management software reported:
Revenues of $1.23 billion vs. $893 million in the year-ago quarter: An increase of 37% y-o-y. Analysts estimated, on average, $1.21 billion in revenues.
Deferred revenues of $2.3 billion compared against $1.7 billion in Q1 2014: A y-o-y jump of 34%.
Cash flow from operations of $473 million compared to $283 million: An increase of 67% y-o-y.
A GAAP net loss of $0.16 per diluted share which compares against a GAAP net loss of $0.12 per share in the year-ago quarter. On an adjusted basis, Salesforce.com reported earnings per diluted share of $0.11 in Q1 2015 vs. $0.10 in Q1 2014. Analysts expected non-GAAP earnings of $0.10 per share: A slight earnings beat of $0.01.
Overall, Salesforce.com's results beat analyst estimates on both earnings and revenues. The cloud computing company also beat analyst expectations with respect to projected second-quarter sales. The company announced that it expects Q2 2015 sales of approximately $1.29 billion which beat the analysts' consensus estimate of $1.27 billion.
For the full year, Salesforce.com expects total sales to come in between $5.30-5.34 billion while analysts so far had been expecting full-year sales of $5.29 billion. Salesforce.com also increased its sales range guidance from $5.25-5.30 billion which was stipulated at the end of February 2014.
The table below reconciles Salesforce.com's earnings per share projections for the second quarter and fiscal year 2015 to adjusted EPS figures. Salesforce.com only expects a slight sequential improvement in second-quarter adjusted earnings per share of $0.01.

(Source: Salesforce.com Fiscal 2015 First Quarter Results Announcement)
Valuation
Though I like Salesforce.com's persistent sales growth, I still find the consumer software application maker not convincing on the earnings side. Ultimately, Salesforce.com will need to show investors that it can translate sales growth into meaningful earnings growth as well. Salesforce.com currently trades at 70 times earnings and certainly belongs in the club of extremely richly-priced growth stocks. Salesforce.com also does not expect to turn a profit in fiscal 2015 on a GAAP basis. On an adjusted basis, CRM projects earnings somewhere around $0.50 per share which would lead to an earnings multiple of a cool 100. The company also trades at more than seven times sales: Way out of touch with the underlying fundamentals, even when considering above-average sales growth of 30%.
Technical picture
To be honest, I am not a big fan of Salesforce.com. Initially hyped as a high-growth company in the sexy industry of cloud computing which won accolades for being among the most innovative companies in the world, even surpassing companies such as Amazon (NASDAQ:AMZN) and Baidu (NASDAQ:BIDU) in innovation rankings, share price gains of Salesforce.com certainly haven't met high investor expectations lately.
Shares of Salesforce.com have increased 34% over the last two years, only 10% over the last twelve month and have actually declined approximately 9% YTD.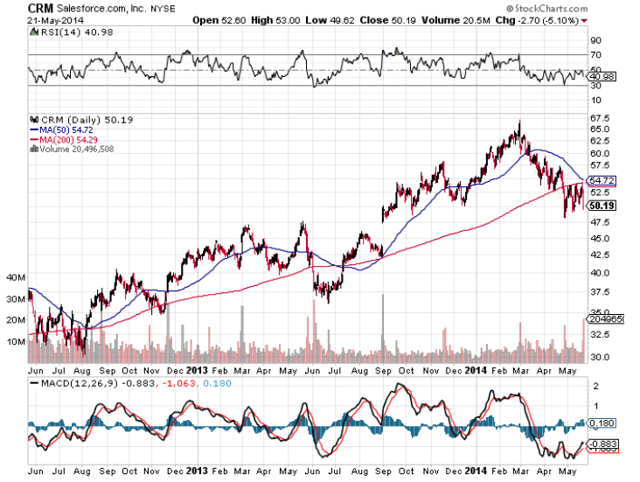 (Source: Yahoo Finance)
Bottom line
Given Salesforce.com's expectation of a full-year GAAP loss and adjusted earnings that are too low in my opinion to justify the extremely high equity valuation of the cloud computing specialist, I would not want to own its shares. The sell-off yesterday also seems to indicate that investors start to become more critical with respect to the sustainability of Salesforce.com's sales growth. At more than seven times sales, Salesforce.com's valuation is not justifiable in my opinion. Avoid.
Disclosure: I am short AMZN. I wrote this article myself, and it expresses my own opinions. I am not receiving compensation for it (other than from Seeking Alpha). I have no business relationship with any company whose stock is mentioned in this article.