When it comes to my coverage of the big cigarette names, Altria (NYSE:MO) offers the highest dividend yield currently. Last week, when I did one of my frequent updates on Philip Morris (NYSE:PM), Altria's 4.76% yield was just above that of Reynolds American (NYSE:RAI), and a bit above Philip Morris and fellow peer Lorillard (NYSE:LO). Altria's yield has decreased a little since that update, and you can see in the chart below how it stacks up currently against the others.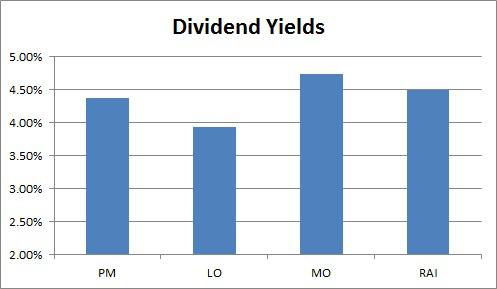 Since that recent article, Altria's lead has increased a bit, but there's another reason for investors to be excited. Lorillard and Reynolds have already raised their dividends for the year. Altria and Philip Morris have not raised theirs yet, as they generally do later in the year. With a raise expected later in 2014, Altria should continue to be the highest yielder of these four names over the next 12 months. Today, I'll detail what a potential raise could look like.
Looking at the balance sheet:
For companies to pay dividends (and buy back stock), they need to have some financial flexibility. The cigarette names usually don't have the prettiest balance sheets, and in recent years have been taking out a lot of debt to pay dividends and buy back stock. In the table below, I've compared some balance sheet ratios at the end of Q1 2014 compared to the year ago period. Dollar values are in millions, and the share count is actual. You can see all of Altria's most recent financial information in this 10-Q filing.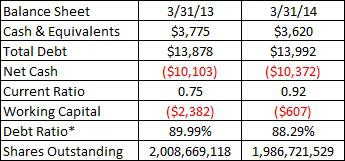 *Liabilities to Assets ratio.
The improvements in the current ratio and working capital are slightly misleading. At the end of Q1 in 2013, Altria had just under $2 billion in short-term debt, the portion of long-term debt coming due within 12 months. At the end of Q1 in 2014, there were no outstanding borrowings as part of the current portion. On the flip side, long-term debt has risen, so this is mostly a matter of refinancing. The total liability picture hasn't changed much, which is why the debt ratio above hasn't moved that much in 12 months. The company has also reduced its outstanding share count by about 1.1% over this time.
One of the things I like about the company's balance sheet is that a large portion of the company's debt is not due for quite a while. The table below shows Altria's debt maturities, taken from the 2013 10-K filing. The $525 million due in 2014 below was paid back during the first quarter of 2014.

The company only has $1 billion due in 2015 and then nothing due until 2018. This means that the company doesn't really have to worry about maturing debt as much as some other companies might. Additionally, if rates continue their recent trend downward, the company might be able to refinance higher yield debt and get its interest rates down. Finally, the company noted in the recent 10-Q filing that on March 12th, 2014, Standard and Poor's raised the long-term debt credit rating for Altria from "BBB" to "BBB+".
A new buyback announcement:
When the company reported first quarter results, the following buyback statement was included in the release:
During the first quarter of 2014, Altria repurchased approximately 7.5 million shares of its common stock at an average price of $35.98 for a total cost of approximately $272 million. Altria has approximately $185 million remaining in the current $1 billion program, which it expects to complete by the end of the third quarter of 2014. The timing of share repurchases depends upon marketplace conditions and other factors. The program remains subject to the discretion of the Board.
There are two important items to think about here. First, the company expects the current buyback to be finished by the end of the third quarter. Given the balance sheet strength and not too much debt due in the next couple of years, I expect a new buyback plan to be announced this year. Last year, the buyback was expanded in late August when the dividend was raised.
However, I do want to caution investors a little here. As you saw in the statement above, Altria repurchased shares at an average price of $35.98 in Q1. So far in Q2, as you'll see in the chart below, shares have been a bit higher. The stock recently broke $40 and has been above $37 for all of this quarter. The company may slow down the buyback a little here, waiting for a pullback. I don't mind the company speeding things up a bit when shares are between $34 and $37, but above $40, patience may be required. Philip Morris has reduced its buyback target in 2014 with cash flow expected to be down in a weak year for that company. Philip Morris is also expected to announce a dividend raise later this year, but I think it will be a little lighter than most expect.

(Source: Google Finance)
Part of the reason for the recent rally in Altria is that the cigarette names are rallying on merger rumors. There have been rumors that Reynolds will acquire Lorillard, and those rumors popped up again late Wednesday afternoon. Lorillard shares closed Wednesday up more than 10%, with Reynolds up more than 4%. Altria shares also popped late Wednesday to new 52-week highs, with Philip Morris being dragged up a bit as well. Lorillard has a strong presence in e-cigarettes, which is where the growth in this space is currently. Altria and Philip Morris are teaming up on products, and Philip Morris is scheduled to launch some new stuff later this year and in 2015.
Analyzing the dividend target and 2013's raise:
As Altria detailed in the Q1 earnings release, the company has a dividend payout target of about 80% of its adjusted diluted earnings per share. This may help with predicting dividend raises a bit, more so than you will find with many other names. Altria in the Q1 released reaffirmed its 2014 forecast for adjusted diluted EPS of $2.52 to $2.59. That represents roughly 6% to 9% growth from 2013's base adjusted EPS of $2.38.
So this would seem to be a simple math exercise. 80% of the adjusted EPS figure gives us a range of $2.016 to $2.072. I don't think the annual payout will go to a fraction of a cent, so the rough range could be $2.02 to $2.07. It is possible, perhaps even likely, that the quarterly dividend will include a fractional cent. In that range, only $2.04 annually would have a whole-cent payout.
There is one other item to consider, and that is that Altria is not on a calendar year dividend cycle. What does that mean? Well, it means that the company doesn't raise the dividend for the first payment of the year, so the dividend doesn't match earnings. Altria raises its dividend for the third payment of each calendar year, so that adjusted earnings figure for 2014 does not include earnings in 2015 that may impact the dividend.
Last year, Altria at its Q1 report gave a $2.35 to $2.41 adjusted EPS forecast for the year. A few months later at the company's Q2 report, the bottom end of that range was raised a penny. Thus, for investors looking for a dividend raise, the adjusted EPS forecast was $2.36 to $2.41, and 80% of that would be $1.888 to $1.928, with a midpoint of $1.908. When Altria raised the dividend last year, the new annual total rose to $1.92, a little more than a penny above the midpoint. I'll detail in the next section where I think this year's raise will land.
What a potential raise could look like:
The table I'll show in a minute will look familiar to those who have read some of my prior dividend articles. It basically is a 2014 version of the table I did in my Altria dividend prediction last year. Last year, I was looking for Altria to raise the quarterly dividend to the $0.46 to $0.48 range, and Altria hit the top end of the range. So the table below will show what a raise could look like in terms of the following:
New quarterly dividend.
Raise per quarter, in terms of cents and percentage.
New annual dividend total.
Yield based on Wednesday's close.
One slight caution for investors here. Altria is still expected to pay out one more $0.48 quarterly dividend, so this table does not reflect the next 12 months. Once that dividend is paid out, then this table will accurately reflect the next 12 months. I also highlighted a range for which I believe the new dividend yield will land.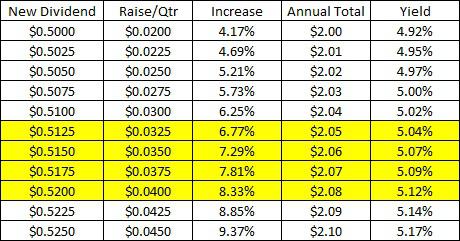 I mentioned above that the 80% target based on the current forecast for adjusted EPS gives us a range of $2.016 to $2.072, with a midpoint of $2.044. For some of the reasons listed above, I think the higher end of that range is likely to be where the new dividend falls, which is why I highlighted the $2.05 to $2.08 annual range. Again, this is only an initial prediction, as we are still about three months away from a potential raise. Should the company's forecast change at the Q2 report or some other news come up, I will update my prediction accordingly.
Final thoughts:
With only a few months to go to Altria's expected dividend raise, we can now start looking at potential raises. The company's balance sheet is fine, and a large portion of debt is not due for many years. I do expect a decent raise from the company, probably around 7% or 8% this year. Altria is the highest yielding name of the four cigarette names that I cover currently, and that lead should be increased later this year. Altria's stock has run a bit currently, so yields are not what they were earlier this year, but you certainly could do a lot worse.
Disclosure: I have no positions in any stocks mentioned, and no plans to initiate any positions within the next 72 hours. I wrote this article myself, and it expresses my own opinions. I am not receiving compensation for it (other than from Seeking Alpha). I have no business relationship with any company whose stock is mentioned in this article.
Additional disclosure: Investors are always reminded that before making any investment, you should do your own proper due diligence on any name directly or indirectly mentioned in this article. Investors should also consider seeking advice from a broker or financial adviser before making any investment decisions. Any material in this article should be considered general information, and not relied on as a formal investment recommendation.