We've known for some time now that streaming giant Netflix (NASDAQ:NFLX) was planning on a major European expansion late in 2014. Speculation had been growing for some time over which markets would be entered. This week, Netflix announced that it would be entering six new countries in Europe. Today, I'll break down the key Netflix news and what it means for the business and stock.
Where is Netflix headed, and what's the market size?
Netflix will be launching in six new countries later this year, with further details on pricing and other information at a later date. Here are the new countries being entered:
France
Germany
Austria
Switzerland
Belgium
Luxembourg
France and Germany are two major markets, and they were two of the most heavily speculated names for this late 2014 expansion. While the other countries are not as large, they do add up in terms of population. In the table below, I've detailed the most recent population estimates for these countries, based on the date given. I also included the United States as well as the UK and Ireland, which had been Netflix's largest European expansion to date (in terms of population at launch).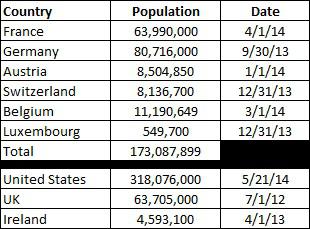 The six new countries being entered have a total population that's more than half the size of the US. This isn't a small launch. Additionally, these six countries have a combined population of more than two and a half times the UK/Ireland, which was Netflix's first major European expansion a couple of years ago.
Looking at current estimates:
I think this launch may be a bit larger than most were expecting. One analyst agrees with this notion, stating that Germany and France were expected, with Austria and Belgium being incremental. The analyst is looking for a late Q3 2014 launch and for more than 4 million net international additions between Q3 and Q4. Additionally, the analyst noted that some of the additional markets have similar tastes to the major launch countries.
With a higher population number being targeted here, the first key takeaway is that revenue estimates will probably head higher. Yes, estimates have already been on the rise, especially after solid sub adds back in Q1. In the table below, I've compiled the average analyst estimate for a couple of years going back to Netflix's Q1 report in 2013. The numbers in yellow are actual, as 2013 is obviously over. You can see all current estimates here.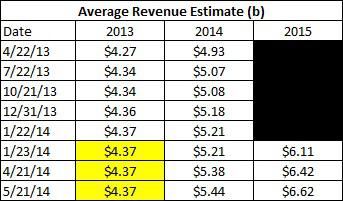 With these launches being late in 2014, I think the 2014 estimates are fair and the 2015 numbers will be adjusted more. So how do I look at Netflix's revenue potential? Well, the company guided to $835 million in domestic streaming revenues in Q2 2014, as per the most recent investor letter. Between increased subscribers as well as the recent price raise, I don't think it's that outrageous to think that Netflix could average $1 billion per quarter in domestic streaming revenues during the four quarters of 2015. This number could prove to be conservative, but I think it is a good place to start. I think a conservative estimate for International streaming is $500 million per quarter in 2015. If Netflix launches even more in 2015, this number will most likely go higher as well. I'll also throw in an estimated $600 million for DVD in 2015. If you combine those three estimates, you are right at $6.6 billion. With the lowest estimate on the street currently being $6.1 billion, the lowest estimates would logically need to come up, so I think you'll see the average rise towards $7 billion eventually.
On the flip side, I do think current EPS estimates for the second half of this year may need to come down a little. After EPS of $0.86 in Q1, current estimates call for $1.15 in Q2, and about $1.08 or so in both Q3 and Q4. While Netflix has been improving the streaming margins of both the current domestic and international segments, there is a partial offset by the decline in DVD. Also, international launches have proven to be very expensive, and this is the largest launch to date. If estimates do not come down by the time Netflix reports Q2 results, there might be a surprise with weaker than expected Q3 guidance. I'd be much more comfortable if EPS estimates for Q3 and Q4 were either at or below $1.00 each. At this point, I don't want to start speculating on 2015 EPS until we see how expensive these launches might be. Revenues are a bit easier to predict with Netflix.
Why Netflix did this now:
If you look at the Yahoo! Finance page for Netflix, it says that the press release linked in my opening was released at exactly 12AM on Wednesday. Normally, you might expect Netflix to release this information maybe after the market closed, but during the after-hours session, like with earnings reports. Perhaps even a press release early in the AM might seem more logical instead of the dead of night on the East Coast.
So why did Netflix release this in the dead of night? Well, it just so happens that Amazon (NASDAQ:AMZN) gets access to HBO content as of Wednesday. Netflix did not bid on this HBO content, according to CFO David Wells. With Amazon getting access to HBO content, this was the perfect time for Netflix to make such a major announcement, in an effort to cover major news from Amazon.
There are two important points I must make here in regards to Netflix and Amazon. First, Netflix is really intent on building its original content platform. The success of "House of Cards" and other shows launched on Netflix is important to the company. Rather than go after a huge bulk content deal of older shows, Netflix wants to launch new, fresh content. Especially if the price for this HBO package was high, I can't fault Netflix for what it did here.
Additionally, I've seen a lot of articles on this site and others that don't always explain the relationship between Netflix and Amazon. Many people see these two names as strict competitors, but that is not 100% accurate. This is not a situation where you can only have one service. I talk frequently with multiple people on this site who subscribe to both services. At $8 or so a month, consumers can easily afford both. While it is hard to estimate how many subscribers have both services, there is a number. From what I read often, some people believe that those that subscribe to Prime automatically don't subscribe to Netflix. Since a lot of content deals are exclusive, these two services do offer a variety of different content, which is why people often use both services.
Final thoughts:
Netflix announced its huge European expansion for 2014, and it is a bit larger than expected. Six new countries will be added, which combined have a population that's more than half of the US. I believe that revenue estimates will be trending higher in the coming weeks for 2015, but late 2014 EPS estimates may need to decline a little. Additionally, the timing of this announcement coincides with Amazon getting its HBO content.
As for Netflix's stock, I've stated in the past that a decent trading range for the stock is $300 to $500. With shares just under $400 currently, Netflix appears to be in the middle of the range. However, as I mentioned on past articles, I'd prefer investors accumulate towards the lower end of the range. With shares recently rocketing higher, I'd wait for the next pullback before buying. In the end, Netflix made the next logical move in terms of international expansion, and I think that sets this company up well going forward.
Disclosure: I have no positions in any stocks mentioned, and no plans to initiate any positions within the next 72 hours. I wrote this article myself, and it expresses my own opinions. I am not receiving compensation for it (other than from Seeking Alpha). I have no business relationship with any company whose stock is mentioned in this article.
Additional disclosure: Investors are always reminded that before making any investment, you should do your own proper due diligence on any name directly or indirectly mentioned in this article. Investors should also consider seeking advice from a broker or financial adviser before making any investment decisions. Any material in this article should be considered general information, and not relied on as a formal investment recommendation.