While the bears didn't gain any ground yesterday, the bulls couldn't get anything going either. With consumer confidence coming in slightly better than expected (yet not a strong number), the bulls tried to make a move north. Unfortunately, they quickly lost steam and we traded in a tight range all day long before ending the day about even.
We had strong volume Tuesday, not typical for this historically slow season. I mostly attribute it to short covering and many longs anxious to sell into any strength rather than a bullish accumulation day. It felt like very little was happening yesterday even with the solid volume.

About the only bright sector was gold mining as retail, semiconductors and oil fell as the day went on. We still stayed above the technical support of 1040 in the S&P 500 but as you can see from my chart below (click to enlarge), the downtrend is clearly intact. About the only bullish thesis we have is that the majority of market players are negative. While that negative sentiment helps create a bottom, it can also help us fall further than expected as we are too scared to jump in. I see no solid reason to think we will not continue to test support levels until we break lower unless today's ADP employment numbers come in better than expected. Even though consumer confidence couldn't help us yesterday, any strength in jobs surely will.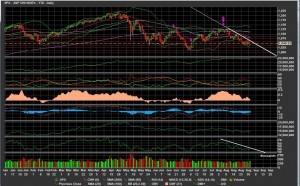 Netflix (NASDAQ:NFLX) jumping after hours on talks it will be part of the new AppleTV (NASDAQ:AAPL) will help the bulls' cause. We also have the ISM index today which could help dictate the direction the market moves if the ADP numbers don't give early direction. I believe the ISM index expectations could be low enough that we have a good chance to beat them. We had President Obama's speech last night which was more of a political blame-game than seeing any actual solutions to our problems, so that likely won't do much for the markets.

In portfolio news, I used the intraday strength yesterday to reduce more positions and raise more cash. I was stopped out of NVIDIA Corp (NASDAQ:NVDA) as I placed tighter stop losses on all my positions. Now that I raised more cash, I will look for more intraday opportunities to flip. I'll also look to strengthen my short position as I feel the odds are in favor of us falling more over the short-term than rising. As we fall, we will see some strong bounces. Be careful not to get caught aggressively buying these strong bounces unless they can be sustained over more than a day. These bounces may seem strong for a day, like last Friday, but are usually just a bull trap. Keeping smaller than normal positions or sitting on the sidelines is ideal in this environment. Why risk too much in an uncertain market? Selling is the most underrated tool for the individual investor.
As always, do your own homework to see if you agree. Good luck out there.
Disclosure: No positions in mentioned stocks