Lately, emerging markets have experienced turbulence. Countries in the emerging world have suffered from one blow after another: an economic slowdown in China, a short-lived currency crisis in various countries sparked by the Federal Reserve's decision to start unwinding its bond-buying stimulus program, and political unrest in places such as Thailand and the Crimea region. Stock valuations have fallen. Yale University's $21 billion endowment fund has not failed to notice this buying opportunity.
The Yale endowment has "more than quadrupled its shares in a Vanguard Group emerging markets exchange-traded fund in the first quarter," reported Pensions & Investments last week. Specifically, Yale added to its stake in the Vanguard Emerging Markets ETF (NYSEARCA:VWO), which now makes up a major portion of Yale's direct exposure to equities. By assets, the Vanguard Emerging Markets ETF is the largest emerging-market ETF available, followed by the iShares Emerging Markets Index Fund (NYSEARCA:EEM).
Top-tier university endowments are quite possibly the best asset managers in the world. The Yale endowment has outperformed the market consistently. For the ten-year period ending in June 2013, the Yale endowment returned 11% a year, net of expenses, compared to 8.1% for broad-market indexes, based on data from Yale University's investment office.
The love is gone
The days of "easy money" in emerging markets are over, according to some analysts. Moreover, corporate governance is poor, say critics, who equate emerging markets with crony capitalism. State-run firms and family companies tend to dominate key sectors of the economy in developing countries.
Traditionally, poorer countries in the emerging world would supply raw materials -- commodities such as oil -- to wealthier, technically advanced countries, which would process the raw materials into finished goods for consumption. Based on this traditional economic pattern, developing economies have been highly affected by commodity prices. The following graph shows the price of Brent Crude Oil compared to the iShares Emerging Markets Index Fund over the last ten years: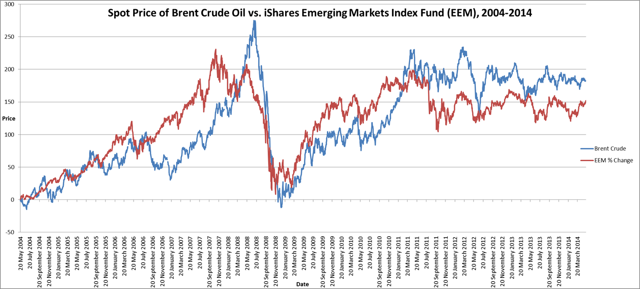 Data Source: YCharts
Vale S.A. ADR (NYSE:VALE) is an example of a commodities-oriented company. The company is based in Brazil, but it has an American Depositary Receipt share-listing on the New York Stock Exchange. Vale is primarily a mining company. It is the world's largest miner of iron ore, which is a raw-material input for manufacturing steel.
The world economy is changing
Rapid industrialization is changing the relationship between developed markets and the emerging world. Economic forces propel capital to wherever it can be most productively employed. Previously known for commodities such as iron ore, oil, and coffee, Brazil is now home to modern manufacturing plants as well. Labor tends to be cheaper and more flexible in emerging markets, such as Brazil and China.
While it may be true that emerging markets will not grow as fast as they have recently, these economies remain much less developed than wealthy countries. For example, 2013 gross domestic product per capita in Brazil was only $12,100 compared to $52,800 in the United States, according to the U.S. Central Intelligence Agency. That is, at current levels, Brazilian GDP per person is 77% lower than it is in the United States. That leaves a lot of room for Brazil and similar countries to catch up economically.
Corporate governance and environmental policies are weak in emerging markets. However, reforms could improve the situation. Policymakers in emerging countries are aware that continued economic growth depends on modernization and reforms. In the United States, environmental policies did not really take hold until the late twentieth century. Lake Erie was so polluted in 1969 that it caught on fire.
Be greedy when others are fearful
As reported in a previous article, economic fundamentals are still strong in the emerging world. But investor sentiment is in the doldrums. The price-to-earnings ratio of the Vanguard Emerging Markets ETF is about 11 times earnings, compared to about 17 times earnings for the Vanguard S&P 500 ETF (NYSEARCA:VOO).
Market sentiment has turned against emerging markets so much that investors may wish to question such a popular belief. Markets are not entirely rational, and stock prices are not 100% efficient. Going against the grain can lead you to buy when prices are low and sell when prices are high. In the words of Warren Buffett, "Be fearful when others are greedy, and be greedy when others are fearful."
The Yale endowment appears to be buying when others are fearful of emerging markets. These markets are volatile and not a good fit for all investors, so beware. However, the risk of emerging markets should be placed within the context of your overall portfolio. At current prices, establishing a small position or increasing your stake in emerging-market stocks could result in outperformance for your portfolio in the years ahead.
Disclosure: I am long VWO, VOO. I wrote this article myself, and it expresses my own opinions. I am not receiving compensation for it (other than from Seeking Alpha). I have no business relationship with any company whose stock is mentioned in this article.