The farm & construction machinery industry is gaining momentum with the growth of the economy. This industry is highly dependent on the economic circumstances, which was evident during the time of the Great Depression. The sales depend on the development activities all around the globe, both in public and private sectors. The global economy should move consistently onward, and financial markets must ease the interest rates to give investors confidence to ensure continuing development. At the moment, both economic circumstance and financial activities are moving in the right direction, which offers a supportive environment for companies operating in the construction machinery industry.
IMF predicts that the global economy will continue soaring each year. IMF expects the economy to grow by 3.6% in 2014, 3.9% in 2015, and even higher in the following years. Both developed and emerging markets are expected to grow, but emerging markets are expected to grow by 5.1%. China is one of the most important regions in emerging markets, which is expected to grow by 7.3% in 2014. Japanese industrial production is also growing, and American and European regions are showing a better matrix for growth.
In these favorable circumstances, companies operating in the construction machinery industry are posting higher profits quarter after quarter. Let's take a look at one of the largest companies, Caterpillar (NYSE:CAT), to see how it is operating in the industry. In this article, I will keep my focus on Caterpillar's ability to sustain returns, while looking at its strategy, outlook, and financial situation. Secondly, I will compare it with its closest competitor, Deere & Company (NYSE:DE), to see how it is operating and to see which company has bright future prospects. I will also try to predict which one is more valuable and has the ability to offer better returns.
Where Does Caterpillar Stand?
CAT operates in three segments: construction industries, energy & transportation, and resource industries. Construction industries and energy & transportation segments are gaining momentum. Both segments are producing strong growth for the company. In fact, the construction industries segment is generating high single-digit growth in revenues and high double-digit growth in earnings. The energy & transportation segment is making mid-single digit growth in revenues and double-digit growth in earnings. However, resource industries are declining in high double-digits; approximately a 20% decline is expected this year. The mining industry is fumbling over the past two years due to the oversupply of commodities, which has pushed down the prices. This impacted the growth plans of many multinational companies, and thus, resulted in low demand for equipments and tools from companies such as CAT. Looking at the circumstances, CAT has announced restructuring on certain facilities, which includes cutting down the work force.
Overall, due the negative impact of resource industries, its top line growth is expected to be flat, while the bottom line growth is expected to be high at $6.10 per share, including restructuring costs.
Where Does Deere & Company Stand?
Deere & Company is operating in three business segments: agriculture & turf, construction & forestry, and financial services. The company has generated record growth each year over the past five years. Its revenue growth is high at 13.3% on average over the past three years, and net income growth is even higher at 23.8%. Its agriculture & turf business produced record growth in the past years, but growth remains slow this year due to lower crop prices, which results in low demand for equipment. The company is expecting a 7% decrease in sales of agricultural equipment. However, its construction and forestry business is expected to maintain momentum, which is likely to generate 10% growth for 2014. Finally, its financial services business is expected to grow with the growth in the credit portfolio. Overall, DE is likely to post the second-highest earnings in its history, of around $3.3 billion.
Which is The Better Investment?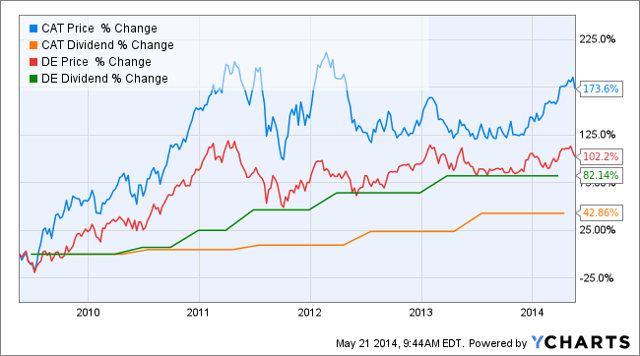 | | | | |
| --- | --- | --- | --- |
| | CAT | DE | Industry Average |
| Price/Earnings TTM | 17.2 | 9.7 | 13.5 |
| Price/Book | 3.1 | 3.2 | 2.7 |
| Price/Sales TTM | 1.2 | 0.9 | 1.0 |
| Rev Growth (3-Yr. Avg.) | 9.3 | 13.3 | 11.6 |
| Net Income Growth (3-Yr. Avg.) | 12.0 | 23.8 | 17.5 |
| ROE TTM | 19.9 | 40.2 | 22.9 |
| Debt/Equity | 1.3 | 2.2 | 1.7 |
Source: Morningstar.com
Both companies have shown strong growth in sales of equipment. Improvement in the economic environment clearly reflects in their top line growth.
CAT has been gaining momentum in its construction and energy & transportation businesses; however, its resource industries business is putting pressure on growth momentum. At the end of the recent quarter, this segment has declined 37%, and is expected to decline 20% in the full year. Commodity prices are stabilizing, but I am not expecting a drastic change in prices in the short term. Therefore, this segment will keep hurting CAT's financial position. We have seen many other companies spin off their less-successful businesses into separate companies, which resulted in strong profitability for the remaining company. I think CAT should focus on this option to reduce pressure from other segments' performance.
However, even with the depressed resource industries business, the company is likely to post better results compared to last year. On the other hand, CAT's cash-generating potential is very strong. The company's free cash flow is four times higher than its dividend payments. In the past full year, it had generated $5.7 billion in free cash flows, when dividend payments were at only $1.1 billion. This huge gap allowed it to make a dividend increase, and further allowed it to work on massive buybacks. In the past four quarters, it has repurchased around $3.7 billion of stock, and at the start of this year, CAT announced $10 billion of the buyback program after the competition of $7.5 billion of buybacks. I believe buybacks will provide more room for dividend increases, and enhance its earnings per share. I think CAT has sufficient room for another dividend increase.
On the other hand, DE has had generated record growth each year over the past few years. Its three segments have contributed to that growth. However, due to lower crop prices, demand for equipments decreased, which is impacting this year's growth. Nevertheless, DE is still expecting to post the second-highest income of around $3.3 billion this year. Due to the strong growth in top and bottom line, DE's cash flows are also strong, but its free cash flows are not as strong as CAT's. In the latest quarter, its free cash flows were negative, which I think will hinder its dividend growth. Historically, every year, DE has made significant increases in dividends, but due to negative cash flow growth, DE continued with its quarterly dividend of $0.51 per share for the fifth successive quarter.
Caterpillar looks expensive compared to Deere at current valuations. CAT's profitability has been impacted by mining sector slowdown, but still it is generating strong profits and massive cash flows. I think holding both stocks and buying CAT on market correction could be a good idea.
Disclosure: I have no positions in any stocks mentioned, and no plans to initiate any positions within the next 72 hours. I wrote this article myself, and it expresses my own opinions. I am not receiving compensation for it (other than from Seeking Alpha). I have no business relationship with any company whose stock is mentioned in this article.