Weibo (NASDAQ:WB) reported an in-line set of Q1 results, in which net revenue of $67.51m (+161% y/y) was 1% ahead of consensus, and EPS of $-0.03 was slightly better than consensus of $-0.05.
However, the company also delivered a double whammy of disappointing key points. Most strikingly, user engagement, as measured by daily active users (DAU) as a percentage of monthly active users, fell 130bps q/q, indicating continued headwinds that Weibo faces in user retention. Moreover, top line guidance of $74-76m for Q2 was below the consensus $78m, indicating continued weakness in monetization and/or user engagements.
Post-results, I reiterate my bearish view on Weibo, as competitive pressure from WeChat will persist and a rebound in operating metrics is unlikely in the near term.

Engagement, engagement, engagement
I would like to remind investors once again that the key to future Weibo revenue (and earnings) growth lies in its ability to retain and expand user engagement. Currently, the consensus is overly focused on the type and number of advertising clients (i.e. SMEs, big corporations) and the type of new tweets (i.e. Promoted tweets), and not enough on user metrics. While financial metrics are important, they do not present investors with a holistic view of the company. Moreover, they are backward-looking, which is of no help to those investors who focus on the long term.
Engagement is important in that advertisers are most likely to spend on a platform with the highest engaging user base. If engagement declines, advertisers will likely allocate the resource to an alternative platform where they could get a better ROI. For Weibo, the engagement trend has been less encouraging and the outlook is much less optimistic. Moreover, 70% of Weibo's DAU are mobile users, which indicate further downside risk as competition from messaging apps escalates.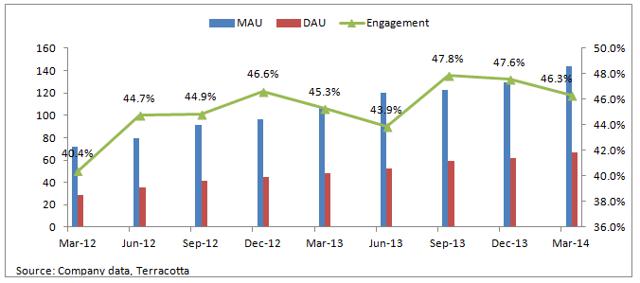 The weak Q2 revenue outlook should be a concern, as that may point to continued weakness in engagement or slower monetization ramp-up on new products.
Weibo remains my top short within the China internet sector. An alternative trade to Weibo would be Tencent (700 HK), for those who can trade HK-listed shares, or Global X NASDAQ China Tech ETF (NASDAQ:QQQC). Those who can trade in Korea could consider NAVER (035420 KS), which owns the LINE mobile messaging platform. LINE is the third-largest mobile messaging app, behind WhatsApp and WeChat, and has executed in both monetization and user growth.

Disclosure: I have no positions in any stocks mentioned, and no plans to initiate any positions within the next 72 hours. I wrote this article myself, and it expresses my own opinions. I am not receiving compensation for it (other than from Seeking Alpha). I have no business relationship with any company whose stock is mentioned in this article.