Shares of TJX Companes (NYSE:TJX) lost over 7% on Tuesday after the company posted EPS results that missed Street estimates. The stock has pulled back some 15% from its 52-week high and has broken sharply below its 200-day moving average with this week's price action, though it's made up a significant portion of those losses in yesterday's session: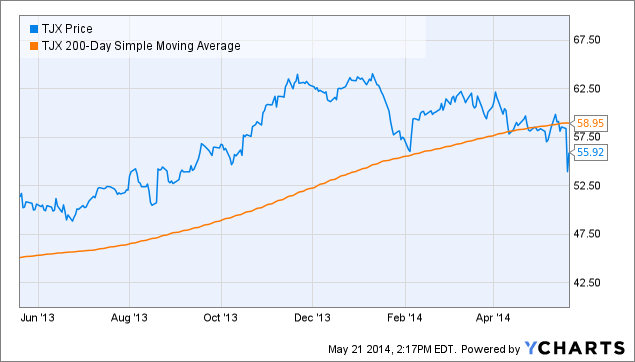 Now, I don't shop at TJX stores-- the fact is, I'm pretty terrible at buying clothes-- but my mother-in-law swears by TJ Maxx. It doesn't seem to be just the prices, but also the very experience of shopping there that seems to appeal to her. As I've been bargain shopping myself (for stocks), I decided to dig a little further into the company to see if it represented a good value.
What does TJX do?
TJX Companies operates over 3,000 discount clothing and home fashion stores across the North America and Europe. The company focuses on delivering comparable merchandise at substantial discounts to department and specialty stores with a "treasure hunt" shopping experience that holds special appeal to its core customers (typically fashion and value-conscious 25-54 year-old females). TJX does this by focusing on rapid inventory turns, which are in turn sourced from a broadly based, global network of over 16,000 vendors, through 20 highly automated distribution centers. The company's excellent inventory management is highlighted by their focus on driving inventory turns from 12 to 13x, which compares favorably to its competitors: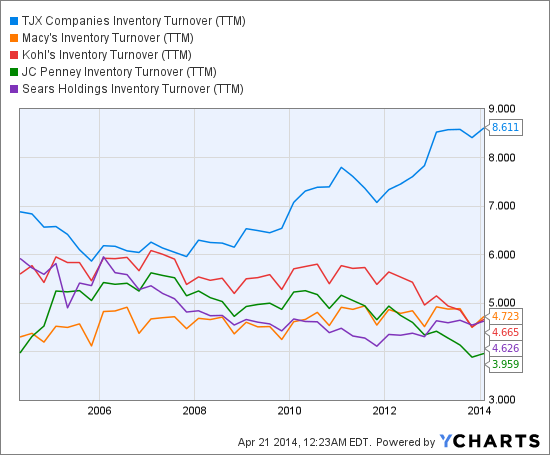 TJX utilizes a proprietary inventory management system to better customize flow of merchandise to fit local conditions; in addition, its stores utilize an open floor plan to permit rapid expansion and contraction of individual departments to fit inventory needs. The company's philosophy of "the right merchandise to the right stores at the right times" serves to reduce its markdown exposure. TJX also leverages its scale (900 buying associates in 13 buying offices in 10 countries) to take advantage of pricing opportunities available in the marketplace, and typically offers merchandise at about a 20-60% discount to department and specialty store prices. The goal is to create a unique shopping experience, one that is not easily replicable by other retailers or even online sources, to drive repeat customers who are searching for their next big bargain find.
TJX operates in 4 major divisions: Marmaxx (which runs the T.J. Maxx and Marshalls retail chains, totaling 2,021 stores), HomeGoods (a discount home fashion retailer, totaling 450 stores), in Canada), and TJX Europe (399 apparel and home fashion stores in the UK, Ireland, Germany, and Poland). TJX also recently acquired Sierra Trading Post, an Internet retailer for brand-name outdoor gear, though its operations are typically folded in with the Marmaxx operating segment.
Investment Thesis:
Possibly as a result of the recent recession, off-price retail has grown at a remarkable pace over the past 5 years, growing at about a 10% CAGR compared to the 4% experienced by conventional retail. As one of the largest off-price retailers, TJX was already perfectly positioned to capitalized on this trend. Its lean and efficient inventory management system, focus on customer experience, and the global scale of its buying network both enhance customer experience and value while buttressing it against merchandising assortment risk and competition from e-commerce retailers. The company has shown remarkable resilience, posting consistent revenue and earnings growth over the past decade, with few hiccups even during the most recent recession.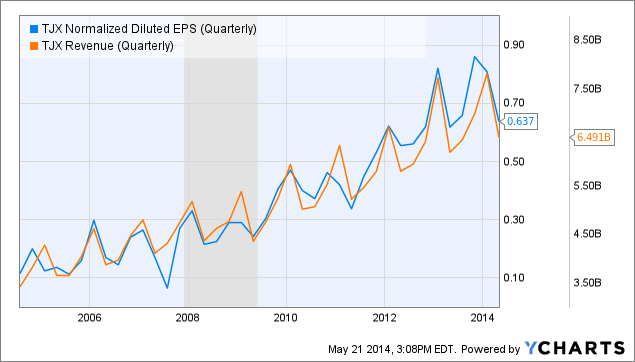 TJX Normalized Diluted EPS (Quarterly) data by YCharts
TJX has been able to grow EPS at a robust 16.3% CAGR over the past decade, all while generating tons of free cash flow (growing at a 9.7% CAGR). The company has been a solid performer for shareholders, buying back shares aggressively, and regularly stepping up its dividend payments.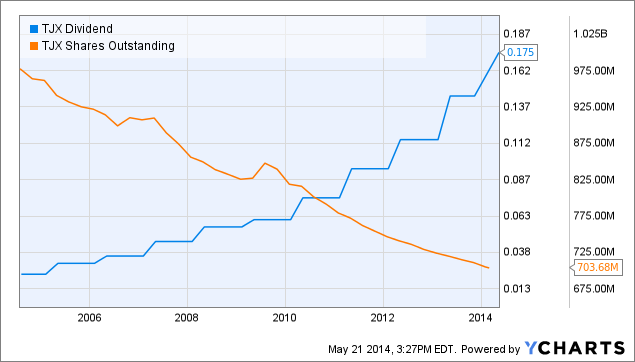 TJX Dividend data by YCharts
Returns on invested capital has also been robust, though this may have been a function of the growth in the off-price retail space, given similar outperformance by Ross Stores (NASDAQ:ROST):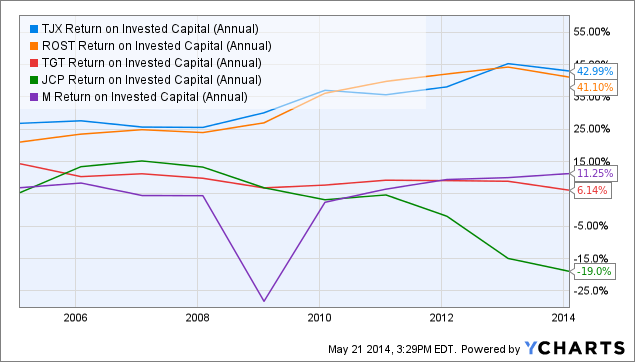 TJX Return on Invested Capital (Annual) data by YCharts
Off-price retailers often outperform their more conventional rivals during economic downturns as consumers turn towards bargain shopping, but it is often thought that as economic conditions improve, consumers will trade back up to more expensive offerings. However, the slow pace of the economic recovery suggests that bargain hunting isn't going away anytime soon, and the gains realized by TJX and other discount retailers should be maintained even if the pace of economic recovery picks back up. TJX projects significant potential total store growth over the next several years, which could potentially expand its revenue base by almost two-thirds: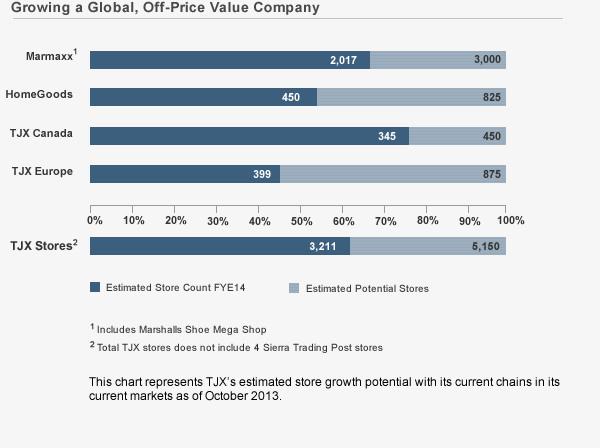 Source: TJX.com
On the most recent earnings call, TJX posted a consolidated comp sales increase of 1%, with earnings coming in slightly higher than last year at $0.64 (vs. $0.62). This came in $0.01 below expectations largely on the impact from foreign currency exchange rates, and marginally lower top-line growth, with same-store comps being affected by severe weather. Margins also contracted by 50 basis points year-over-year, primarily driven by lower merchandise margins, utility costs, and expense deleverage, though the company was able to maintain stable SG&A expenses as a percent of sales overall. Though US and Canadian stores underperformed, TJX Europe posted excellent numbers, with comp sales coming in 8% higher than last year. Management lowered guidance by about $0.02, driven mostly by this quarter's performance, with full year EPS to be in the range of $3.05 to $3.17, compared to $2.94 in fiscal 2014, with consolidated comp store sales growth still coming in 1-2% higher for the full year, and pre-tax profit margins down 10-20 basis points to 12.1%.
In short, TJX offers a reliable, flexible business model with room for robust growth in the near and intermediate terms. Its scale as the largest off-price retailer (over 3,000 stores compared to ROST's 1300) allows it to weather the vicissitudes of the apparel marketplace while its flexible store layout and efficient inventory management system allow it to quickly adapt to local conditions in retail.
Suitability:
Ben Graham outlines seven criteria for Defensive Investors and Enterprising Investors.
Defensive Investor:
Adequate size of enterprise (>$500 m in sales, >$250 m in assets): PASS
Sufficiently strong financial condition (Current ratio > 2): FAIL
Earnings stability (no net loss over past 10 years): PASS
Dividend Record (Dividends paid over past 20 years): PASS
Earnings Growth (Net income increases by >1/3 on per-share basis over 10 years): PASS
Moderate P/E Ratio (Price < 15x average earnings over trailing 3 years): FAIL
Moderate Ratio of Price to Assets (Multiplier of P/B x P/E < 22.5): FAIL
Based upon these criteria, TJX doesn't meet Ben Graham's criteria for Defensive Investors.
Enterprising Investor:
Adequate size: PASS
Strong Financial Condition: PASS
Earnings Stability: PASS
Dividend Track Record: PASS
Earnings Growth > 3%: PASS
P/E in lower 10% of similar stocks: PASS
P/B < 1.2: FAIL
Based upon these criteria, ROST meets Graham's criteria for Enterprising Investors, failing only on the P/B criterion.
Risks:
Though TJX has been executing solidly for the past decade, it faces numerous risks. Besides those listed in the 10-K, significant changes in consumer spending on apparel and home fashions could lead the company to misjudge demand, and though the company's frequent inventory turns, adroit distribution, and global reach makes it more resilient to changes in fashion, this remains a significant risk as it does with all retailers. Furthermore, TJX's future earnings growth is largely predicated on revenue growth through the opening of new stores in new geographic regions; though growth into new markets is certainly an opportunity, success in this area is by no means guaranteed. Finally, the growth of discount retailers is largely thought to be driven by economic headwinds to household income and consumer spending-- continued economic improvement could result in consumers trading back up to more expensive retailers.
Valuation:
As a base case for DCF analysis, I model steady revenue growth driven largely by new store openings, with 1-2% same store growth based upon historical trends, and 10-year average revenue growth of 4.7%. I incorporate management's full year margin forecast of 12.2% into fiscal year 2014, but project revenues to be flat for the year, with EPS coming in slightly below projections at $3.02, as consumers cut back further on discretionary spending. I project each segment growing at its current rate of new stores per year towards management's long-term goals, without acceleration of store growth. I project slow and steady margin improvement in TJX Europe and HomeGoods towards management's long-term goals of 10.1% and 13.1%, respectively, as these segments are scaled up, though I predict that the rate of margin expansion will be largely tied to the scale of each segment. Given management's demonstrated ability to tamp down SG&A cost growth and leverage its existing inventory system in the US and Canadian segments, I project long-term margins for Marmaxx and TJX Canada to hold steady at 14.6% and 13.6% generally, and for overall profit margins to reach 12.5% by 2021, and average 12.3% overall for the 10-year period. Incorporating the current pace of share buybacks (about 2.1% per year), I project EPS to grow around a 12.8% on average annually as management fulfills its goals of having 5,000 stores across North America and Europe. I assume a weighted average cost of capital of 10%. This yields a fair value estimate of $67.
Under a more optimistic scenario, assuming that scalability of the European division leads to more margin expansion than the base scenario to 13%, and assuming improved average revenue growth 6% based upon better same-store comps, the model yields a fair value estimate of $71. Under a bear case scenario, with permanent margin compression to 12% and 4% average revenue growth, the model yields an estimated fair value of $59.
Using a historical PE of 19 and multiplying it by the low end of guided EPS yields an estimated fair value of $57. A modified Graham calculation yields an estimate of $75. Averaging these 5 values yields a fair value estimate of $65, which implies a forward PE of 21 based on the low end of 2015 EPS estimates.
Conclusion:
Having come off their 52-week high, shares of TJX now appear to offer a moderate margin of safety. Yesterday's closing price of $56.60 is in line with historical P/E ratios for the company based upon the low end of management's 2015 guidance. I believe, though, that this price does not fully account for TJX's long-term growth opportunity and inherent competitive advantages. The company's steady performance in both favorable and unfavorable economic environments is appealing, as is its dividend growth, and as I believe shares are attractively valued in this otherwise overheated market, I opened up a small position yesterday at $55.
Disclosure: I am long TJX. I wrote this article myself, and it expresses my own opinions. I am not receiving compensation for it (other than from Seeking Alpha). I have no business relationship with any company whose stock is mentioned in this article.
Additional disclosure: I am not a professional investment adviser, and this article reflects my own opinions. Please do your own due diligence and happy investing!