The time of easy oil is long gone.
Once the process of finding oil was as simple as finding where it seeped out of the Texas ground. Now new technologies are utilizing ultrasound and radar to scan the sea floor miles below the surface.
With a steadily increasing demand for the sludge we all consume, the large oil conglomerates have been forced to search deeper into the earth, hiking up both their risk and their expenses.
But as the never-ending search for new reserves straps drillers, it remains liquid gold to oil machinery suppliers. Drillers are in a constantly shifting race to find the next sweet spot for oil, which requires increasingly expensive and elaborate machinery to access.
This, tied to an increase in rig orders, has rocketed drillers' capital expenditures up nearly 25% YoY, and sent its total to an unprecedented high of $723 Billion, a large portion of which directly lines the equipment suppliers' pockets. Chevron's (CVX) capital expenditures alone climbed around 70% since 2011, to almost $38 billion in 2013.
This boost in cash has knocked National Oilwell Varco's (NOV) revenues up 64% since 2011 to nearly $23 billion annually, showing how they can rake in the riches off of the increasingly stretched situation of drillers.
As a solution to oil derived power has yet to prove profitable on a large scale, oil machinery manufacturers are well positioned to reap profits from the pressures upon companies working in different parts of the industry.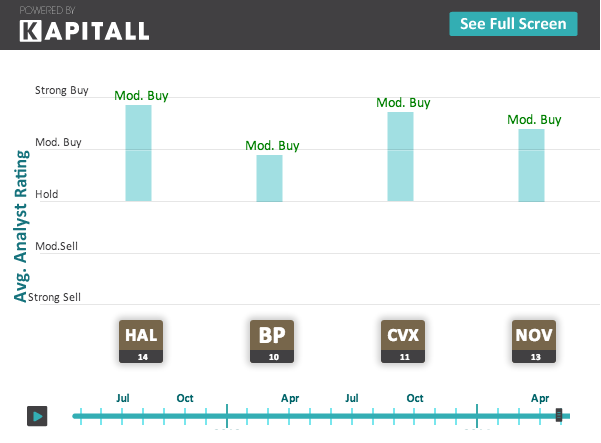 1. Chevron Corporation (CVX, Kapitall snapshot): Engages in petroleum, chemicals, mining, power generation, and energy operations worldwide. Market cap at $234.55B, most recent closing price at $123.21.
2. BP plc (BP, Kapitall snapshot): Provides fuel for transportation, energy for heat and light, retail services, and petrochemicals products. Market cap at $158.31B, most recent closing price at $51.37.
3. National Oilwell Varco, Inc. (NOV, Kapitall snapshot): Designs, constructs, manufactures, and sells systems, components, and products used in oil and gas drilling and production; provides oilfield services and supplies; and distributes products, and provides supply chain integration services to the upstream oil and gas industry worldwide. Market cap at $35.34B, most recent closing price at $82.36.
4. Halliburton Company (HAL, Kapitall snapshot): Provides various products and services to the energy industry for the exploration, development, and production of oil and natural gas worldwide. Market cap at $53.16B, most recent closing price at $62.95.
Disclosure: I have no positions in any stocks mentioned, and no plans to initiate any positions within the next 72 hours.
Business relationship disclosure: Kapitall is a team of analysts. This article was written by Robbie Citrino, one of our writers. We did not receive compensation for this article (other than from Seeking Alpha), and we have no business relationship with any company whose stock is mentioned in this article.