Potash is a mineral that contains potassium ("K") in water soluble form which is the third important plant nutrient after nitrogen ("N") and phosphor ("P"). The majority of the global potash supply comes from two regions: Saskatchewan in Canada and the Eurasian border region in Belarus and Russia. The four largest producers worldwide which hold more than 60% of the global market share are Uralkali (Russia), Potash Corporation of Saskatchewan (NYSE:POT) (Canada), The Mosaic Company (NYSE:MOS) ("USA"), and Belaruskali (Belarus). In July 2013, Uralkali announced that it will no longer export its products through the "Belarus Potash Corporation" ("BPC"), a distribution company which exported potash jointly with Belaruskali. The news let the shares of all major potash miners including Potash Corp. and Mosaic Co. tumble because of the fear of lower potash prices. Potash Corp., Mosaic Co., and Agrium (NYSE:AGU) jointly own the second large global potash export company "Canpotex" which manages transportation and distribution of Canadian potash outside Canada and the US.
The share price drop last summer made me curious whether this correction could be an interesting entry point to invest in potash miners from a contrarian viewpoint. However, after some research, I came to the conclusion that the risks are too high, mainly because there is still too much downside potential for the potash price.
Potash Corp.
Potash Corp. is operating in the three segments potash, nitrogen, and phosphate with potash being the largest and most profitable business. In 2012 and 2013 it stood for 41% of the company's sales and for 57% of its gross margin.
Potash Corp.'s turnover by segment in $M


Source: company website.
Product sales in all three segments grew by volume in 2013, but declined in value. Especially, potash prices have fallen during the course of 2013 and the deterioration has continued further in Q1 2014. It is also important to note that Potash Corp.'s realized sales prices in North America are much higher than in the rest of the world. COGS have been constantly reduced, but the reduction could not offset the price decrease, and gross margins per metric ton have become significantly lower.
Potash Corp.'s potash prices and margins per metric ton

Source: company website.
Potash Corp. pays a quarterly dividend of $0.35 which corresponds to a tempting yield of 3.8%. The last dividend raise has been in May 2013.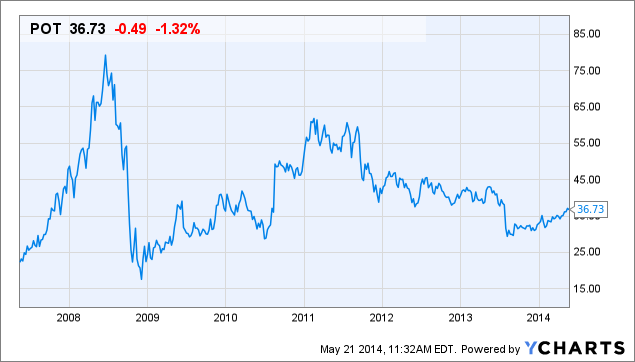 After reaching a record high in 2008, the stock dropped below $20 and now stands at $37 which is almost twice as high as at the end of 2008 when the global potash price was actually higher as it is today.
Mosaic Co.
Mosaic Co. is another leading global crop nutrient company. The phosphate segment is the larger of the company's two businesses (Mosaic Co. does not produce nitrogen fertilizers), but potash is much more profitable as it represents only 35% of sales but 62% of the operating earnings.
Mosaic Co.'s turnover by segments in $M

Source: company website.
Mosaic Co. has been confronted with the same difficult market environment, and sales and profits have declined in 2013. Despite a volume growth of 16% in the potash segment and sales growth of 7%, gross margin declined by 1% versus 2012. Similar to Potash Corp. the realized sales prices were higher in the USA than for the export business.
Mosaic Co.'s potash prices per metric ton

Source: company website.
Mosaic's share price development shows a similar pattern. The current quarterly dividend of $0.25 results in a dividend yield of only 1.6% - less than half of Potash Corp.'s yield.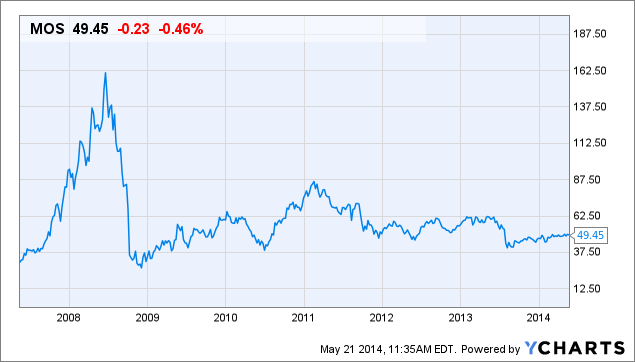 Potash World-market Prices
Potash is the most important business segment for both Potash Corp. and Mosaic Co., and potash margins have been traditionally high in comparison to nitrogen and phosphate fertilizers. The potash market is dominated by a small number of players which has helped to maintain these margins in the past.
The world market spot price for potash has been more volatile than the prices of other fertilizers and has skyrocketed until February 2009 when reaching a record high of $872 per metric ton ("mt"). It then dropped sharply to a low of $312/mt in March 2010 and has recently fallen even below this level. The last monthly spot price for MOP, f.o.b. Vancouver end of April 2014 is $287/mt.
Potassium Chloride (MOP), Monthly Prices in $/mt, standard grade, spot, f.o.b. Vancouver

Source: quandl.com.
It is also important to mention that despite the fact that potassium is an essential crop nutrient, plants can tolerate the absence of potassium fertilization for a relatively long period of time. In other words the stop of nitrogen fertilization immediately has a negative impact on plant yield whereas most crops tolerate it if no potassium fertilizer is applied during a growing season with only small losses. This makes the potash price more vulnerable during a crisis as farmers can relatively easily skip potassium fertilization, at least for a certain period of time.
Supply and Demand Outlook
The long-term outlook for agriculture is very good. An increasing world population, the growing middle class in the emerging countries, and the use of a more crops for the production of bio-fuels requires that agricultural production increases. Fertilizers play an important role for agricultural productivity, consequently the global fertilizer demand will grow, however, studies show that potash supply will grow faster than demand.
The global potash demand is expected to grow from 32.7 million metric tons ("mmt") in 2013 to 37.6 mmt in 2017 (CAGR 3.6%) according to the "2013-2017 Fertilizer Outlook" of the International Fertilizer Industry Association (IFA).
These figures are confirmed by the Food and Agriculture Organization of the United Nations' (FAO) "Fertilizer Trends and Outlook" which forecasts a demand growth from 32.2 mmt in 2012 to 37.2 mmt in 2016 (CAGR 3.8%). The majority of the demand growth is expected to occur in Asia (72%) and only 2.5% in North America.
However, potash capacity and potash supply is expected to grow faster than its demand. IFA forecasts supply to grow from 41.7 mmt in 2013 to 49.7 mmt in 2017 (CAGR 4.5%). This scenario is already very conservative as it considers delays for all ongoing expansion projects and no new greenfield projects.
According to FAO's projections, potash supply will increase from 40.2 mmt in 2012 to 61.4 mmt in 2016 (CAGR 7.1%) and 56% of the new supply will come from North America!
Worldwide potash demand and supply 2013-2017 in mmt

Source: International Fertilizer Industry Association.
Worldwide potash demand and supply 2012-2016 in mmt

Source: FAO.
In any case, the supply grows at a faster rate than the demand, and both studies forecast an increasing overcapacity for the next years which will be in the range of 30-42% in 2016. The major capacity expansions take place in North America where no noticeable growth in potash demand is expected. Potash Corp. and Mosaic Co. as the major producers have also invested billions of dollars in new capacity which will become operational within the next years: Potash's nameplate capacity will increase from 13.9 mmt in 2013 to 18.1 mmt in 2015 after completion of the current expansion program, and Mosaic Co. has 2.0 mmt additional capacity under construction which will be completed by 2018. As a reaction to the unfavorable market environment both companies have already reacted, and delayed or suspended further projects or idled capacities.
In contrast to Potash Corp. and Mosaic Co. which are able to manage capacity utilization of existing operations to a certain extent, new players in Canada will be less flexible. The German Kali & Salz is realizing a major green field project, the "Legacy Project" which is expected to add 2.0 mmt capacity in the first stage in 2017, and further expansions are already projected. BHP Billiton Ltd. (NYSE:BHP), one of the major global mining companies which is not producing potash today plans to enter the market, and is working in Saskatchewan in a similar dimension with the "Jansen Potash Project." BHP has committed a total amount of $3.8B for this greenfield project until 2017.
Conclusion
My main concern for both Potash Corp. and Mosaic Co. is the uncertainty in the potash market. Potash prices have been reclining for almost two years, and I do not see that this trend has been stopped. Global capacities as well as supply are already higher than the demand. Despite lower prices, potash margins are still comparatively high so that prices may come down further. What happened last summer when one major player announced to gain market share at the expense of lower prices, shows how fragile this system is.
Very attractive potash margins in the past have also lead to new significant capacity expansions which will become operational during the next two to five years. The majority of the new capacity is added in North America where no market for additional products is. Consequently, the production from new mines has to find its way to the export market where prices are already lower than in the US or Canada. The fact that new large scale greenfield operations are also built in Canada by new market entrants which have to fill a certain capacity could also put pressure on the high margin North American potash market.
Although both Potash Corp. and Mosaic Co. do all they can to cope with the current market environment, and have taken measures to safeguard profitability to the extent possible, my conclusion is that for both Potash Corp. and Mosaic Co. the risks currently outweigh the chances. Even an attractive dividend yield (at least for Potash Corp.) does not justify buying the stock in the current situation.
Disclaimer: Opinions expressed herein by the author are not an investment recommendation, any material in this article should be considered general information, and not relied on as a formal investment recommendation. Before making any investment decisions, investors should also use other sources of information, draw their own conclusions, and consider seeking advice from a broker or financial advisor.
Disclosure: I have no positions in any stocks mentioned, and no plans to initiate any positions within the next 72 hours. I wrote this article myself, and it expresses my own opinions. I am not receiving compensation for it (other than from Seeking Alpha). I have no business relationship with any company whose stock is mentioned in this article.