The stock charts of domestic plays in the Canadian junior oil market are showing no sign of life, but the junior international plays are getting respect from investors.
Sterling Resources (OTCPK:SGURF) (SLG-TSXv; $2.40) made a 25% move in two days this week on the back of its better-than-expected results on its latest oil project in the North Sea.
And its success appears to be impacting two other North Sea E&P companies – Ithaca Energy (OTCPK:IACAF) (IAE-TSX; $1.87) and Xcite Energy (OTC:XCTGF) (XEL-TSXv; $1.14), as both have moved up this week.
Ithaca and Sterling are very well followed by Canadian analysts who cover juniors or international plays. Both have made multiple large discoveries that will guarantee them production growth well in excess of 100% over the next three years – but most of that growth is at the back end, 2012 or 2013. Sterling is in the OGIB portfolio at $1.90.
Xcite is drilling a well into a known heavy oil field, where the only unknown – and this is the crux of the investment – if they can make the gas-saturated heavy oil flow in a horizontal well (gas saturation is a good thing – helps water down the heavy oil, make it flow better). Results from that well are due out just before Christmas, and it could reach commercial production within 9 months.
Xcite financed at 62 cents earlier this year, and the stock ran to $1.10, so investors can't complain about that. And just as the 96 cent financing closed last Friday, the stock took another jump this week. Xcite is in the OGIB portfolio at 62 cents. South American plays have also been hot recently, as Canacol (CAAEF.PK) (CNE-TSXv; $1.37), which is active in Colombia and Guyana, and Gran Tierra Energy (GTE-TSX, GTE-AMEX; $6.70), active in Colombia, Peru and now Brazil, have steady upward trending charts through all the turmoil of the last . Alange Energy (ALE-TSXv; $0.38) was up 50% in three weeks prior to its disappointing quarterly results – but the stock still traded 10 million shares in the first two hours of trading, saying there is a ready market for these junior international plays.
ONE REASON WHY THESE INTERNATIONAL PLAYS ARE SO HOT
These international plays, when successful, have higher production rates than wells in the Western Canadian Sedimentary Basin (WCSB). With a bigger prize, they are attracting more risk capital from large, global institutions. The market is saying that the steady but slower growth of the premium WCSB plays – the low risk, highly repeatable resource plays with big undeveloped land packages – aren't exciting enough. Even the best domestic junior oil plays have flat stock charts for weeks or months.
But there's something more to it than that. The international plays are getting financed at a (sometimes much) deeper discount to Net Asset Value (NAV) than the domestic plays.
The domestic junior producers generally have fewer shares out, and the true public, free trading number of shares is often VERY small, and so management and the BIBA machine (Brokers, Investment Bankers and Analysts) are able to finance the companies at a much higher valuation. Then the stock chart flatlines for 6-12 months until production increases and fills the value gap created by the stock by financing at such a big valuation.
click to enlarge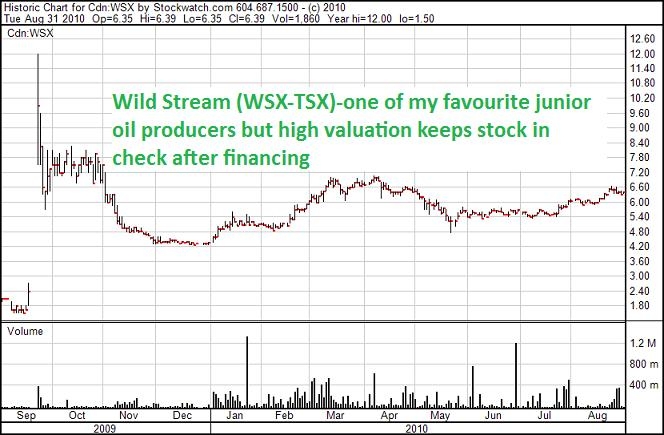 The higher risk international plays end up having bigger share floats, and the financiers want – and usually get – a deeper discount on their financing. Ithaca is a perfect example of this. The stock went from 50 cents to $3, but got financed down at $1.70, much lower than anyone anticipated (though right on its 200 day moving average).
Canadians are luckier than Americans in the sense that Canadian analysts cover a lot more international plays, whereas the Yankees tend to be more myopic and focused on home grown plays. Companies in the US, Canada and Europe want to list on the Canadian (Toronto) stock exchange because they will attract a following and be able to raise capital here.
And as the shale revolution gets exported around the globe, it will remain THE place to be.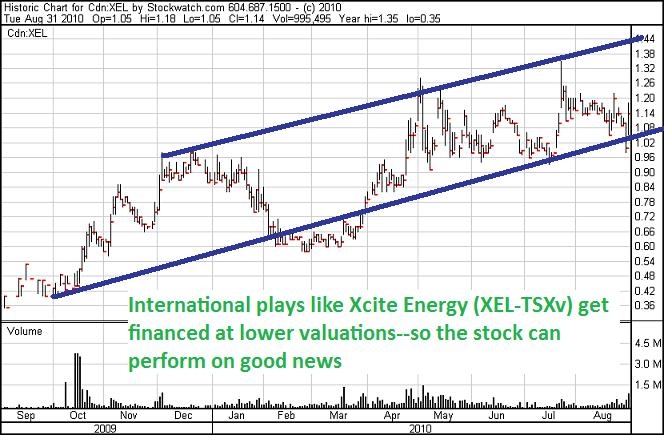 Disclosure: Long Sterling, Xcite, Wildstream, Gran Tierra, Ithaca