JD.com Inc. (NASDAQ:JD), China's largest online direct retailer in terms of transaction volume, plans to raise $1.6 billion in its upcoming IPO.
The Beijing, China-based firm will offer 93.7 million shares, including 26% insider shares, at an expected price range of $16-$18 per share. If the IPO can find the midpoint of that range at $17 per share, JD will command a market value of $23 billion.
JD filed on January 30, 2014.
Lead Underwriters: BofA Merrill Lynch, UBS Investment Bank
Underwriters: Allen & Company LLC, Barclays Capital Inc, China Renaissance Securities (Hong Kong) Limited, Cowen and Company LLC, Jefferies LLC, Oppenheimer and Co., Inc., Piper Jaffray & Co, SunTrust Robinson Humphrey, Inc.
Business Summary
JD is China's largest online direct sales company in terms of transaction volume, having captured a market share of 46.5% in China for 2013.
The firm offers a wide and growing variety of products; though much of the firm's past business has been generated through electronics and home appliances sales, an increasing percentage of JD's gross merchandise volume has been in general merchandise.
JD's Chinese site and site for 'overseas shopping' are depicted below.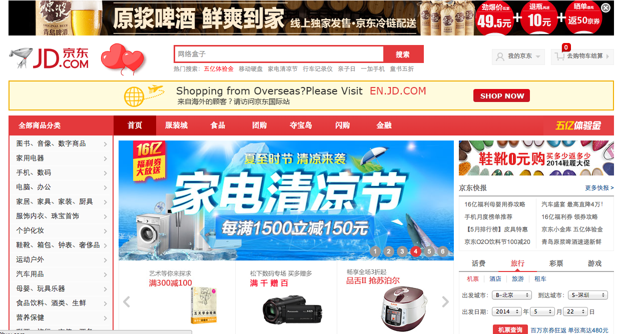 Source: JD.com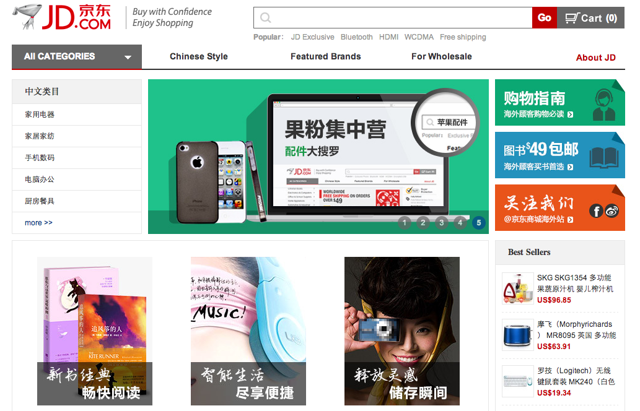 Source: JD.com
JD maintains a large user community to discuss and review the products that it sells, with over 47 million active customer accounts in 2013.
JD also operates its own fulfillment structure in order to provide timely delivery of its products, since Chinese fulfillment services are generally underdeveloped and unable to handle the volume of products that JD moves.
Valuation
JD offers the following figures in its F-1 balance sheet for the year ended December 31, 2013:
Revenue: $11,454,121,000.00
Net Loss: ($8,242,000.00)
Total Assets: $4,296,514,000.00
Total Liabilities: $2,770,205,000.00
Stockholders' Equity: $341,370,000.00
JD has seen significant gains in revenue over the past few years, posting net revenues of RMB21.1 billion in 2011, RMB41.4 billion in 2012, and RMB69.3 billion (US$11.5 billion) in 2013. Over the same periods, the firm posted net losses of RMB1.3 billion, RMB1.7 billion and RMB0.05 billion (US$8 million), respectively.
Major Competitors In Online Retail
JD faces competition from other major online retailers as well as traditional retailers that have developed an online presence. Major competitors include Alibaba Group (ABABA), Amazon (NASDAQ:AMZN), Suning Appliance Company, Wal-Mart (NYSE:WMT), and Gome Electrical appliances (OTCPK:GMELY).
Management
Founder Richard Qiangdong Liu has served as the chairman and CEO of JD since its inception, and has over 15 years' experience in the retail and e-commerce industries. Mr. Liu launched his first online retail website in 2004, and founded JD later that year. Mr. Liu holds a bachelor's degree in sociology from People's University of China in Beijing and an EMBA degree from the China Europe International Business School.
Positive Conclusion For Potential Investors
We are optimistic on this IPO and recommend that aggressive investors should consider this offering.
JD's increasing market share and sheer volume of business are highly impressive -- the firm's gross merchandise volume nearly quadrupled from 2011 to 2013.
While the 'overseas' version of the site (depicted above) is less accessible than some of its American competitors', the rising popularity of online shopping in China should continue to propel the firm forward as it approaches profitability, perhaps further spurred by Alibaba's impending IPO and debut in the global trading arena.
The firm's choice to construct its own delivery system also is encouraging, and sets the firm apart from other online retailers forced to rely on China's subpar fulfillment infrastructure.
Disclosure: I have no positions in any stocks mentioned, but may initiate a long position in JD over the next 72 hours. I wrote this article myself, and it expresses my own opinions. I am not receiving compensation for it (other than from Seeking Alpha). I have no business relationship with any company whose stock is mentioned in this article.