After my latest article regarding an in depth review of the IDR situation, I received numerous requests to give my two cents regarding whether it's a good idea for Kinder (NYSE:KMI) to restructure itself. The following is my response. The Sponsored MLP governance model utilized by The Kinder Morgan Family of companies is much more intricate and complex than simply owning stock in a corporation. This has led to many misconstruing the symbiotic nature of the Sponsored or Traditional MLP governance model. Furthermore, several articles and blogs, who may not fully comprehend the value of the sponsored MLP governance model, have made statements and suggested alternatives that make no sense, could potentially harm investors, and completely change the nature of the organization from a master Limited partnership to a limited liability company. On top of this, many have used peer comparisons that basically amount to comparing apples to oranges. Unwittingly or not, this has created a tremendous buying opportunity presently. In the following sections I will do my best to lay out the facts in a simple and understandable manner.
An Overview of the Sponsored MLP Governance model
I will start off by giving a brief description of the Sponsored MLP Governance model employed by Kinder Morgan.
Kinder Morgan, Inc. (KMI) owns the general partner interest of Kinder Morgan Energy Partners, L.P. (NYSE:KMP) and El Paso Pipeline Partners, L.P. (NYSE:EPB), along with limited partner interests in KMP, Kinder Morgan Management, LLC (NYSE:KMR) and EPB.
It may seem by the recent uproar over IDRs that Kinder Morgan's Sponsored MLP governance model was something out of the ordinary, yet the facts are quite to the contrary. A majority of midstream MLPs operate under these same, practically indistinguishable, governance provisions provided by the Delaware Revised Uniform Limited Partnership Act ("DRULPA").
The governance provisions for sponsored MLPs are comprised of numerous contract requirements designed to align the interests of the common unitholders of the MLP limited partners, KMP and EPB, with the general partner KMI. The general partner is compensated by IDRs from the MLPs distributable cash flow. Kinder's IDR rate has reached the upper limit of 50% presently.
For example, EPB recently announced the company will acquire from KMI 50% interest in Ruby Pipeline, 50% interest in Gulf LNG and 47.5% interest in Young Gas Storage. The transaction value is approximately $2 billion, including $1 billion of proportionate debt at Ruby and Gulf LNG, resulting in an equity purchase price of $972 million. This allows KMI to reduce outstanding debt while allowing the company to continue to participate in the cash flows through the limited partnership agreement.
The MLPs, KMP and EPB are obligated to distribute 100% of available cash for distributions. KMI, as the general partner, makes all the decisions while KMP and EPB unitholders basically have no say in the decision making of the company. The benefit of this is a tax preferred status regarding distributions. Certain market participants purport this is onerous on the MLPs, and point to the fact other entities such as Linn Co. (LNCO) and Linn (LINE) limited liability companies provide a better structure by effectively eliminating IDRs. In the following sections, I will debunk the chief arguments for changing the structure and identify the factors that prove the governance model is working.
Primary differences between an MLP and a corporation
The most striking governance dissimilarity is a corporation is governed by its board of directors which is elected by its shareholders and owes the corporation and its shareholders fiduciary duties. A limited partnership, in deference, is ruled by its general partner. The general partner owes the limited partnership a set of duties that are often contractually defined and very restricted detailed in the partnership agreement.
General partners and corporate boards are not the same
Some say, well look at Linn. Linn has a 100% distributable cash flow pass-through model and doesn't pay any IDRs, that is a better system. The fact is, Linn is not a MLP. Linn is a publicly traded LLC with partnership tax status. There are significant variances in structure between Linn, a MLP, and a corporation illustrated in the chart below.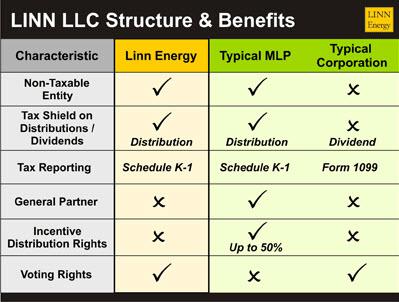 (Source: Linnco.com)
An LLC is effectively mimics a sponsored MLP with a managing member in the role of general partner. Even so, there are numerous governance features that deviate from the sponsored MLP model significantly.
No 100% Distribution rule
Linn's board of directors has no contractual economic incentives. The LLC agreement of Linn has no provisions for minimum quarterly distributions. This can lead to uneven returns as the company may hold back distributions for various reasons. This creates uncertainty which, in turn, increases the cost of capital.
No Poison Pill
MLPs are identified as having a virtually impenetrable takeover defense. This defense resides in the definitional voting rights concept. The concept states only outstanding limited partner interests may vote. Further, any such limited partner interests held by a person or group that has acquired more than 20% of the total outstanding units without the general partner's consent are deemed not to be outstanding and thus not eligible to vote. Linn does not have this defense. The LLC is in the same boat as a corporation with the protections allowed by Delaware General Corporation Law.
The board of directors is not incentivized by cash flow. In my eyes, this makes the general partner much more incentivized by IDRs. A testament to this fact is Kinder Morgan has delivered consistent annualized distribution growth for nearly 20 years. KMP's performance is unquestionably been outstanding. KMP currently has a highly attractive total return yield of nearly 7% and a target distribution growth rate of 5% for the next three years. This is directly supported by organic expansion projects of nearly $14 billion expected to come on line over the next 5 years.
No such thing as an apples to apples valuation comparison with midstream behemoths
Trying to compare the values of midstream companies is an arduous task to be sure for various reasons. First, no two pipelines lines are alike. Throughput and capacity can vary greatly even if the assets are very similar in nature. Second, no two large midstream players have exactly the same amount of each category of assets. .
The entire hullabaloo regarding the unitholder lawsuit is overblown
The thrust of the complaint is KMI's allocation for sustaining capex has been minimized in order to enrich KMI. That just doesn't make sense to me. I submit KMI will be vindicated and the lawsuit defeated after digging through all the available data.
Conclusion
I don't see the value in making any type of structural chance to the Kinder Morgan Family of companies right now. Possibly sometime in the future things will change and I will revisit the situation. I believe the arguments made advocating a restructuring of the organization are specious and illusory. This may be an attempt to beat down shares and force Kinder into a governance model whereby the company no longer has the protection of the poison pill. Unwittingly, this has created a great buying opportunity in the stock. After rustling through everything I could get my hands on regarding the IDR policy, the governance model, the lawsuit, and my original thesis has been confirmed. The company is doing an outstanding job of exceeding growth estimates and recently boosted guidance.
A leopard cannot change its spots. You can't expect an entire organization to change its governance structure to appease a small cohort of investors. If you don't like the fact that Kinder Morgan employs the traditional, most widely used sponsored governance model with IDRs, then vote with your wallet and change investment vehicles. Nonetheless, I see no reason to. The sponsored governance model is not the exception, it is the rule. Only a handful of midstream energy companies operate in a different fashion. Furthermore, KMI's 50% IDRs do not appear unreasonable with KMI providing a substantial backlog of $14 billion.
Disclosure: I have no positions in any stocks mentioned, and no plans to initiate any positions within the next 72 hours. I wrote this article myself, and it expresses my own opinions. I am not receiving compensation for it (other than from Seeking Alpha). I have no business relationship with any company whose stock is mentioned in this article.