CNinsure (NASDAQ:CISG) took a small nose dive Tuesday, dropping over 7% to $21.84 and now is down 12.3% from our sell recommendation at $24.90. Volume was slightly above average and we expect the selling to continue in the near term. Our price target is $20.50 and we will hold that price target but we strongly recommend a hedging strategy to lock in the 12%+ gains from the last 3 weeks.
[Originally posted August 9, 2010:]
We are seeing multiple indications of a potential downward movement for CISG, CNinsure Inc., from our proprietary investment program and believe CISG will move down to $20.50 within the next two months. The option chart below shows the increase in put options over the last several weeks which we believe is based on an impending move down for CISG.

Why CISG:

Increase in Option Volume
Increase in Open Interest

Increase in Implied Volatility
Trailing P/E (ttm, intraday) 24.32

Forward P/E (fye Dec 31, 2011) 16.73
Price/Sales (ttm) 6.31
Price/Book (mrq) 3.71
Enterprise Value/Revenue (ttm) 5.20
Enterprise Value/EBITDA (ttm) 16.45
Click to enlarge
.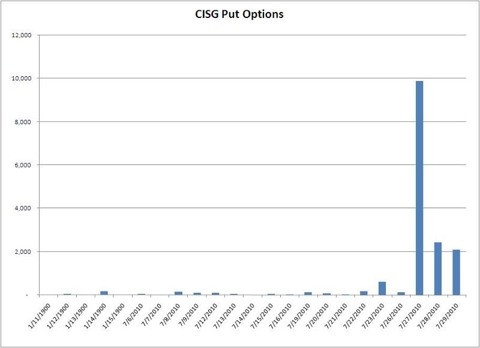 Click to enlarge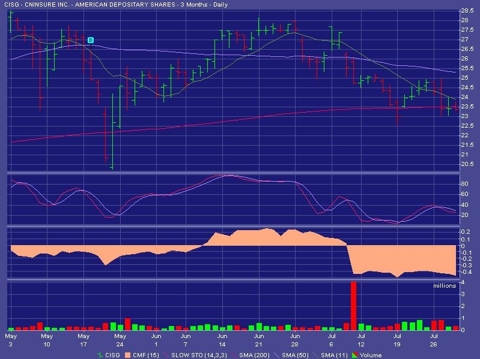 Click to enlarge

CNinsure Inc. (CNinsure), incorporated in April 10, 2007, is an independent insurance intermediary company operating in China. The Company had 48,693 sales professionals, 1,421 claims adjustors and 571 sales and service outlets operating in 23 provinces as of April 15, 2010. As an insurance intermediary company, it does not assume underwriting risks. The Company distributes to customers in China a range of property, casualty and life insurance products underwritten by domestic and foreign insurance companies operating in China and provides insurance claims adjusting services, such as damage assessment, survey, authentication and loss estimation. It also provides services, such as around-the-clock emergency services and assistance with claim settlement, to its customers, individuals and institutions that purchase insurance products through CNinsure. In addition, it provides information about customers to insurance companies, which then sell insurance products to them, either directly or through its affiliated insurance intermediaries. In October 2009, it acquired a 20.58% interest in China Financial Services Group Limited.

In November 2009, the Company started to offer consumer financial products and services, through a consumer credit brokerage company in which it holds non-controlling interests. CNinsure is compensated for its services primarily by commissions and fees paid by insurance companies, based on a percentage of the premium paid by the insured or a percentage of the amount recovered from insurance companies. CNinsure markets and sells to its customer's two categories of insurance products: property and casualty insurance products and life insurance products. The insurance products the Company sells are underwritten by the insurance companies in China. It also provides insurance claims adjusting services to both insurance companies and the insured, as well as certain services to its customers in conjunction with distributing automobile insurance products.

Property and Casualty Insurance Products

CNinsure's principal property and casualty insurance products are automobile insurance. In addition, it also offers individual accident insurance, commercial property insurance, and construction insurance products. Total net revenues from property and casualty insurance products accounted for 67.8% of its total net revenue during the year ended December 31, 2009. The property and casualty insurance products the Company distributes can be classified into categories, such as automobile insurance, individual accident insurance, commercial property insurance, homeowner insurance, cargo insurance, hull insurance, liability insurance and construction insurance. The property and casualty insurance products it distributed in 2009, were primarily underwritten by PICC Property and Casualty Company Limited, China Pacific Property Insurance Co., Ltd., Ping An Property & Casualty Insurance Company of China, Ltd. (Ping An), Tian Ping Auto Insurance Co., Ltd. (Tian Ping) and Tian An Property and Casualty Insurance Co., Ltd.

Life Insurance Products

The life insurance products the Company distributes can be classified into categories, such as individual whole life insurance, individual term life insurance, individual endowment life insurance, individual education annuity, universal insurance, individual health insurance and group life insurance. The individual whole life insurance products CNinsure distributes provide insurance for the insured person's entire life in exchange for the periodic payment of fixed premiums over a pre-determined period, generally ranging from 5 to 20 years, or until the insured reaches a certain age. The individual term life insurance products it distributes provide insurance for the insured for a specified time period or until the attainment of a certain age, in return for the periodic payment of fixed premiums over a pre-determined period, generally ranging from 5 to 20 years. The individual endowment products the Company distributes provide maturity benefits if the insured reaches a specified age, and provide to a beneficiary designated by the insured guaranteed benefits upon the death of the insured within the coverage period. In return, the insured makes periodic payment of premiums over a pre-determined period, generally ranging from 5 to 25 years.

The individual annuity products it distributes are primarily education related products. They provide annual benefit payments after the insured attains a certain age. The Company distributes certain universal insurance products that provide not only insurance coverage but also a minimum guaranteed return on the amount the insured puts into an individual investment account. The individual health insurance products it distributes primarily consist of dread disease insurance products, which provide guaranteed benefits for specified dread diseases during the coverage period. It distributes group life insurance products, including group health insurance. These group products generally have a policy period of one year and require a single premium payment.

Insurance Claims Adjusting Services

In 2009, total net revenues from claims adjusting services accounted for 12.2% of the Company's total net revenue. The Company's insurance claims adjusting services include pre-underwriting survey, claims adjusting, disposal of residual value, loading and unloading supervision and consulting services. Before an insurance policy is sold, the Company conducts a survey of the item to be insured to assess its current value and enable its clients determine the insurable value and the amount to be insured. When an accident involving the insured subject matter has occurred, it conducts onsite survey to determine the cause of the accident and assess damage. In the course of providing claims adjusting services, it also can appraise the residual value of the insured property and offer suggestions on the disposal of such property. Upon appointment by ship owners, shippers, consignees or insurance companies, the Company can monitor and record the loading and unloading processes of specific cargos. It provides consulting services to both the insured and the insurance companies on risk assessment and management, disaster and damage prevention, investigation, and loss assessment.

Other Services

In conjunction with the sale of automobile insurance products, the Company provides its customers with a number of other services. CNinsure assists its customers with obtaining vehicles licenses and annual inspections. It maintains 24-hour service hotlines in its principal markets.

The Company competes with Shenzhen Min Tai'an Insurance Surveyors & Loss Adjustors Co. Ltd., China Zhonghe Ltd., Cars.cn Ltd., HuaKang Financial Service Inc., Marsh & McLennan Companies, Inc., Aon Corporation, Willis Group Holdings Limited.

Currently trading at $24.90, we believe, based on our proprietary program, a downward movement to $20.50 within the next two months is forthcoming. CISG trades on average 500,000 shares per day, and has traded down from $28.00 back in May.


We recommend selling the equity straight out at $24.80 or higher.

If you like derivatives, we recommend the September 25 Puts. If you want to take additional risk/reward the September 22.50 Puts are also recommended.


RELATED COMPANIES:
Ticker

Company name

Exchange

Price

Change

Chg %

Earnings per share

P/E ratio

Mkt Cap

CNinsure Inc.

NASDAQ

24.90

+0.12

+0.26%

1.02

22.89

1.06B

Willis Group Holdings PLC

NYSE

30.07

-0.15

-0.50%

2.65

11.36

5.10B

Aon Corporation

NYSE

37.30

+0.67

1.83%

2.02

18.43

10.05B

Brown & Brown, Inc.

NYSE

19.78

-0.15

-0.75%

1.04

19.03

2.81B

Arthur J. Gallagher & Co.

NYSE

25.03

-0.22

-0.87%

1.28

19.50

2.59B

INSW

InsWeb Corporation

NASDAQ

5.08

0.00

0.00%

0.10

49.39

24.54M

Marsh & McLennan Compa...

NYSE

23.13

-0.07

-0.30%

0.59

39.02

12.52B

QUOT

Life Quotes Inc

NASDAQ

3.98

0.00

0.00%

1.93

2.06

26.94M

CHIO

China INSOnline Corp.

NASDAQ

0.370

0.000

0.03%

0.20

1.87

14.80M
FINANCIALS:
| | | |
| --- | --- | --- |
| In Millions of USD (except for per share items) | 3 months ending 2009-09-30 | 3 months ending 2009-06-30 |
| Revenue | 281.96 | 355.50 |
| Other Revenue, Total | - | - |
| Total Revenue | 281.96 | 355.50 |
| Cost of Revenue, Total | 140.95 | 177.18 |
| Gross Profit | 141.00 | 178.31 |
| Selling/General/Admin. Expenses, Total | 68.33 | 68.15 |
| Research & Development | - | - |
| Depreciation/Amortization | - | - |
| Interest Expense(Income) - Net Operating | - | - |
| Unusual Expense (Income) | - | - |
| Other Operating Expenses, Total | - | - |
| Total Operating Expense | 209.29 | 245.33 |
| Operating Income | 72.67 | 110.16 |
| Interest Income(Expense), Net Non-Operating | - | - |
| Gain (Loss) on Sale of Assets | - | 0.00 |
| Other, Net | 0.10 | 0.37 |
| Income Before Tax | 89.29 | 117.73 |
| Income After Tax | 66.31 | 89.40 |
| Minority Interest | -2.47 | 3.56 |
| Equity In Affiliates | 3.50 | 0.81 |
| Net Income Before Extra. Items | 67.35 | 93.77 |
| Accounting Change | - | - |
| Discontinued Operations | - | - |
| Extraordinary Item | - | - |
| Net Income | 67.35 | 93.77 |
Disclosure:
None