Introduction.
After studying the nature and quality of the fleet of five different offshore drilling companies recently, I decided to try to compare them and present an honest picture of their own strengths and also weaknesses. I have started a position with Ensco Plc. (NYSE:ESV), that I added to my Transocean Ltd. (NYSE:RIG) and Seadrill Ltd. (NYSE:SDRL), which represented the core of my offshore drillers holding. My strategy going forward is to eventually add another company that offers some interest or even a better value right now.
All five companies studied here are facing the same business headwinds, which is a slowdown in demand and an oversupply of rigs that will extend until probably mid-2015 or maybe earlier. This market fact is putting pressure on the day rates, and accordingly on revenues and earnings.
Rigzone is indicating the total offshore rig utilization on 05/16/2014 going from 85.8% a year ago to currently 80.4%, despite a total increase of rigs working from 610 to now 621. The rapid expansion of the total rigs available in the market has increased faster than what the market could possibly absorb. Consequently, this pattern produced lower day rates throughout the whole industry. This effect is not as pronounced as what the street was expecting, showing some resilience, indicating that the softness may not last long.
This slowdown cycle in the floaters and jackups are historically short-lived, and are followed by a booming period. Thus, it is time to accumulate and start a new value investor holding in time to catch the next rally.
You can study in more detail these five companies through my other recent articles, if you want to get more familiar about one particular company.
Here is the list of the five companies that will be part of the study:
1 - Ensco Plc.
The company offers offshore contract drilling services to both domestic and international oil companies. The ESV has a large offshore drilling rig fleet (75 rigs). Its fleet portfolio includes 10 drillships, 46 independent leg jackups and 19 semi-submersible rigs. It is aggressively investing in its fleet to compete in this highly selective offshore market. In total, ESV has 8 rigs in construction.
Consequently, its newly-built ultra-deepwater rigs have started work on a multi-year contract with previous customers. It received two new ultra-premium, harsh environment ENSCO 120 series jackups. Both ENSCO 120 series jackups were contracted in advance for a multi-year program.
All these positive investments in its business take its backlog to $10.7 billion.
ESV posted impressive record revenue and earnings in 2013, and increased its dividends twice by 33% and 50% to now $3/share. Its strong balance sheet and borrowing capability (both its commercial paper program and revolving credit facility) will provide more flexibility for the company to make additional investments to get a competitive fleet.
Ensco Plc. was founded in 1975, and is headquartered in London, the United Kingdom.
2 - Atwood Oceanics Inc. (NYSE:ATW)
The company was founded 45 years ago, and provides offshore oil contract drilling services and has expanded worldwide. Atwood Oceanics Inc. is based in Houston, Texas. It has 1,830 full-time employees.
ATW has a total fleet of 14 rigs, consisting of six UDW ultra-deepwater drillships, including three drillships under construction; three deepwater semi-submersible rigs; and five jackups. One semi-submersible (Southern Cross) is cold-stacked in Malta and another one (Seahawk) was sold on April 2014.
Backlog is at $3.385 billion until 2018.
3 - Diamond Offshore Drilling Inc. (NYSE:DO)
Diamond Offshore provides drilling services to global energy industries, particularly oil companies. The current company was founded in 1989, but can be traced to 1953, when Odeco's Alden LaBorde developed the first semi-submersible rig. Odeco, founded in New Orleans, Louisiana, was purchased by Diamond Drilling. It specializes in offshore drilling in regions such as the North Sea and Gulf of Alaska. The company employs around 5,500 employees worldwide, and has three regional offices in Australia, Brazil and Scotland.
It has a fleet of 45 drilling rigs, including 5 rigs under construction. Its fleet consists of 33 semi-submersibles, two of which are under construction, five dynamically positioned drillships, three of which are under construction, and seven jackups. The midwater Ocean New Era, Ocean Epoch and Ocean Whittington are for sale. The jackup, Ocean Spartan is also for sale. Actual backlog is $6.8 billion.
Former CEO, Lawrence R. Dickerson just retired after more than 30 years of service with the company, and has been replaced by Marc G. R. Edwards. Mr. Edwards has spent most of his career with Halliburton (NYSE:HAL).
The company was founded in 1989, and is headquartered in Houston, Texas. Diamond Offshore Drilling, Inc. is a subsidiary of Loews Corporation (NYSE:L).
4 - Ocean Rig UDW Inc. (NASDAQ:ORIG)
ORIG is an international mid-tier offshore drilling contractor providing oilfield services for offshore oil and gas exploration, development and production drilling. It is specialized in the ultra-deepwater and harsh environment category of the offshore drilling industry. The company is based in Nicosia, Cyprus. Ocean Rig UDW Inc. is a subsidiary of DryShips Inc. (NASDAQ:DRYS), with an ownership of 59.4% at the end of 2013.
The company has 1,477 employees.
The company owns and operates 11 offshore ultra-deepwater drilling units comprising of two ultra-deepwater semi-submersible drilling rigs and nine ultra-deepwater drillships; Ocean Rig Skyros and Ocean Rig Athena were delivered to the company in 2014, and two other rigs are scheduled to be delivered during 2015-2016; the Ocean Rig Apollo (already rented to Total in Congo early 2015) and Ocean Rig Santorini.
The next Q1 earnings' results will be released on May 23, 2014, and I will be interested to hear what George Economou, CEO, will say about the UDW market softness.
It is important to indicate also that ORIG decided to join the dividend offshore drillers' club, and will pay a dividend of 0.19/Q per share on May 30, 2014, which represents about 4.6% per annum. The dividend will be determined on a quarterly basis. ORIG is a rapid-growth offshore driller, and grew rapidly since 2010.
Here is what Anthony Argyropoulos, Capital Markets Special Adviser to the CEO, at said at the CC:
Our growth has been exceptional starting with 2 units as late as 2010, 6 by the end of 2011, and moving to 9 units with the delivery of our latest newbuilding, the Ocean Rig Athena, and then to 11 units in 2015.
ORIG backlog at the beginning of 2014 was an impressive $5.4 billion until 2018. The average term of the contract is 2.6 years, or 4.1 years including options.
5 - Rowan Companies Plc. (NYSE:RDC)
The company was founded in 1923 by Charles and Arch Rowan, and provides offshore oil contract drilling services, and has expanded worldwide. Rowan Companies Plc. is based in Houston, Texas.
Rowan has a fleet of 34 offshore drilling rigs, including three drillships under construction. Its fleet consists of four drillships, three of which are under construction, and 30 jackups, 19 of which are rated high-specification. The company has a very strong jackup fleet, and now is trying to enter the market of the ultra-deep drilling sector. The Rowan Renaissance drillship entered the market in April 2014.
Note: Rowan is initiating a dividend of 0.10/share starting Q2 2014, or 1.3% per year. Backlog is at an all-time high, at $5.037 billion. Full-year 2014 capital expenditure is estimated at $2.1 billion.
Comparative fleet snapshot.
Company
Total Rigs

Drillships

Avail. /Idle/New

Cold Stacked

Semi-sub.

Avail. /Idle

Cold Stacked

Midwaters

Avail. /Idle

Cold Stacked

Jackups

Avail. /Idle

Cold Stacked

Backlog

$ billion

Ratio Backlog/Total rigs

Rf

ESV
75

10

6

0

19

3

2

N/A

46

9

0

10.7
0.143
ATW
19

6

3

0

3

1

0

N/A

5

0

0

3.4
0.179
DO
45

13

4

0

7

0

0

18

0

3

7

1

1

6.8
0.151
ORIG
11

9

3

0

2

0

0

N/A

N/A

5.4
0.491
RDC
34

4

3

0

N/A
N/A

30

7

0

5.4
0.159
1 - Comment about the Rf ratio:
Rf is a personal ratio of future growth and strength that I decided to use for the offshore drillers. It is calculated based on the backlog in $ billion divided by the total rigs owned. I have included the rigs that are cold-stacked and idled too. It is just a fundamental indication that will allow us to compare the backlog's strength between companies, using a common unit.
Using this ratio for comparison of strength, we can see that most of the companies studied have a ratio of around 0.16/0.14, which is satisfactory and healthy. One company offers some particular strength, and it is ORIG, which has a ratio of 0.491.
ESV is lagging behind a little, but managed to get above 0.14, which is very impressive when we see the size of its fleet compared to the others. Here is my rating based on Rf:
| | | |
| --- | --- | --- |
| Company | Rf | Rating % |
| ESV | 0.143 | 81 |
| ATW | 0.179 | 92 |
| DO | 0.151 | 90 |
| ORIG | 0.491 | 100 |
| RDC | 0.159 | 85 |
2 - Comment about the nature of the fleet composition.
When we look at the fleet composition, we can see that few companies chose not to compete in one of the three basic rig categories, which are, the drillships, the semi-submersibles and the jackups.
In fact, if we look at Rigzone, we discover that there are 23 different rig types:
| | | | |
| --- | --- | --- | --- |
| Name | Floaters | Jackups | Others |
| Different type | 5 | 12 | 6 |
| Total rig fleet | 326 | 532 | 409 |
| Total rig working | 253 | 392 | 198 |
ORIG, RDC and ATW, for example, have recently entered the UDW (short for the Ultra Deep Water drillships) sector, which is experiencing day rate softness due to a reduced demand from big oil companies and a net surplus of rigs for 2014 and 2015. This timing may present a net disadvantage, because it may produce some extra cost due to the adaptation of this competitive market dominated by Seadrill, Transocean, Noble, etc.
Other companies as ESV and RDC have invested more heavily in the jackup rigs sector, which seems to suffer less than the UDW drillships and harsh environment semi-submersible sectors. Particularly for the high-specification jackups sector.
The jackup sector is also highly competitive, and it is important to analyze the nature and age of the fleet to see clearly if the company owns an adapted fleet ready to take advantage of the market or not.
Fleet age per category.
This comparative study is more complicated that I previously thought, because of the different specifications between the different companies presented here. For example, Rowan is heavily invested in jackups, and divides its jackup fleet in 3 categories: Conventional, premium and high-specification. (Rigzone indicates 12 different jackup types.)
These sub-categories are not indicated by other companies with a much smaller jackups fleet. Same comment related to the floaters.
Here is a comprehensive and succinct table:
Company
Total Rigs

UDW Drillships

Age

Semi-sub.

Age

Midwaters

Age

Jackups

Age

Rating

%

ESV
75
5
15
N/A
7.5
100
ATW
19
New
32.4
N/A
4.8
75
DO
45
6
16
36
29.5
65
ORIG
11
New
13
N/A
N/A
100
RDC
34
New
N/A
N/A
39/32.4/8.2
80
The fleet rate of utilization.
Another important comparative element related to the fleet status is the rate of utilization for the next few years. Most of the offshore are indicating a backlog that stretches to 2018 and more. I will indicate here the rate of utilization for 2014 and 2015.
Also, I am using the term "floaters" to include the UDW drillships, the semi-submersibles and the midwater rigs.
Company

Rate of utilization

2014

Floaters/jackup

ESV
78 overall
ATW
92 overall
DO
68/50
ORIG
99/NA
RDC
NA/95
Conclusion and recommendation.
Here is the YTD chart for the 5 offshore drillers studied here: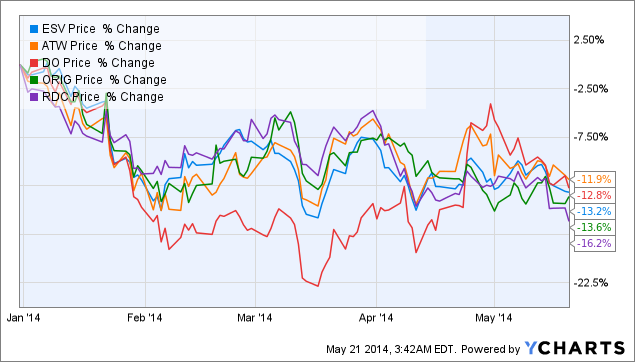 ESV data by YCharts
This comparative study is focusing on the fleet technicals, and will not take into consideration any other fundamental elements as the dividends, the balance sheet strength level or any other financial criteria as the capital expenditure.
Here is my final rating:
| | |
| --- | --- |
| Company | Rating |
| ESV | 259 |
| ATW | 259 |
| DO | 215 |
| ORIG | 299 |
| RDC | 260 |
The clear laggard in the fleet analysis is Diamond Drilling, because of its aging fleet showing as a clear minus, and the obvious winner is Ocean Rig UDW. A global review of these different stocks confirms that Ensco Plc., Atwood and Rowan have an equal rating. However, when we look at the dividends, which is an important component for a value investor, we are noticing that ATW doesn't have a dividend policy, which is a minus, and RDC has a tiny 1.3%.
| | | | | | |
| --- | --- | --- | --- | --- | --- |
| Company | ESV | ATW | DO | ORIG | RDC |
| Dividend % | 6.0 | N/A | 6.10 | 4.6 | 1.3 |
Conclusion:
After comparing ESV with ATW, DO and RDC, it seems that my choice was the right one. However, honestly, I believe ORIG presents slightly more appeal overall, and I will certainly buy ORIG and add it to my portfolio.
Disclosure: I am long ESV. I wrote this article myself, and it expresses my own opinions. I am not receiving compensation for it (other than from Seeking Alpha). I have no business relationship with any company whose stock is mentioned in this article. Will add ORIG to my portfolio.