I am a big fan of stocks with high yields and growing dividends. That has become even more important in recent years when the Federal Reserve's low interest rate policy has been hard on investors saving for retirement and those who need income during retirement. The ultimate goal for successful investing for the vast majority of investors is high income at retirement, not investment worth which can give a false sense of accomplishment when a portfolio value rises.
After substantial appreciation by a stock, there can be problems at retirement. First the stock has to be sold. Then capital gains tax reduces the amount of money available for reinvestment and the remaining money has to be reinvested at a higher yield. A low interest rate environment has been all but virtually promised by the Federal Reserve to last for at least another 2 years. However stocks that start with high yields and increasing dividends, should provide higher income at retirement without reinvestment and tax issues. Additionally, reinvested dividends magnify rising income prior to and during retirement (a period of life that can last for decades).
Below are 3 stocks offering excellent yields and growing dividends. As a bonus, they pay monthly dividends which many investors appreciate: Realty Income (NYSE:O), EPR Properties (NYSE:EPR) and Linn Energy's, LinnCo (LNCO).
Realty Income
Realty is an REIT stock that has an unusually impressive record of growing dividends for decades which few companies can match. The opening words in the 2013 annual report tell it all:
MISSION

We are The Monthly Dividend Company. Over the past 45 years we have paid our shareholders over $2.7 billion in monthly dividends and we have increased dividends 74 times since our listing on the New York Stock Exchange in 1994 (NYSE "O").
For me this is the ultimate goal for successful management, reward each shareholder (the ultimate boss) with growing dividends. 2 charts demonstrate what investors want, especially in recent years when many companies stumbled. During the last 10 years, dividends grew 82% which accounted for almost all of the 87% total investment gain. The second table shows the company beating the averages.
Realty Income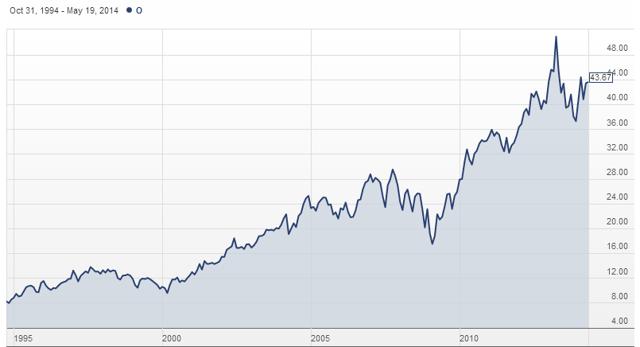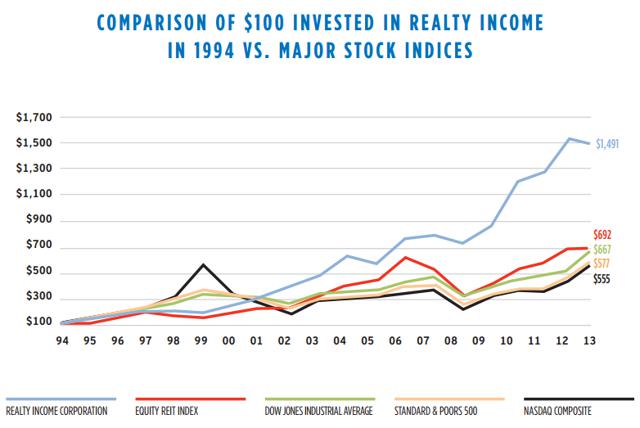 Realty owns 3896 properties (up from 630 in 1994) in 49 states and Puerto Rico. The net-leases are single-tenant commercial properties for 10 to 20-years. Since 1969, occupancy has exceeded 96% (a high rate is critical for successful investing in real estate). Expanding the portfolio is the key for FFO growth. Realty has more than $900 million available on a $1.5 billion line of credit to fund future growth.
Funds From Operations (FFO) per share have been stable and reasonably predictable because of the long-term leases. Management is guiding 2014 FFO per share of $2.53-$2.58, up 5-7% from $2.41 in 2013. That easily supports the $2.19 dividend and subsequent increases (which tend to be modest). The stock at $43.68 yields 5% and 61% of the 2013 dividend was taxable as ordinary income.
EPR Properties
EPR Properties is an REIT that I've owned for more than 15 years with an excellent record. My original investment is yielding 70% based on the annual income rate this month. The shares have more than tripled (helped by reinvested dividends) while the dividend has more than doubled.
EPR Properties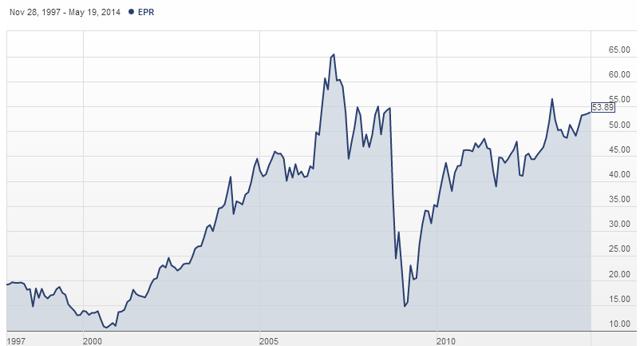 This REIT is different from some of the best known REITs because it invests in niche property markets. EPR started buying multi-plex theater properties (with at least 16 screens), a business that has done well. In recent years management diversified, adding other properties in entertainment (entertainment-related or retail properties), recreation properties (metro ski parks, waterparks and golf complexes) and education properties (largely charter schools).
The $3.6 billion portfolio includes over 200 locations in 37 states and Canada with over 250 tenants. The entertainment group accounts for 63% of the investments (down from 100% in the early years). The education and recreation groups each account for about 16%. The company expects to invest $500 million this year and diversification is continuing. In 2013, less than 29% of new investments were in entertainment properties, down from 41% in 2013.
Dividend growth was blemished with a cut from $3.36 in 2008 to $2.60 in 2009. The recession was hard on REit's and many cut dividends. Since 2011 increases have brought the dividend to a new record $3.42. Last month, EPR raised 2014 FFO per share guidance to $4.12-$4.22 which easily covers the dividend and an increase in 2015. At $53.68, the stock provides a generous 6.4% yield and 71% of the dividend in 2013 was taxed as ordinary income. Monthly dividends began last year.
LinnCo
Linn Energy (LINE) became one of the largest MLPs in the last decade. However last year it was controversial and requires more explanation. LINE is different from many other MLPs that invest in pipelines and terminals for energy products (typically oil and gas). This is an upstream company extracting oil and gas from the ground.
LINE has grown rapidly helped by an aggressive acquisition strategy. Last year it offered to merge with Berry Petroleum (its largest acquisition) using a new security (LNCO), a stock that tracks LINE units. Dividends match unit distributions but dividends do not have tax hassle. The only other acquisition in the last 18 months was $525 million paid for the East Goldsmith Field in the Permian Basin.
This stock had unusual volatility last year followed by only a minimal recovery this year. There were a series of articles in the first half of 2013 questioning management's credibility and accounting standards for its energy production. They said there would not be enough cash flow to pay for distributions and dividends. The unit's and related LNCO shares plunged to the 20s in the middle of 2013, shown below. The lack of recovery this year contrasts with the Alerian MLP Index, up 5% YTD to a new record high.
LinnCo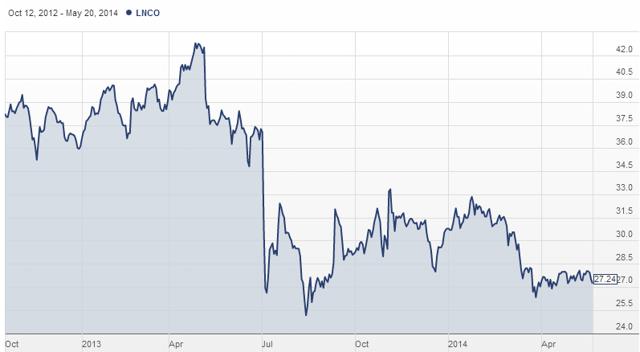 Additional documents were requested by the SEC and the Berry acquisition was postponed 6 months to December. The writers of negative articles have largely gone away (after making substantial sums by shorting the securities) but Linn securities operate under a cloud. Affecting results going forward, the tumult around the Berry acquisition forced LINE to issue more LNCO shares and that will crimp growth over the short term (starting with 2014).
The key for increasing distributions is organic growth. In Q1, daily production increased 39% to 1,104 MMcfe/d from 796 MMcfe/d last year, while sales doubled to $939 million from $463 million. Net cash from operations was $434 million, ahead of last year's $335 million. However much of that gain is due to incremental revenue from Berry and East Goldsmith Field properties. LINE expects production in Q2 of 1,075-1,110 Mmcfe/d, similar to Q1 results and full-year 2014 production guidance is 1,075-1,135 Mmcfe/d.
Distributions of $240 million were paid in Q1, sharply ahead of $171 million last year. The net cash shortfall to cover distributions in Q1 was $3 million, a slight improvement from the $20 million shortfall last year. Distributable cash flow (DCF), the measure used needed to cover the distributions, is forecasted at a minimal 1.01 times distributions in 2014. The company is looking to trade (sell) 55,000 acres in the Midland Basin (in the Permian Basin) for extra cash.
LNCO stock at $27.24 yields more than 10½% and none of last year's dividend was taxable as ordinary income. Monthly dividends began last year.
These 3 companies share 2 important investment qualities. Each has a high yield and pays monthly dividends. Realty "owns" the monthly dividend name. With its multi-decade record of growing dividends, its in an outstanding investment.
The 2 higher yielding stocks carry additional risk. The EPR yield traditionally has been 200-300 basis points above yields on more famous REITs because it invests in niche markets that are not well understood. But over the long term, EPR dividends and stock appreciation has been excellent.
LNCO is in a class by itself because of last year's difficulties. I'm bullish on the stock, but distribution coverage has been thin and that will continue in 2014. Over the short term, growth will be limited without acquisitions. Longer term, record oil and natural gas production is revolutionizing energy production in the US which will bring energy independence in the coming years. Linn Energy will benefit.
The company's track record provides a guide for the future. During the 2009 recession, there were dividend cuts by some MLPs. LINE plunged during the sell-off, sending the yield over 20% on doubts about the distribution. But the $2.52 rate was maintained and investors who locked up high yields were rewarded. Management survived that period and last year's excitement.
Dividends are the ultimate test for management, delivering high and growing income for shareholders. Today a Federal Reserve official reminded everybody that the Federal Reserve view is that a "considerable period of time" will elapse between the end of quantitative easing and the first interest-rate increase. These stocks can help investors get through this period.
Disclosure: I am long EPR, LNCO. I wrote this article myself, and it expresses my own opinions. I am not receiving compensation for it (other than from Seeking Alpha). I have no business relationship with any company whose stock is mentioned in this article.