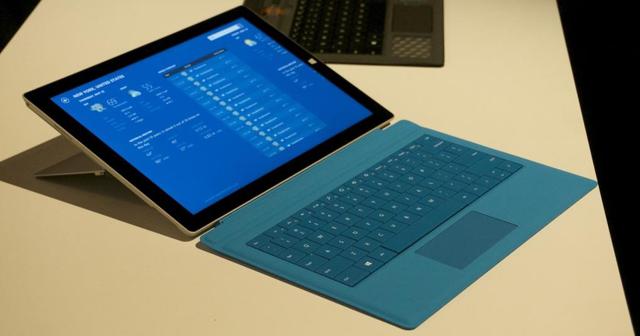 With Surface Pro 3, Microsoft (NASDAQ:MSFT) might finally be silencing critics like myself.
As a blogger who has written extensively about Microsoft for the past 5 years, I have been very hard on Microsoft lately.
After Windows 8/8.1/8.x, there was a certain malaise that seemed to come over the company. For a while, it seemed like a major shakeup and reorg was needed to get things back on track.
I reviewed the Microsoft Surface and the Surface Pro 2.
While the Surface concept was really innovative, it seemed that they never really did the job of a tablet or laptop well enough.
I never really knew what to do with the device.
Microsoft seems to have gotten the message from a bunch of bloggers and consumers who think like me.
Enter the Microsoft Surface Pro 3. Microsoft (much to its credit) has taken on the major challenge posed to it by consumers and bloggers alike.

"Meet the tablet that can replace your laptop".
I am actually excited to check out this new innovative device from the company.
Now I won't bore you with the full specs, you can read about those here.
Based on the experience from the last 2 Surface rollouts, here are the 5 things I am looking for.
Distribution
The Surface Pro is available for pre-order today, and ships on 6/20/2014.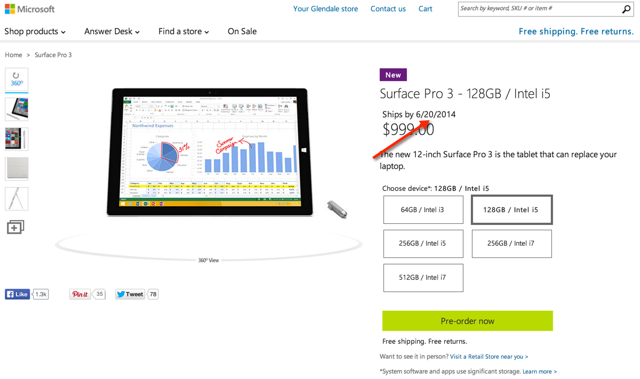 I ordered mine last night. It would have been fantastic to have the announcement on Tuesday and the devices on shelves the next day, but I guess it is what it is.
I would like to see tons of Surface Pro 3 devices at Best Buy (NYSE:BBY), Staples (NASDAQ:SPLS), etc. when it comes out.
Microsoft has a track record of very poor distribution when it comes to Surface and Surface Pro. See this and this for reference. The company needs to make all models available in a timely manner. This is a third-generation device, there should be progress in this area.
Pricing
While everything looks good, I still have concerns about the aggressive pricing of the device.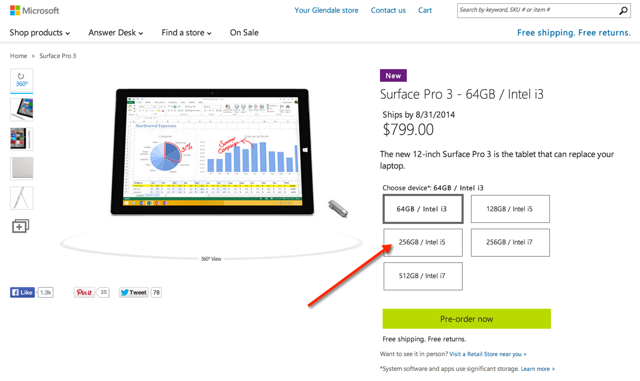 The 512GB Intel i7 tablet is $1949.
The 256GB Intel i7 tablet is $1549.
The 256GB Intel i5 tablet is $1299.
The 128GB Intel i5 tablet is $999.
The 64GB Intel i3 tablet is $799.
Source - Microsoft Store
I think that this is not aggressive pricing, but rather reflects the price point that Microsoft believes the device is worth. I have always been critical about this, because I believe that Microsoft needs to follow the loss leader cycle for this device.
While I have no doubt that the device may be beautiful and may even be worth the amounts it is charging, I think the amounts it is charging are not market-dominance numbers, they are "consumer has to think about it" numbers.
I believe the 512GB should be more at the $1499 price point to make it a no-brainer. Time will tell if I am wrong.
Surface Pro 2
I am going to be curious about the deals that Microsoft will be giving on Surface Pro 2. How aggressively will it clear out old inventory to make room for the new stuff.
Accessories
Dear God in heaven, will Microsoft have docking stations and tons of accessories in place on day one?
This has always rubbed me the wrong way. It took FOREVER for the company to release the docking station for the second-generation Surface devices. That seems like a cardinal sin to me. It needs to have a lot of accessories ready on day one.
Marketing
In April, Microsoft selected 2 new marketing agencies to run its marketing efforts. It's time to run a mature, adult, marketing campaign. No more breakdancing ads to sell a business device.
Microsoft needs to stick with its "tablet that can replace your laptop" message and own that message.
The bottom line for the investor
Surface Pro 3 could be a game changer for Microsoft.
Watch for the reviews that come out at the end of June. If they are great, watch for the stock price to climb a little.
Speaking for myself, it would be nice to see company drive trends for a change, instead of watching Apple (NASDAQ:AAPL) and following its lead.
Disclosure: I have no positions in any stocks mentioned, and no plans to initiate any positions within the next 72 hours. I wrote this article myself, and it expresses my own opinions. I am not receiving compensation for it (other than from Seeking Alpha). I have no business relationship with any company whose stock is mentioned in this article.
Additional disclosure: I am the CEO of Learn About The Web Inc. (learnabouttheweb.com). Learn About The Web™ is an online business education platform dedicated to providing universities and businesses with the tools required to credibly teach online business. I teach and discuss online business companies (including Microsoft) frequently. I also own and monetize several Microsoft-related online properties like Eye On Windows (eyeonwindows.com) and Windows 9 Update (windows9update.com). I also own a PeopleSoft-related web property (peoplesoft-planet.com).