By Steven Carroll
The market's harshest lesson for the resolute portfolio manager attempting to stay dispassionate in the face of pure greed -- that it can stay aloft far longer than the manager can stay underweight -- has been visible for all to see.
Now a strange thing is occurring in the tech space; like the turning of an oil tanker - easy to miss at first, yet now unmistakable. Valuation has reared its head. Note that the mid/large cap YTD aggregate performance of Internet & catalog retail is -14.4%.

Source: Thomson Reuters Eikon, StarMine
Bargains or bulls?
Is it yet time to go bargain hunting? In aggregate, one suspects the answer to be no - conceivably the historical equivalent of going bargain hunting in the third quarter of 2000, or in late 1929 when the market was down 47.9% and no one remotely conceived of an eventual peak to trough decline of 89%.
Yet the bulls still have their points - no one is going bankrupt, the perverse U.S. tax code ensures these companies maintain mountains of cash offshore and companies are mostly profitable with positive cash flow. While accurate, these comments misstate the actual issue.
Large-cap tech stocks do not need to go bankrupt to deliver a lousy return. They merely need to underperform the lofty expectations built into current prices - and even after YTD underperformance, all of these firms are expecting double-digit earnings growth for the next 10 years. That doesn't sound like the end of an adjustment cycle.
Not all Internet retail stocks lean toward overvaluation. Take Expedia (NASDAQ:EXPE). When it comes to travel, the Internet has driven a fundamental shift in consumer behavior. Once, we called travel agents and made hotel reservations by mail; now we do those things in minutes online.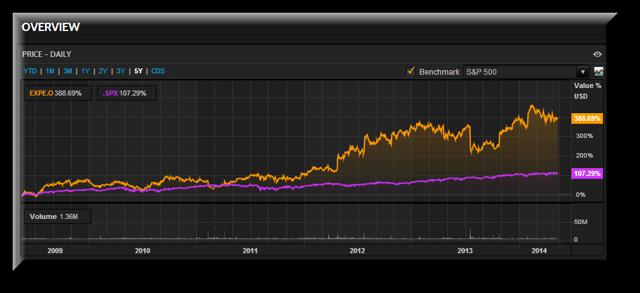 Source: Thomson Reuters Eikon, StarMine
Cheap by comparison
EXPE has delivered strong returns for its shareholders over the last five years - almost 400%, but with a P/E that's still only in the mid-teens and a Price/Intrinsic Valuation ratio of 1.03, compared to an industry average of 2.23. In other words, it doesn't look compellingly inexpensive, but its competitors look stupidly expensive.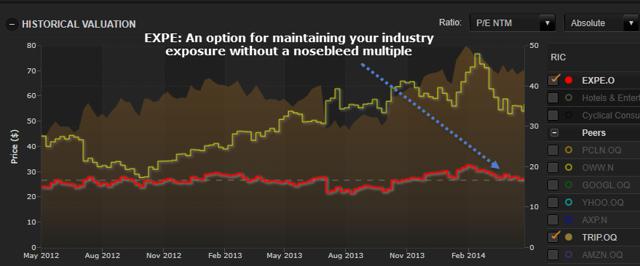 Source: Thomson Reuters Eikon, StarMine
Checking metrics mileage
The company looks interesting from a number of metrics, and it has a very strong earnings quality score (which measures the sustainability of reported earnings by decomposing those earnings into more/less sustainable components).
It also has a score of 99 (top 2%) for Smart Holdings. This model looks at the types of firm characteristics that fund managers seem to be using to drive their current stock holdings - is valuation in vogue? ROE? Sales growth? Leverage? Earnings revisions? Based on current analysis of fund manager holdings, EXPE has the type of profile that's likely to result in an increase in institutional holdings, which is normally supportive (to say the least) of the stock price. For the curious - analyst upgrades, volume, earnings upgrades, change in accruals and revenue growth (this year/last year) are some of the main factors driving its high score.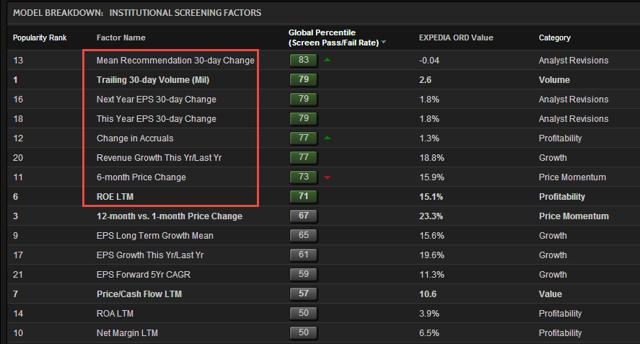 Source: Thomson Reuters Eikon, StarMine
Planes, trains, automobiles - and value
While not inexpensive, EXPE would appear to be a lower beta play for parking your money within the tech sector while the market tries to determine fair value for many of these players. The underlying structural growth story is no doubt intact. It has shown itself to be relatively immune to this year's valuation adjustments (it's actually up, YTD) and looks likely to be in vogue with the asset management community.
It's not cheap, but for those needing internet exposure without volatility -- or sleepless nights -- perhaps it's a more peaceful journey.
Disclosure: I have no positions in any stocks mentioned, and no plans to initiate any positions within the next 72 hours.
Business relationship disclosure: Alpha Now at Thomson Reuters is a team of expert analysts that are constantly looking at the financial landscape in order to keep you up to date on the latest movements. This article was written by Steven Carroll, independent commentator and analyst. We did not receive compensation for this article, and we have no business relationship with any company whose stock is mentioned in this article.