Among the large cap E&Ps, ConocoPhillips (NYSE:COP) has long been my go-to stock. Not only is it a pure-play oil and gas company compared to the integrated stocks Exxon Mobil (NYSE:XOM) and Chevron (NYSE:CVX), but it also trades at a discount valuation, while offering a higher dividend yield.
Q1 2014 Overview
On May 1, ConocoPhillips reported its Q1 2014 results. For the quarter, the company posted adjusted earnings of $2.3 billion, or $1.81 per share, up 28% from the $1.8 billion, or $1.42 per share, posted last year.
When excluding Libya, production came in at 1,530 MBOED, up 1.6% from 1,506 MBOED last year. When adjusted for dispositions and downtime, production actually grew closer to 3%. The vast majority of ConocoPhillips' production growth came from North American unconventional plays, with the Eagle Ford and Bakken areas seeing their production increase 41%.
ConocoPhillips' realized price per BOE came in at $71.21, up 3.6% from $68.57 per BOE last year. Improved natural gas prices proved to be the primary driver here, as well as higher prices for bitumen (heavy oil) and NGLs.
ConocoPhillips is now committed to double-digit annual returns
During its annual meeting, ConocoPhillips targeted long-term annual production and margin growth of 3% to 5%. In addition, the company reaffirmed its commitment to its dividend, as well as for dividend increases over time. Overall, ConocoPhillips' goal is to deliver double-digit annual returns to its shareholders.
These goals for ConocoPhillips seem to be easily attainable. Production growth for 2014 is well on target. In addition, the company was able to boost its dividend by 4.5% last year to $0.69 per quarter. I expect a similar increase to come within the next few months, as last year's increase was announced in mid-July. Based on its current EPS growth, ConocoPhillips could easily offer an increase in the 6% to 8% range.
ConocoPhillips is cheap when compared to its peers
When looking at its enterprise multiple, or EV/EBITDA, ConocoPhillips appears to be quite undervalued, even with its recent surge. At 7.25x, the stock is much cheaper compared to pure-play E&P peers such as Apache (NYSE:APA) at 10.16x and Anadarko Petroleum (NYSE:APC) at 11.85x. While both of these peers are growing faster, an over-30% discount really seems overdone.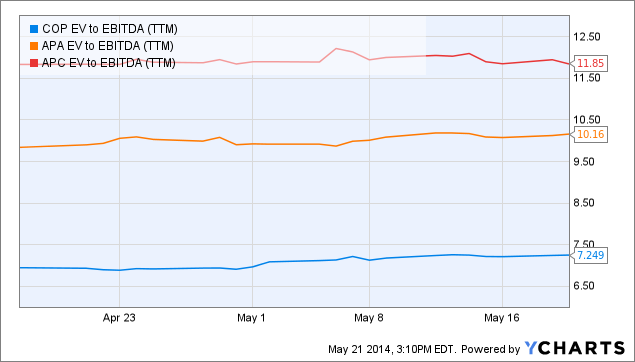 COP EV to EBITDA (TTM) data by YCharts
However, even integrated peer Exxon Mobil trades at a 10% premium over ConocoPhillips, with its 8.00x multiple. While Chevron continues to lag, trading about in line with the stock.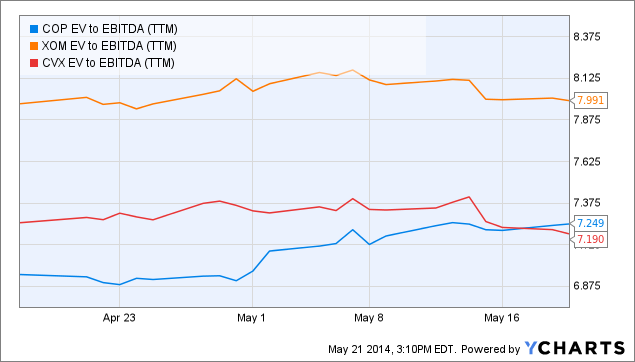 COP EV to EBITDA (TTM) data by YCharts
However, where ConocoPhillips really shines is via its dividend yield. At around 3.50%, the stock offers yield only matched by Chevron. However, even that is understated. Assuming only a 6% dividend hike, ConocoPhillips' forward yield is closer to 3.70%.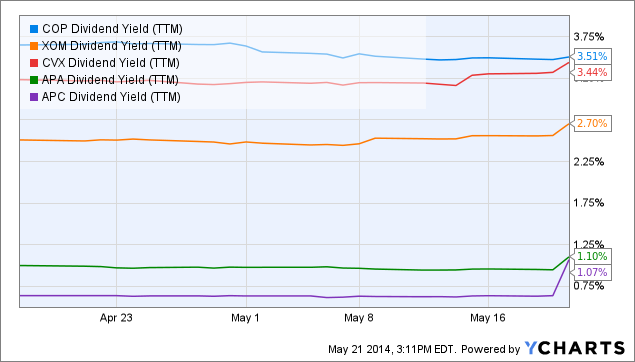 COP Dividend Yield (TTM) data by YCharts
Conclusion
If you had to pick one large cap energy stock, ConocoPhillips is a solid choice in terms of both valuation and dividend income. The stock trades at 12x next year's earnings, while the dividend payout ratio is under 40%, implying both safety and future growth.
Disclaimer: The opinions in this article are for informational purposes only and should not be construed as a recommendation to buy or sell the stocks mentioned. Please do your own due diligence before making any investment decision.
Disclosure: I am long COP. I wrote this article myself, and it expresses my own opinions. I am not receiving compensation for it (other than from Seeking Alpha). I have no business relationship with any company whose stock is mentioned in this article.