Agile Therapeutics Inc. (NASDAQ:AGRX), a specialty pharmaceutical firm, focused on the development and commercialization of prescription contraceptives, plans to raise $60.0 million in its upcoming IPO.
The Princeton, New Jersey-based firm will offer 4.6 million shares at an expected price range of $12-$14 per share. "If" the IPO can find the midpoint of that range at $13 per share, AGRX will command a market value of $193 million.
We do not expect that the company's second tier underwriters will be able to price this deal within their proposed range.
AGRX filed on March 17, 2014.
Lead Underwriters: RBC Capital Markets, LLC; William Blair and Co., LLC
Underwriters: Cantor Fitzgerald and Co.; Janney Montgomery Scott LLC
Overview of AGRX
AGRX is a specialty pharmaceutical firm seeking to develop and commercialize more convenient contraceptive options for women.
The firm's lead candidate, Twirla, is currently in Phase 3 clinical development; AGRX expects to receive data from the trial by the end of 2015.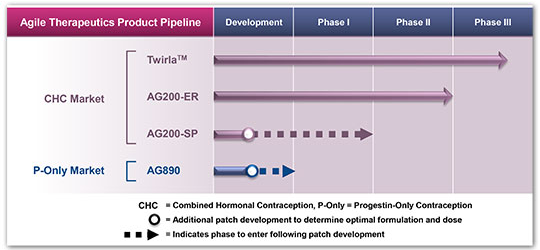 (www.agiletherapeutics.com/Products.html)
Twirla is built on AGRX's proprietary transdermal patch technology, and is designed to function as a once-weekly prescription contraceptive patch that delivers a synthetic estrogen and a synthetic steroid hormone typically seen in low-dose oral contraceptives.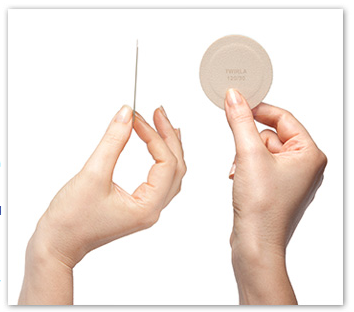 (www.agiletherapeutics.com/AG200-15.html)
Previous patch contraceptives have delivered far higher levels of synthetic estrogen, leading to safety concerns; Twirla's dose is low enough to avoid these safety issues. AGRX believes that the weekly format and ease of delivery offered by Twirla will promote patient compliance.
Valuation
AGRX offers the following figures in its S-1 balance sheet for the three months ended March 31, 2014:
Revenue: $0.00
Net Income: $839,293.00
Total Assets: $15,991,544.00
Total Liabilities: $17,053,040.00
Stockholders' Equity: ($70,294,173.00)
AGRX's lack of revenue is typical of a pre-commercial pharmaceutical firm, and should not be taken as an indicator of the firm's potential future success. The firm will not be able to generate significant revenues until it has commercialized one or more of its product candidates.
Contraception Competitors
If approved, Twirla will face competition from other forms of contraception, many of which are marketed by established pharmaceutical firms with access to far greater financial and technical resources than AGRX.
Major competitors would include the likes of Merck & Co. (NYSE:MRK), Actavis plc (ACT), Teva Pharmaceutical Industries (NASDAQ:TEVA), Bayer AG, Johnson & Johnson (NYSE:JNJ), and Pfizer Inc. (NYSE:PFE).
Management Highlights
Alfred Altomari has served as President and CEO of AGRX since October 2010, and previously served as AGRX's Executive Chairman.
Mr. Altomari previously held various senior management positions with Barrier Therapeutics, Inc., including CEO, COO, and Chief Commercial Officer.
Mr. Altomari also worked in executive roles in general management, business development, commercial operations, product launch preparation, and finance with Johnson & Johnson.
He holds an M.B.A. from Rider University and a B.S. from Drexel University.
Conclusion For Investors
We are neutral on this IPO in the proposed range.
AGRX's transdermal products, should they be approved, could lead to massive revenues-previous attempts to create transdermal contraceptives were able to capture significant market share, despite the health risks associated with the relatively high dosages they administered.
However, there is no guarantee that Twirla will be approved, or that physicians and healthcare payors will adopt the patches.
AGRX also will have to confront much more developed competitors in the contraception market.
Disclosure: I have no positions in any stocks mentioned, and no plans to initiate any positions within the next 72 hours. I wrote this article myself, and it expresses my own opinions. I am not receiving compensation for it (other than from Seeking Alpha). I have no business relationship with any company whose stock is mentioned in this article.