By Chris McKhann
Shares of H&R Block dropped to a nine-year low yesterday and options traders looked for further downside.
HRB finished the session down 4.04 percent to $12.83, the lowest closing price since April 2001. The tax preparer, which peaked at $23.23 in early 2010, touched $12.54 during the trading day before rebounding in the final two hours.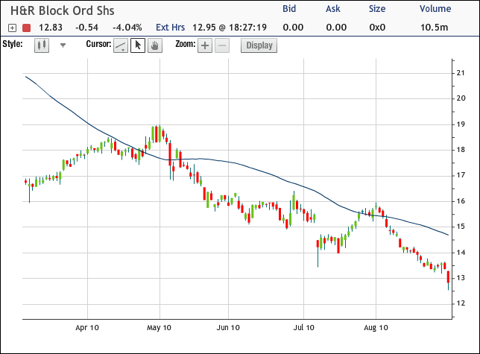 Click to enlarge
The company hasn't attracted much in the way of options volume either, with less than 1,800 options traded on average over the last month. We saw put buying in the middle of the month when shares were holding above support at $14 and 4,000 of the January 11 were purchased for $0.50. Those are now worth $0.75.
Tuesday's volume topped 51,000, with puts outnumbering calls by almost 7 to 1. The October 10 puts dominated the volume with 22,661 changing hands. Almost all of them were bought, with 13,500 going off in quick succession for $0.15 and $0.20.
The other trade was in the January 2012 7.5 puts. Our systems show that 5,000 were bought, mostly for $0.70, against open interest of just 2 contracts.
These may very well be outright bearish bets that shares will fall significantly, both in the short and longer term. The long-term puts are sometimes used instead of shorting the stock, which exposes the trader to unlimited risk. Alternately, the put may be tied to long stock purchases, as we do see heavy volume in the stock today, especially around the same times as the options trades.
(Chart courtesy of tradeMONSTER)