Introduction
There are many investors today who are worried and/or frustrated because most of the stocks trading on US stock markets are hitting all-time highs. Therefore, it seems logical to them that US common stocks have become less-than-attractive long-term investments, or worse, that a steep market crash must be soon approaching. Perhaps there is some truth to these concerns, but in my opinion, it's not the whole truth. Since the Great Recession, the profits of most companies have grown with their stock prices. Consequently, many great US companies are worth more today than they were a few years ago.
Therefore, just because the stock price of most US companies is at an all-time high, it does not necessarily follow that all US companies are overvalued. On the other hand, I do acknowledge that today's US stock markets do contain many overvalued companies, but again, not all companies are overvalued. I provided several (but not all) examples of reasonably valued US dividend growth stocks in my previous article found here. As if I were a broken record, I repeat over and over again-it is a market of stocks not a stock market.
With the above said, it's also important to recognize and acknowledge that the US stock market is not the only stock market in the world. Just to our north is Canada with its own stock exchanges and a free country that operates under its own financial system. Since many of my readers are Canadians, they have often requested that I include selections from Canadian stock exchanges in my writings. However, I must admit that although I was aware of many prominent high-quality Canadian companies, I had never before reviewed Canadian stocks with the same thoroughness and comprehensive research that I have applied to US companies.
But, thanks to the prodding of my friends from the north, I finally acquiesced and took a hard look at numerous companies trading on the Canadian stock markets. What I discovered, both surprised and pleased me, and I am excited to share what I found with this article. There are many high quality and attractively valued dividend growth stocks to be found on Canadian exchanges. Moreover, as dividend paying stocks go, they come in all flavors. In today's low interest rate environment, some offer high yield, some offer attractive growth potential and above-average dividend growth. In that respect, Canadian exchange traded dividend growth stocks turn out to be not too different than blue-chip dividend paying stalwarts found on the US exchanges.
Some Perspectives on the Canadian Economy
According to the website heritage.org and their "2013 Index of Economic Freedom" report, Canada scores high on the index as follows:
"Canada's economic freedom score is 80.2, making its economy the 6th freest in the 2014 Index. Its overall score is 0.8 point better than last year, reflecting improvements in investment freedom, the management of government spending, and monetary freedom. Canada continues to be the freest economy in the North America region.

Over the 20-year history of the Index, Canada has advanced its economic freedom score by 10.7 points, the third biggest improvement among developed economies. Substantial score increases in seven of the 10 economic freedoms, including investment freedom, fiscal freedom, and the management of public spending, have enabled Canada to elevate its economic freedom status from "moderately free" 20 years ago to "free" today."
Since this article is about investing in Canadian stock exchange traded dividend growth stocks, I felt the following excerpt might also interest the reader. Additionally, I thought it might also be of special interest to those investors desirous of filling a gap in their equity portfolio diversification who have been avoiding US financials as an asset class due to the recent US financial debacle that is widely credited with driving the US economy into recession:
"A transparent and stable business climate makes Canada one of the world's most attractive investment destinations. Openness to global trade and commerce is firmly institutionalized, and the economy has rebounded relatively quickly from the global recession. The financial system has remained stable, and prudent regulations have allowed banks to withstand the global financial turmoil with little disruption."
Fairly Valued Canadian Dividend Growth or Dividend Income Stocks by Sector
Although there are considerably fewer stocks listed on the major Canadian stock exchanges than there are on the major US exchanges, there are far too many to extensively research each individual stock. Therefore, I utilized the screening tool available with the premium subscription to F.A.S.T. Graphs™ looking exclusively for dividend paying stocks on Canadian exchanges. First, I screened for Canadian listed companies with current dividend yields of 1%, then for current dividend yields of 2% and finally for dividend yields of 3% or higher.
This process produced a large list comprised of several Canadian dividend paying stocks. From there, as I usually do thanks to the efficiency of the fundamentals analyzer software tool, I proceeded to review the earnings and price correlated graphs of each selection individually. From there I hand selected only those companies that possessed reasonably consistent and reliable earnings and dividends histories. Although I covet consistency, I did give some latitude to companies operating in sectors known to be cyclical or semi-cyclical in nature. And of course, I only included those that appeared to be fairly valued or undervalued based on their earnings results - past, present and forecast.
This research effort produced a list of 44 dividend paying Canadian listed stocks with various levels of the attributes I listed above. For the reader's convenience, I list all 44 research candidates by sector and provided a select sample, or two, from each sector. In the table, I include each research candidate's current P/E ratio, 15-year historical normal P/E ratio, current dividend yield, the stock exchange and finally the sector they operate in. Furthermore, the reader should note that since this article reviews Canadian listed stocks exclusively, each individual graph is presented and drawn based on Canadian dollars (CAD).
Courtesy of Standard & Poor's Capital IQ, I provided a short business description on each individual selection highlighted in each sector. Additionally, I have provided brief commentary highlighting what I consider to be the strongest merits or attributes on each example, and have applied annotations on each earnings and price correlated graph to aid the reader in interpreting what the graph reveals.
Energy Sector

Suncor Energy Inc. (SU)
Suncor Energy Inc. operates as an integrated energy company. The company focuses on developing a petroleum resource basin - Canada's Athabasca oil sands. The company also explores for, acquires, develops, produces, and markets crude oil and natural gas in Canada and internationally. It transports and refines crude oil, and markets petroleum and petrochemical products primarily in Canada. The company markets third-party petroleum products. It also conducts energy trading activities focused principally on the marketing and trading of crude oil, natural gas, and byproducts.
Similar to what we typically see with US listed stocks in the Energy Sector, Suncor Energy Inc. possesses a history of cyclicality with their earnings. However, as expressed by the pink line on the graph that plots dividends, their dividend record has been solid. Current yield of 2.2% might not be attractive to many dividend growth investors, but when their historical performance record is reviewed, this has been an attractive long-term investment. On the other hand, performance over the past seven years has been moderately below average. Nevertheless, Suncor Energy Inc. looks to be reasonably valued and the prospects for future growth promising albeit expected to be somewhat cyclical in nature.
Note: Due to incomplete operating earnings data, this graph was drawn utilizing the Normalized Basic Tax-Adjusted Earnings mnemonic (red circle on graph).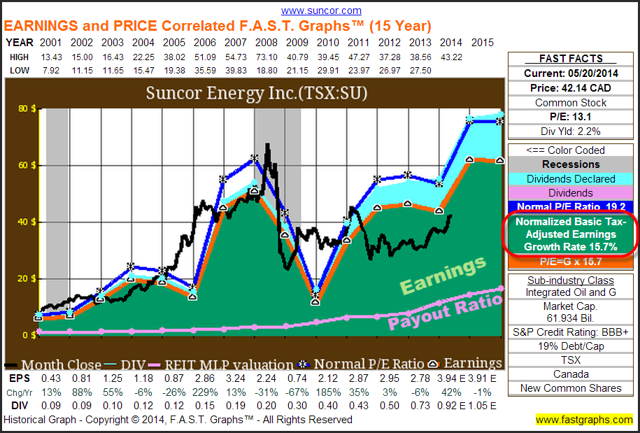 The total return generated for Suncor Energy shareholders since 2001 has significantly exceeded the total return for the S&P 500. Moreover, their dividend growth rate and total dividends paid have also been extraordinary.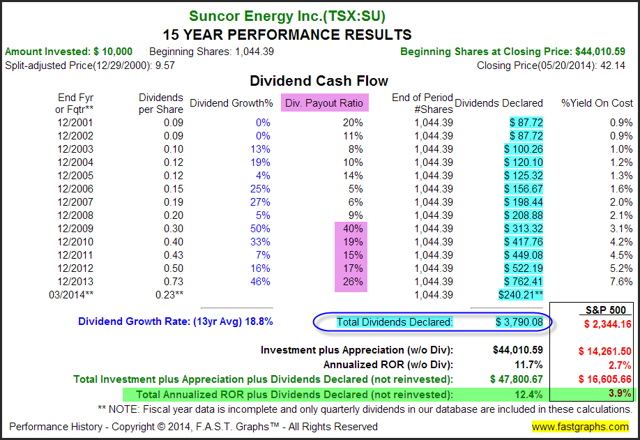 Materials Sector

Agrium Inc. (AGU)
Agrium Inc. operates as a retailer of agricultural products and services. The company also operates as a multi-national producer and wholesale marketer of nutrients for agricultural and industrial markets. The company's strategy is to invest and operate across the agricultural inputs value chain (fertilizer, crop protection, and seed) through production, distribution, and retail sales.
The Materials Sector is not a favorite of mine on any stock exchange, and the Canadian exchanges were no exception. Nevertheless, I did find one Canadian company in this sector that caught my eye-Agrium Inc. Long-term growth, although somewhat erratic, has been generally strong. However, what attracted me was the recent significant increase in their payout ratio (expressed as the area below the pink line on the graph) leading to an attractive 3.3% current yield.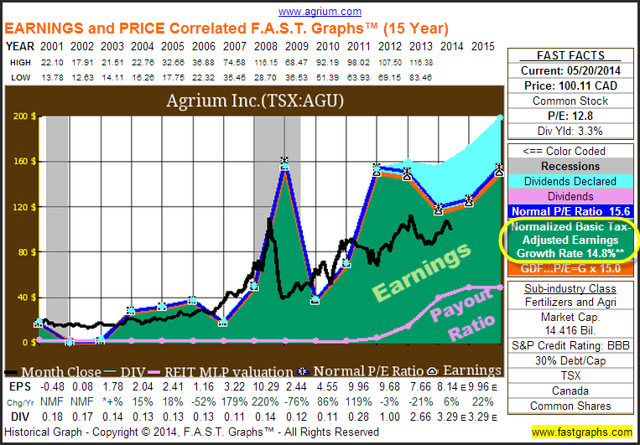 Although Agrium's long-term total return performance has been multiples of the S&P 500, I direct the reader's attention to a rather checkered dividend history. More than likely due to the cyclicality of its earnings record, the company has cut their dividend several times since 2001 (red highlights on performance table). Moreover, their exceptional long-term dividend growth rate is highly skewed by the last three years of abnormally high dividend increases.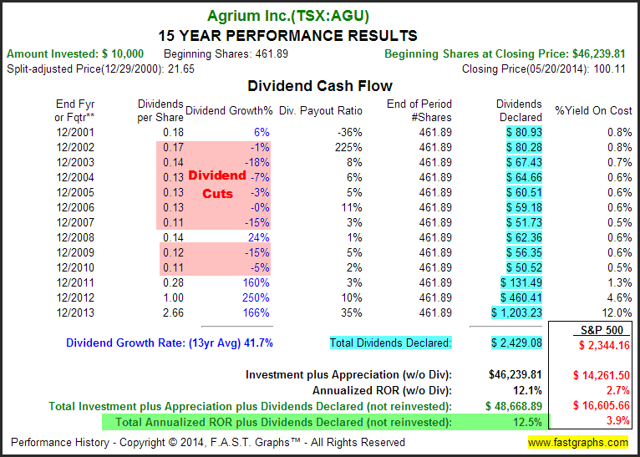 Industrials Sector
Finning International Inc. (OTCPK:FINGF)
Finning International Inc. engages in the sales, service, and rental of Caterpillar heavy equipment and engines in Canada, South America, and the United Kingdom. The company's dealership operations in Canada, South America, and U.K. offer products and services through five principal lines of business: New mobile equipment sales, customer support services, equipment rental, new power and energy systems sales, and used equipment sales. Its principal line of business is equipment rental.
The Industrial Sector, due to its typically cyclical nature, represents another sector that I find challenging to find good investments in. However, Finning International Inc. has put together a pretty solid record of historical earnings and dividend growth, with the only reasonable exception being during the Great Recession (red circle). Otherwise, I felt this research candidate was interesting and currently fairly valued.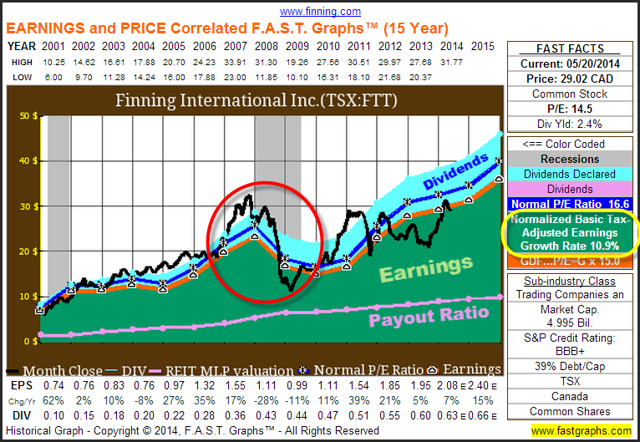 Although the long-term total return generated by Finning International is exceptional, it was their total dividends paid that attracted me the most. Consequently, I present this candidate as a high yield, fairly valued prospect with great dividend appeal. Their historical dividend growth rate might be especially attractive to those income investors looking for a nice raise in pay each year.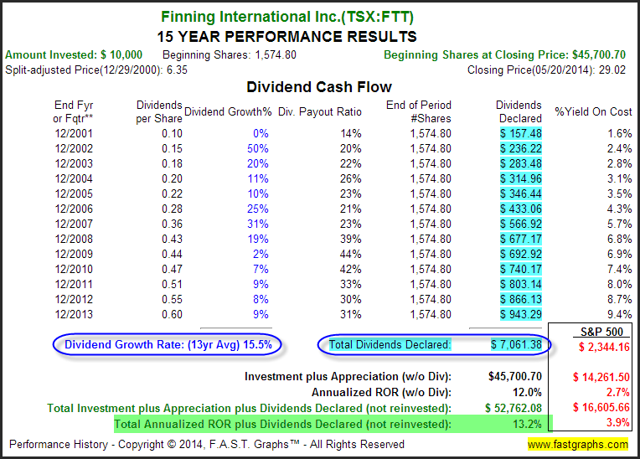 Consumer Discretionary Sector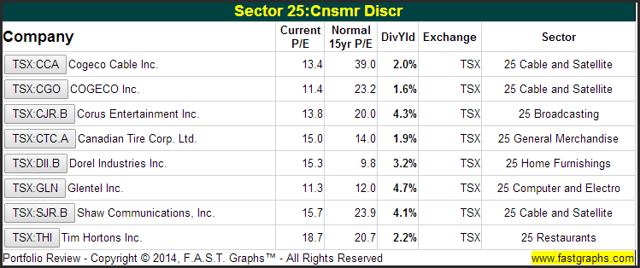 Corus Entertainment Inc. (OTCPK:CJREF)
Corus Entertainment Inc. operates as a media and entertainment company in Canada. The company has interests in radio broadcasting, television broadcasting, and the production and distribution of children's media content.
I found several interesting research candidates in the Consumer Discretionary Sector. The one that I found most interesting was Corus Entertainment. Since 2007, the company has significantly increased its dividend payout ratio substantially increasing its income growth attractiveness. In today's low interest rate environment, I was also attracted to the 4.3% current yield and the company's forecast earnings and dividend growth potential.
Note: I only included the earnings and price correlated graph since 2003 because I felt it best reflects the company since it morphed into a dividend income stock. Also, this includes a time when starting valuation was in alignment with fair value.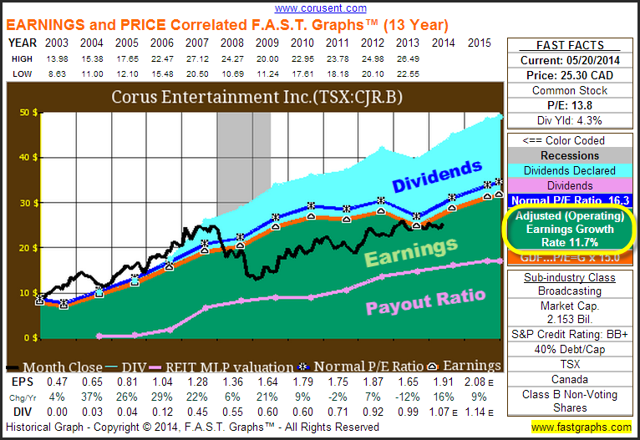 Although this time framed graph was also a time when the S&P 500 produced strong performance, Corus Entertainment outperformed on both total return and total cumulative dividends paid. The 9-year dividend growth rate, although exceptional, is skewed by the company's increased payout ratio.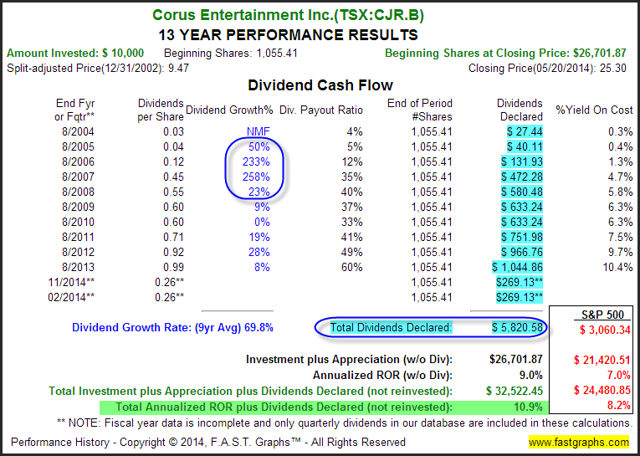 Consumer Staples Sector

Metro Inc. (OTCPK:MTRAF)
Metro Inc. operates as a food retailer and distributor in Canada. The company operates a network of supermarkets, discount stores, and drugstores in Quebec and Ontario.
I am always pleased to find attractive investments in the Consumer Staples Sector, and the Canadian stock exchanges did not disappoint. There is nothing more staple than food, and I felt that Metro Inc.'s long-term record was superior to most food retailers I have examined in the U.S. The company has consistently grown earnings and dividends since 2001 at an above-average rate. The current P/E ratio of 13.3 represents a solid earnings yield, coupled with a current dividend yield of 1.8%.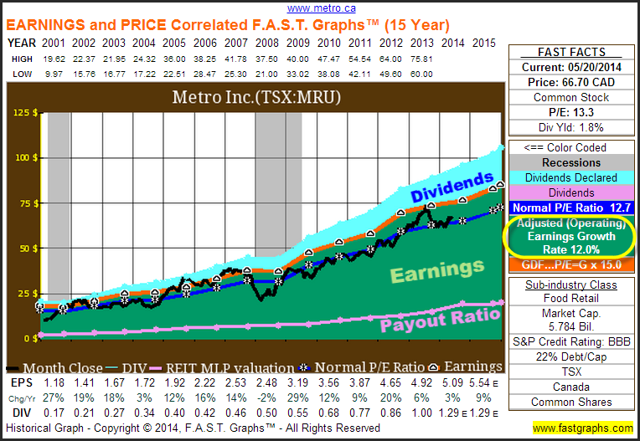 Metro Inc. represents a classic dividend growth stock opportunity for those in the accumulation phase of investing for retirement. The company has produced a consistent earnings record that has generated a total return substantially in excess of the S&P 500. Moreover, the company's strong dividend growth rate has also produced a very attractive total dividend income stream. I feel this represents a classic candidate for growth and growth of income.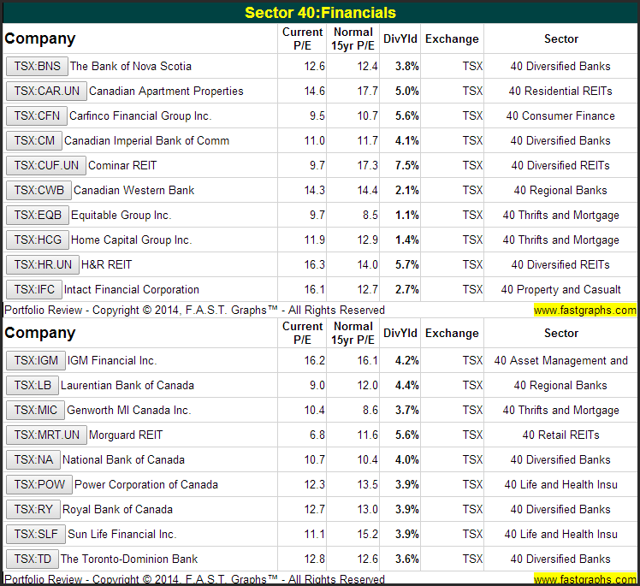 Royal Bank of Canada (RY)
Royal Bank of Canada, a financial services company, provides personal and commercial banking, wealth management services, insurance, investor services, and capital markets products and services on a global basis. The company's segments include Personal & Commercial Banking; Wealth Management; Insurance; Investor & Treasury Services; and Capital Markets.
In contrast to the U.S. Financial Sector, the Canadian Financial Sector has been more stable and avoided the avarice and greed experienced in the U.S. Financial Sector. Consequently, I found several interesting investment candidates in the Canadian Financial Sector. The Royal Bank of Canada is currently trading at an attractive P/E ratio of 12.7 and offers an above-average dividend yield of 3.9%. Consequently, as stated earlier, Canadian financials represent an opportunity for retired investors to diversify their portfolios into quality financial investments.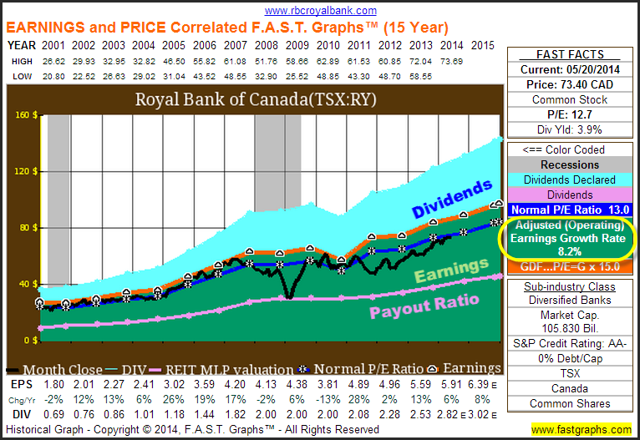 Like most of the other Canadian stock exchange research candidates, this high-quality financial with an AA- Standard & Poor's Credit Rating has significantly outperformed the S&P 500 on a total return basis. However, since retirees are focused on income, current yield and total cumulative dividends paid are a major plus. The company's dividend growth rate has also been above-average at 12.4% per annum.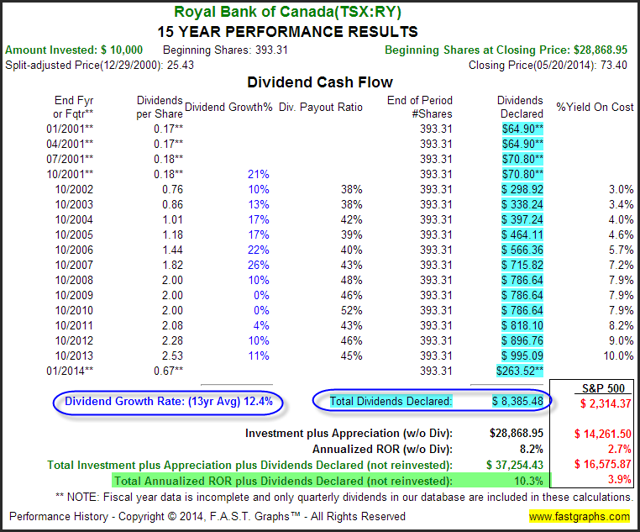 Canadian REITs: Bonus Candidates for High Income
In addition to traditional financials such as banks, I also found attractive high-yielding REITs on the Canadian exchanges. Since REITs are best evaluated based on Funds From Operations (FFO) than their earnings, the graphs in this section are drawn as FFO and price correlated graphs. The primary attraction I found with these Canadian REITs was for their high yield and consistent and stable FFO generation. Therefore, as a bonus I have included the following two Canadian REIT research candidates.
Note: The reader should also be advised that there are differences in tax law, government regulation and investor liabilities between Canadian REITs and their U.S. counterparts that need to be considered, which can be found here.
Morguard REIT (OTC:MGRUF)
Morguard Real Estate Investment Trust (the Trust) is a closed-end real estate investment trust established in 1997, under the laws of the Province of Ontario. The Trust commenced active operations on October 14, 1997. The Trust is taxed as a "Mutual Fund Trust" for income tax purposes. The Trust portfolio comprises commercial real estate assets consisting of retail, office, and industrial properties located in British Columbia, Alberta, Saskatchewan, Manitoba, Ontario, Quebec and other.
Morguard REIT appears to be an excellent choice for high current yield. However, the price for high current yield is a low dividend income growth rate with this research candidate. Nevertheless, I felt this REIT was an attractive income candidate that is reasonably valued based on price to FFO. However, I generally favor investing in REITs when the stock price is at or below the pink dividend line on the graph. On that basis, this REIT might be moderately overvalued. However, its high current yield and stable dividend record might still make it attractive for those seeking high current income.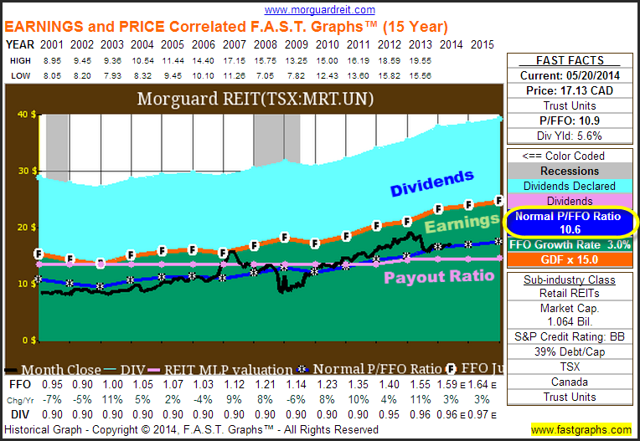 In spite of the fact that Morguard REIT has maintained a stable dividend with little growth, the total cumulative dividends paid are very attractive for those in need of current income. However, the reader should take note of the potential overvaluation relative to its dividend. On the other hand, the company is currently priced in alignment with its historical normal price to FFO ratio (P/FFO) of 10.6.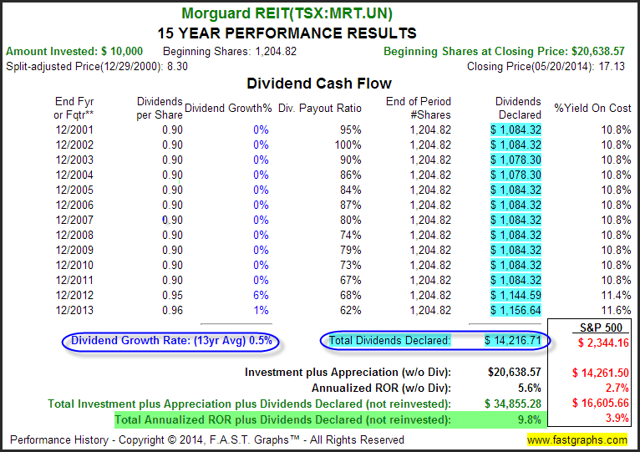 Cominar REIT (OTC:CMLEF)
Cominar Real Estate Investment Trust operates as an unincorporated closed-end investment trust. The company engages in the ownership and management of commercial properties in the province of Quebec. As of December 31, 2006, the company owned a diversified portfolio of 139 office, retail, industrial and mixed-use properties, of which 89 are located in the Greater Quebec City area and 50 are located in the Greater Montreal area.
Cominar REIT attracted me because of its high current yield and attractive current valuation. Once again I believe the true appeal is to the income-oriented investor looking for attractive income in today's low interest rate environment.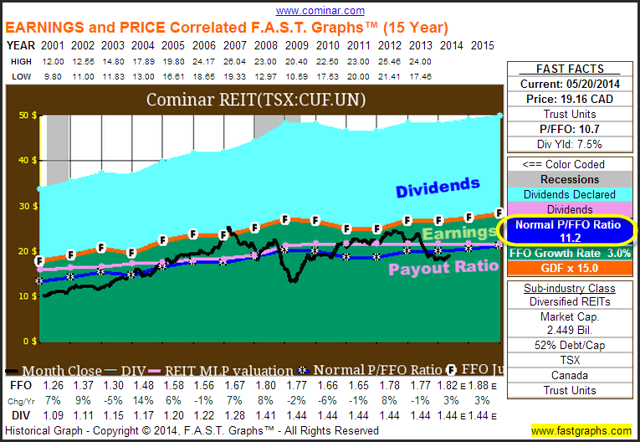 In contrast to Morguard REIT, Cominar REIT has provided modest dividend growth over the years. However, the company has frozen their dividend since 2010. Nevertheless, a high current yield of 7.5% appears to be very attractive for those seeking high current income.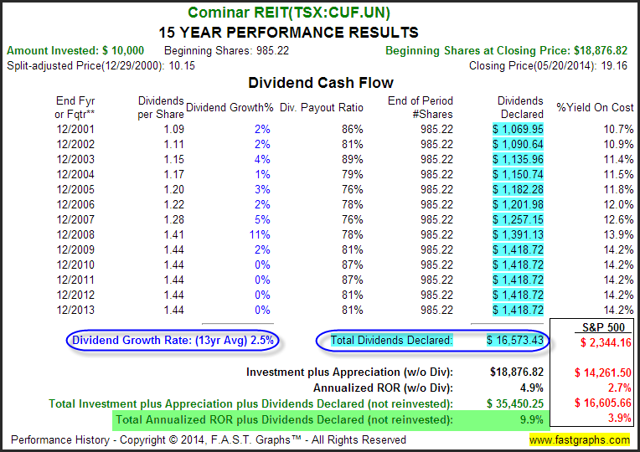 Telecom Services Sector

TELUS Corporation (NYSE:TU)
TELUS Corporation, a telecommunications company, provides a range of telecommunications services and products, including wireless, data, Internet protocol, voice, and television in Canada. The company's wireless and wireline businesses are integrated to utilize the convergence of technologies to provide integrated solutions. Its wireline and wireless businesses are primarily operated through TELUS Communications Company.
There are few choices available in the US Telecommunications Sector, and I found Canada to be no exception. TELUS Corporation offers appeal due to its above-average earnings growth rate, its high current dividend yield and historical dividend growth rate. However, I consider current valuation a little high; therefore, I suggest prospective investors might consider waiting for a better valued entry point. However, this research candidate has appeal for its above-average current yield.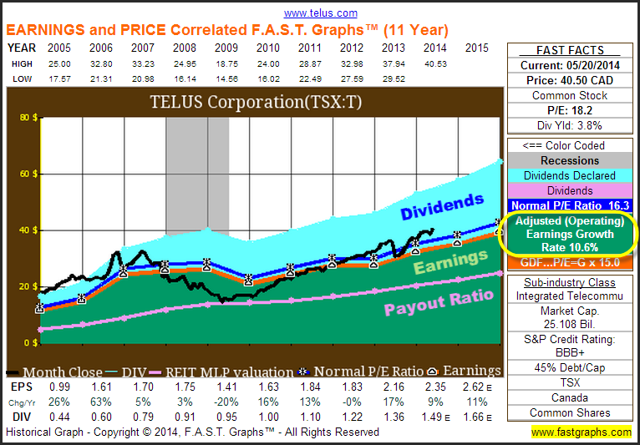 Long-term total return generated by TELUS has been better than average. From a pure dividend income standpoint, this research candidate also stands a cut above-average.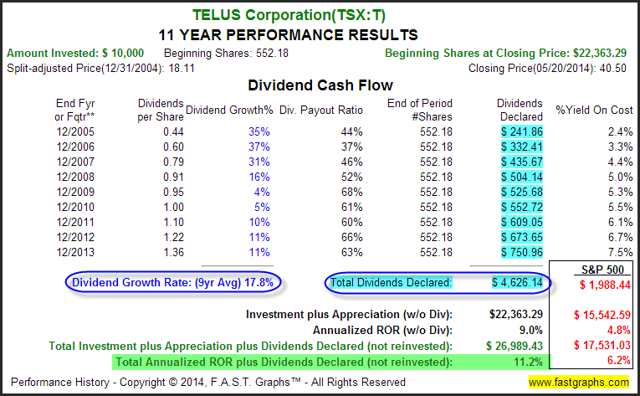 Utilities Sector

ATCO Ltd. (OTC:ACLTF)
ATCO Ltd., through its subsidiaries, engages in the regulated and non regulated natural gas and electric energy operations worldwide. The company engages in utilities, such as natural gas and electricity transmission and distribution; power generation and global enterprises, such as industrial manufacturing, technology, logistics, and energy services.
In the US, utility stocks are typically low-growth high-yield investment opportunities. However, ATCO Ltd., my Canadian utility stock research candidate, is more of a moderate-yield above-average looking dividend growth stock. I found that interesting, and therefore, consider this Canadian utility an interesting research candidate for investors in the accumulation phase of investing for retirement.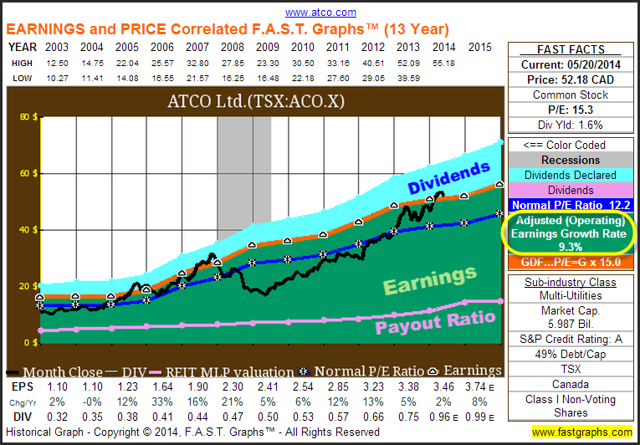 The long-term total return generated by TELUS is significantly above average. Total dividends paid have also been stronger than the S&P 500.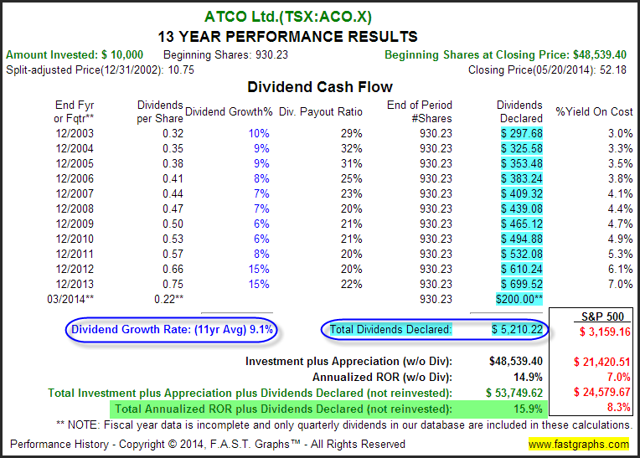 Bonus Honorable Mentions: When Valuation Gets Better
There were other Canadian Stock exchange listed candidates that I felt worthy of mention. However, I considered most of these moderately overvalued currently. Nevertheless, I present them here as options for further scrutiny pending investment if, and when, valuations become more attractive.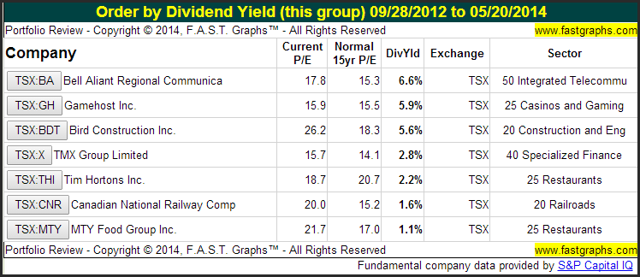 Tim Hortons Inc. (THI)
Tim Hortons Inc. operates a quick service restaurant chain in North America and Canada. The company appeals to a range of consumer tastes, with a menu that includes its premium blend coffee, espresso-based hot and cold specialty drinks (including lattes, cappuccinos and espresso shots), iced cappuccinos, specialty and steeped teas, cold beverages, fruit smoothies, home-style soups, chili, grilled Panini and classic sandwiches, wraps, yogurt and berries, oatmeal, breakfast sandwiches and wraps, and fresh baked goods, including donuts, Timbits, bagels, muffins, cookies, croissants, Danishes, pastries and more.
I featured Tim Hortons Inc. for two primary reasons. First of all, the company is an iconic Canadian brand. Second, I found it interesting that this company has a legacy of attracting a premium valuation is represented by the dark blue normal P/E ratio line on the graph. On that basis, the company could be technically considered undervalued. However, on a pure earnings justified valuation basis (the orange line) Hortons is currently moderately overvalued.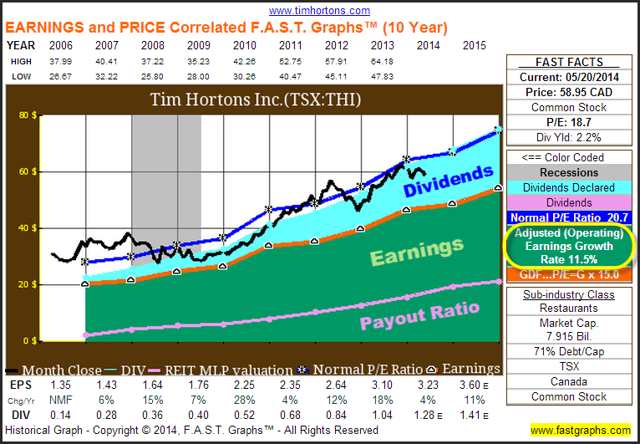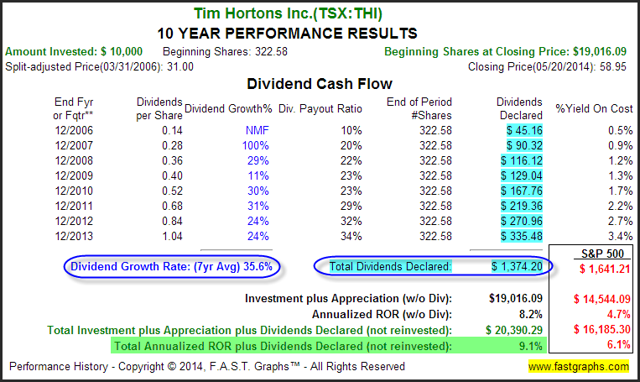 Summary and Conclusions
Researching the Canadian stock exchanges was a real eye-opener. I was surprised to find many attractively-valued dividend-paying companies on the Canadian exchanges. However, since this was my first real endeavor into researching that market, it's important to note that I have not extensively researched any of the candidates presented in the article. However, the fundamentals analyzer software tool does provide comprehensive and extensive fundamental data on each selection presented. Therefore, although this is the first step prior to a more comprehensive research effort, I contend it is a big first step.
I believe that investors should endeavor to invest their capital whenever they have it available. Worrying about future unknowns such as "what if the market crashes" means keeping your money idle when it can be working for you instead. Because, not only is the future unknown, it is also unknowable. Consequently, I believe in building equity portfolios one company at a time based on the merits of the individual company in question. When I find a terrific company at a sound valuation I never let a fear of the unknown dissuade me. The Canadian stock exchanges appear to offer many attractively valued investment opportunities available to the dividend growth investor today. Do your homework and invest wisely.
Disclosure: No positions at the time of writing. I have no positions in any stocks mentioned, and no plans to initiate any positions within the next 72 hours. I wrote this article myself, and it expresses my own opinions. I am not receiving compensation for it (other than from Seeking Alpha). I have no business relationship with any company whose stock is mentioned in this article.
Disclaimer: The opinions in this document are for informational and educational purposes only and should not be construed as a recommendation to buy or sell the stocks mentioned or to solicit transactions or clients. Past performance of the companies discussed may not continue and the companies may not achieve the earnings growth as predicted. The information in this document is believed to be accurate, but under no circumstances should a person act upon the information contained within. We do not recommend that anyone act upon any investment information without first consulting an investment advisor as to the suitability of such investments for his specific situation.
Editor's Note: This article discusses one or more securities that do not trade on a major U.S. exchange. Please be aware of the risks associated with these stocks.