Here I'll discuss four earnings reports that came out earlier this week that resulted in reduced prices and more attractively valued entry prices. I like to follow earnings, especially ones the market perceives as bad results or guidance and that may provide opportunities in reduced prices of the stock. Many times, these can provide good entry purchase points.
An evaluation has to be made to decide whether the drop warrants a purchase, to wait for a further drop to purchase, or to pass on the opportunity. In many cases, these are short-term blips in operating activities or results due to some adverse reason which is not always a long-term issue. Even if it is a long-term issue, sometimes the price drops more than the expected impact to the business or the loss in expected cash flow.
Dick's Sporting Goods
Dick's Sporting Goods (NYSE:DKS) reported Q1 EPS of $0.50, missing expectations by $0.01-$0.03. The full-year earnings guidance was revised for fiscal year 2014 down to $2.70-$2.85 from $3.03-$3.08 previously. This is a reduction of ~11% and one of the main reasons for the price drop. DKS is currently at a price of ~$43.50, and therefore at a FY 2014 P/E of ~16.2. FY 2013 EPS was 2.69, so DKS has essentially had no significant earnings growth over the last year, which hasn't met expectations as outlined above.
On the earnings call, they did mention that hunting and especially the golf segments led to the reduction in earnings. The stock was down ~17.5% on the day of earnings because of this report.
You can see the P/E ratio in the chart below:

Source: YCharts.
From the chart, you can see that DKS is trading at a P/E that it hasn't traded at in the last four years. A P/E of 17-18 seems to be the low to fair value for DKS. Fair value seems to be a P/E of 20-21, according to the chart of the last four years. While DKS only pays a dividend of around 1%, which is considered very low, it does have a strong balance sheet. And DKS uses additional cash flow to repurchase shares.
Over the last year, DKS has bought back shares at over ~3% of it's share count. DKS has tangible book value of around ~$10 per share, which is possibly one reason why the company typically trades at a higher P/E than the market.
American States Water
American States Water (NYSE:AWR) reported Q1 earnings of $0.28, missing expectations by $0.05. Last year's Q1 in 2013 was $0.35; however, that had a one time benefit of $0.05 last year. The water portion of their business increased their quarterly earnings by $0.01 year over year. To explain the additional $0.03 reduction in earnings that came from contracted services, the company said the following:
Diluted earnings from contracted services decreased by $0.03 per share as compared to the same period in 2013, mainly as a result of an expected reduction in planned renewal and replacement (R&R) capital work, primarily at the Fort Bliss and Fort Jackson military bases. Overall construction activity is expected to increase during the remainder of 2014 as compared to the first quarter; however, R&R construction will continue to vary from year-to-year over the remaining term of the 50-year contracts with the U.S. government.
The stock was down only 1.3% after earnings. However, the stock has dropped over 10% since mid-April. AWR increased their quarterly dividend 5.2% to $0.213 per quarter, essentially $0.85 per year and a forward dividend yield of 3.02% (the ex-div date is Aug. 13). I believe the combination of the price drop and increased dividend makes the valuation moderately attractive for an entry position in AWR.
You can see from the following chart that this is the highest dividend yield AWR has had since 2012: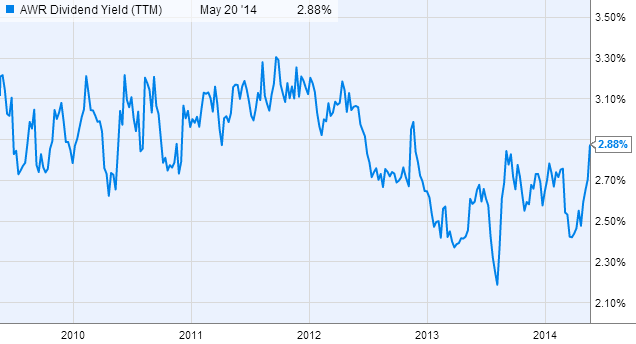 Source: YCharts.
Cato Corporation
Cato Corporation (NYSE:CATO) reported Q1 EPS of $1.04, in line with expectations. Revenue increased 5.7%. Same-store sales increased 3%. FY 2014 guidance has been increased to $1.66-$1.79 from $1.47-$1.66. While all that is good news, the stock dropped 6.7% after earnings and the dividend yield is at 4.23%. I think the drop in price is a little surprising as all the "new" news was good news.
Last year, FY 2013 EPS was $1.86. Since they already guided for $1.47-$1.66 for FY 2014 last quarter, I'm surprised the market apparently didn't feel that was captured and the stock was punished. CATO also announced the next quarterly dividend is the same quarterly amount at $0.30, and the ex-div date is June 9.
Staples
Staples (NASDAQ:SPLS) reported Q1 EPS of $0.18, missing expectations by $0.03. Comparable-store sales and traffic were down 4% year over year, while revenue was down 2%. Guidance for Q2 was $0.09-$0.15 vs. expectations of $0.15. However, the forward guidance of earnings adds a new low of $0.09 next quarter is worrisome, and likely why the stock dropped 12.5% today. It appears that one of the reasons for the lower guidance is due to restructuring costs. The 4.1% yield at today's closing price in SPLS is attractive and well-supported by cash flow even with a modest decrease in earnings.
Disclosure: I am long AWR, CATO, DKS, SPLS. I wrote this article myself, and it expresses my own opinions. I am not receiving compensation for it. I have no business relationship with any company whose stock is mentioned in this article.