The world was expecting Microsoft (NASDAQ:MSFT) to launch a new Surface with a Qualcomm (NASDAQ:QCOM) processor but what they got was purely Intel (NASDAQ:INTC). The new Surface Pro 3 is a major advance over the earlier Surface models - growing to a 12 inch screen with perhaps the highest resolution of any mobile device that exists, the Surface Pro 3 weighs under two pounds and is only 9.1mm thick. This is what portable is supposed to be - without any compromise in performance.
The Surface Pro 3 comes with any of three Intel processors - a Core i3 model for entry level users at $799; a Core i5 model that is more mainstream at $999; and, for those like me who want a "no compromise" device, a Core i7 model with 512GB of SSD storage; 8GB of RAM; and, pretty well everything I want or need in a portable device thrown in.
What makes this device interesting is the level of leverage it offers not only for Microsoft but also for Intel. How much leverage? The answer is that it all depends on volume.
When the original Surface was launched there were a lot of expectations that it would be an iPad alternative and enjoy high volumes. But the device came in both RT and Windows 8 OS versions confusing some consumers; had pretty limited applications library; was relatively heavy in the case of the Surface Pro version; and, had not much better battery life than a laptop. Customers stayed away in droves and it was a major disappointment for Microsoft investors and did little for Intel.
Intel's Haswell architecture improved the next generation Surface Pro quite a bit, giving it a major bump up in battery life. Windows 8.1 was in parallel a big improvement over Windows 8, and the Surface 2 Pro did better but still did not capture the imagination of consumers, selling only a paltry 2.1% of the tablet market by some estimates.
I bought both the original Surface and the second generation one to try out and purchased both RT and Windows versions. I thought for a moment I must have been Microsoft's largest customer for the devices since so few were sold. I found the Surface tablets in all variants very functional and useful and continue to use my original Surface Pro regularly. I gave other models as gifts to my friends and children with the caveat that after a few months they had to advise me how they like them. Without exception, they were delighted with the tablets and wondered why they had not generated more demand generally.
Surface Pro 3 addresses many of the gripes users had about the original Surface Pro and Surface RT and their successors up to now. It has the following outstanding features:
It is very light at less than 2 pounds;
It is very thin at just over 9 mm of thickness;
It promises an uncompromising combination of processing power and battery life with its Intel Haswell architecture processors;
It has what appears to be the best pen imaginable allowing handwritten notes to be captured and stored in One Drive with ease;
It has an absolutely stunning screen with a quality I believe unmatched in any mobile device;
It has plenty of storage with up to 512GB available in the flagship model and with up to 8GB of RAM has more than enough horsepower to run the most demanding applications;
It continues to offer USB and HDMI connectivity; and,
You can buy one for as little as $799 for the 64GB storage; 8GB RAM; and, Intel Core i3 processor model.
So can it make any difference for Microsoft or Intel? That is a tough call on launch day. But the arithmetic is compelling.
Over 70 million iPads were sold in 2013. The new Surface is unlikely to match the enormous success of the iPad and I am not suggesting it will even come close. But the device may capture some volume.
To rough out how it could add to earnings for Microsoft and Intel I created this table assuming that the average selling price of the Surface Pro 2 is $1,000; the average selling price of a Core processor is $120; and that Microsoft and Intel enjoy margins of 35% and 65% respectively on this product.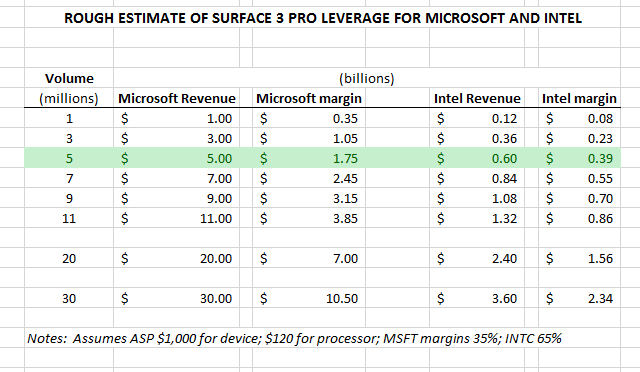 Source: Blair analysis
Success can produce meaningful results for Microsoft if it can sell 5 million or more of these tablets annually. At that volume I believe the Surface would yield about $1.8 billion of margin and after related costs would become a profit contributor to Microsoft. Of course, if Microsoft were fortunate enough to find customers for 20 to 30 million units annually, this device would be a big win. I don't expect that to happen but don't rule it out either.
For Intel, at a volume of 5 million units the processors for Surface Pro tablets would contribute only around $400 million of margin, not really enough to move the needle for Intel. Worse, each Surface Pro sold could be in preference to an Intel powered laptop or hybrid, with the effect that even a major success for Microsoft has little additional value for Intel. For Intel to really win on the Surface program, Intel needs to see Surface tablets displace Android and iOS tablets or expand tablet demand generally. Even at 30 million Surface tablets each year, the Surface would contribute only $2.3 billion of margin to Intel and in all likelihood the preponderance of that would be offset by a matching decline in PC sales.
The best hope for Intel is that the Surface increases Windows OS share of the tablet market materially and does so at the expense of devices powered by processors from competitors like Qualcomm, Nvidia (NASDAQ:NVDA), AMD (NYSE:AMD), Samsung (OTC:SSNLF) and Mediatek. Given the size of the gap between Surface Pro tablets and the price points of the devices with these competitors' applications processors, I don't think it realistic to expect much impact.
I do think Intel remains a buy nonetheless. The PC business seems to be close to a bottom and new devices like the Surface Pro 3 will help it regain some momentum from iOS and Android. Personal computers came under attack because of three key deficiencies:
Laptops had short battery lives and made it necessary to carry a power cord wherever you went for more than a few hours;
The rapid growth of iOS and Android drew developers to smartphones and tablets built on those platforms creating hundreds of thousands of applications not generally available for PC's; and,
Android OS smartphones became available as the first computing device ever purchased for millions of people living in emerging markets at price points well below the cost of a PC.
In short the world went mobile and personal computers had little real mobility. Those deficiencies are being remedied and remedied fast.
Intel's Haswell and later generation processors offer serious computing power and long battery life, something not really available on an ARM Holdings (NASDAQ:ARMH) based computer. Intel has made its processors equally capable of running Android or Windows OS and its processors continue to be the AP's of choice for computers running OS X. The applications library for Windows OS tablets is now over 160,000 applications and contains virtually all of the most popular apps available on competing platforms.
Intel has become the dominant supplier of processors for Chromebooks with a variety of Intel powered units entering the market later this year from Toshiba (OTCPK:TOSBF), Dell, Hewlett Packard (NYSE:HPQ), Asus (OTC:AKCPF), Acer (OTC:ACEIY), and LG (LG).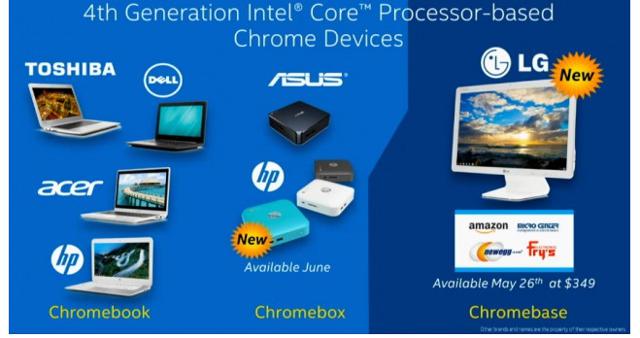 Source: Extreme Tech
Intel is inside an increasing number of Android tablets with its processors now fully competitive on price with ARM based components.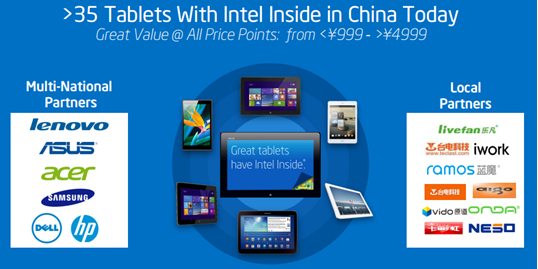 Source: Lazure
These initiatives are unlikely to do much to bolster earnings this year with a combination of low prices and contra revenue eating into the normally high margins Intel is accustomed to but they will put Intel powered devices in the hands of million more users who were otherwise likely to buy an ARM powered device. Those users will be pleasantly surprised by the speed and versatility of their Intel powered devices which Anandtech rates as the fastest CPU performance in any Android tablet and offering 9 to 10 hours battery life and both 32 bit and 64 bit computing.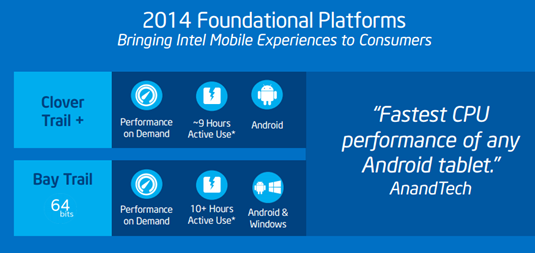 Source: Lazure
If Intel's strategy is a success - and I think it will be - we will enter 2015 with Intel firmly established in the tablet market with leading edge performance on all metrics. The next step for Intel is to follow up with increased market share of tablets and a meaningful beachhead in smartphones where it has been woefully absent so far.
That advance will require the successful launch of Intel's 14nm process in parallel with development of integrated modems to provide on board LTE.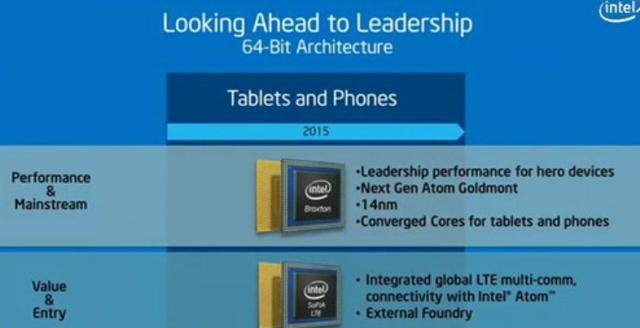 Source: PC World
It is way too early to tell how far Intel will get in the smartphone arena but no one should doubt its resolve to make inroads or its capability to develop cutting edge technology.
The entire mobile processor space is crammed full of powerful and successful innovators like Qualcomm; ARM Holdings; Samsung; Mediatek; Rockchip; and Allwinner to name a few. All have robust strategies and successful execution. For Intel to displace anyone will be an all-out war and those wars have casualties. It will be interesting to watch.
I am long Intel.
Disclosure: I am long INTC. I wrote this article myself, and it expresses my own opinions. I am not receiving compensation for it (other than from Seeking Alpha). I have no business relationship with any company whose stock is mentioned in this article.