One of the biggest battles taking place between intelligent long-term buyers and well educated, experienced short sellers the last 2-3 years has been in the shares of The St. Joe Company (NYSE:JOE), a major land, timber and community development real estate holder in Florida. The basic argument between buyers and sellers is centered around what hundreds of thousands of undeveloped acres in northwest Florida are really worth today and into the future.
Clearly, the real estate bust of 2007-2011 hurt the value of Joe's acreage. However, the share price seems to be outlining a triangle bottoming pattern since the late-2011 low trade of $13.
The Fairholme Fund, controlled by Bruce Berkowitz, acquired 29% of the common shares in 2011 (roughly 27% ownership in the latest SEC filings). Berkowitz, listed as Morningstar's equity fund manager of the decade in 2010, was buying shares en masse at the same time as famed hedge fund manager David Einhorn was selling it short (borrowing shares he did not own from brokerage houses to sell in the open market).
Since 2011, the stock price has been in a Mexican standoff, with each move higher met by a move lower, and vice versa. Price gains have been limited in St. Joe's shares measured over the past 3-5 years, despite an equivalent period 70% rise in the S&P 500. I would consider Joe's underperformance of the general stock market a win for the huge short selling interest so far. The remaining question is how do shorts gracefully exit their positions (purchase Joe stock to cover the short sale) without sending the stock price to the moon?
No Easy Exit Option For Shorts
With very low trading volume the last couple of years as large long-term investors and institutional ownership have locked up much of the free float of shares (2014 trading volume is running 25% the 2009 level for example), the stagnant short position has no credible way of covering at current prices. Short sellers cannot wait forever. They incur holding costs in the form of interest expense each passing day, and substantial risk from the "potential" unlimited losses created by margined price gains in Joe turning against them. Right now the short interest ratio, the number of days it would take shorts to cover their entire position as measured against average daily trading volume, is an astronomical 60 days! Generally, ratios above 10 are considered extremely high by Wall Street. Honestly, it would take "double" the usual trading volume for three straight months of activity to mathematically cover the incredible short position. From where and at what price will sellers step forward to meet the demand brewing?
Under typical circumstances, short sellers attack stocks with high debt levels, oversized liabilities vs. tangible assets, and/or revenue in decline - heavy operating loss businesses. The problem for shorts is St. Joe has few debts and liabilities, can easily liquidate land holdings into an improving real estate marketplace, and holds a mountain of cash on hand after its latest asset liquidations.
St. Joe Land Sales And New Cash Hoard
During the first half of 2014, St. Joe completed the sale of approximately 380,000 acres of non-strategic timber and rural land to AgReserves, Inc., for approximately $562 million, and the RiverTown community for $74 million in cash and other considerations. Today, St. Joe has over $700 million in cash and liquid investments against roughly $200 million in total liabilities. You can review the company's early May press release here. The remaining company is left with $8 in cash and investments per share, and around 185,000 acres comprising the best future development prospects owned by St. Joe. Against a $21 stock price there seems to be plenty of fundamental value and little downside moving forward. The current $11 book value is mostly cash, and severely underestimates the value of properties still on hand, many held on the books at purchase costs from the 1920s and 1930s.
Short Squeeze Odds Growing
While short sellers have debated that St. Joe's holdings were vacant and worthless swamp land, the asset sales in 2014 highlight a different reality. So how do a myriad of short sellers, in perhaps the greatest short ratio equity in the U.S. stock market presently, propose to cover without shooting each other in the process and sending Joe's stock to $30 or $40 in the crossfire? A stampede of buy orders from shorts cannot be ruled out at some point in 2014, especially if real estate values in Florida continue their recent ascent and inflation overall starts to take hold in America as a result of record money printing since 2008. It appears in April-May 2014 short sellers have begun to concede defeat and are covering in a compounding pattern as the stock price rises from the dead. We may be on the verge of a truly historic short squeeze, if existing long-term holders do not wish to sell out.
The price rise from less than $18 a share on April 24 to nearly $22 in late May has occurred with higher than normal volume on a daily basis vs. the rest of 2014. The spike in the Relative Strength Index [RSI] pictured on the chart below and big jump in On Balance Volume [OBV] can be hallmarks of a breakout move. A change in price trend from a meandering one the last six months and downward sloping pattern since January 2013 may be taking place during May 2014. In my opinion, St. Joe could begin a stretch of strong outperformance of the overall stock market, if not witnessing a robust upmove from the low-$20s quote throughout 2014.
Again, the problem for the massive St. Joe short interest resides in the lack of shares for sale they can find to cover (purchase St. Joe for their account). It is within the realm of possibilities new buyers like myself in Joe will exaggerate the price rise coming, as buy imbalances vs. the number of shares for sale each day become persistent. The supply/demand situation is quite interesting to study and contemplate. Nevertheless, all logical resolutions for the trapped short position include extra buying in St. Joe shares to materialize at some point, perhaps soon, regardless of operating results at the underlying business in coming quarters.
Share Repurchases By Company Could Send Price Above $30
Of particular fear for short sellers now, a large share buyback could be announced any day using some of the $700 million cash hoard on St. Joe's books not needed to run the business. A share buyback would kill two birds with one stone, namely leverage land holdings per share for remaining owners, while taking marginable shares out of circulation. Short selling involves "borrowing" shares from other owners, mainly through marginable brokerage accounts. In Joe's case, few shares are available for borrowing already, as several hedge funds and institutions have acquired stakes outside of borrowers' reach. If the float of marginable shares is reduced, short sellers could be forced into margin calls and a short squeeze wave of buying, no matter the desire of traders to stay short or underlying value of land holdings. The cumulative effect of the company repurchasing shares and shorts covering at the same time would generate an amazing supply/demand imbalance in trading that could only be rectified by sharply higher stock pricing and the discovery of new share supply.
Conclusion
Investors looking for a long-term inflation hedge, or a speculation on real estate prices in Florida, or an asset in a diversified portfolio that is not always correlated with general stock market trends should consider The St. Joe Company in their research. Improving land values, increasing cash holdings and a clear tilt regarding the supply/demand setup for shares in favor of long owners argue for decent, if not strong price gains in 2014-15. I do not personally own shares today, but am anxious to purchase such as St. Joe entered the Victory Formation Top 10 list last Friday. I am waiting (praying) for a better entry point in coming days, which may or may not appear. Good luck with your investing and trading endeavors, as always. I hope you can come back and read my next Seeking Alpha investment idea in the near future.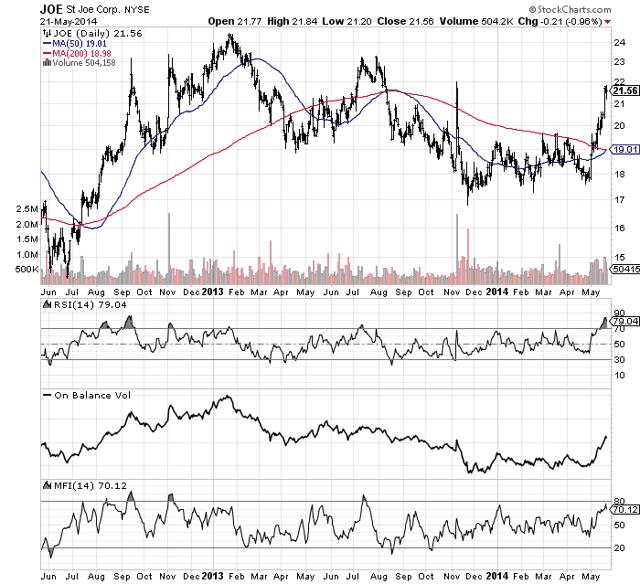 Charts courtesy of StockCharts.com
Disclosure: I have no positions in any stocks mentioned, but may initiate a long position in JOE over the next 72 hours. I wrote this article myself, and it expresses my own opinions. I am not receiving compensation for it (other than from Seeking Alpha). I have no business relationship with any company whose stock is mentioned in this article.