Medtronic (NYSE:MDT) and Becton, Dickinson and Company (NYSE:BDX) are both global manufacturers and distributors of medical, diagnostic, bioscience and therapy products. Both companies are dividend aristocrats with a long history of rewarding shareholders. Medtronic is about 3 times as large as BDX. Medtronic has a market cap near $60 billion versus $22 billion for BDX.
Medtronic is larger, but which business makes the better long-term investment? This article seeks to answer this question by examining the current events of both business and comparing the two based on several price and valuation metrics.
MDT Current Events
Medtronic's 35 years of increasing dividends are evidence of its ability to continuously innovate and stay in-line with the fast-changing health industry. The company will continue to grow revenue through product innovation and deeper penetration into international and emerging markets.
The company recently announced its long-term renal denervation project did not pass its HTN-3 trial due to not meeting efficacy requirements. Regardless of this setback, Medtronic has a full pipeline of products for the near future.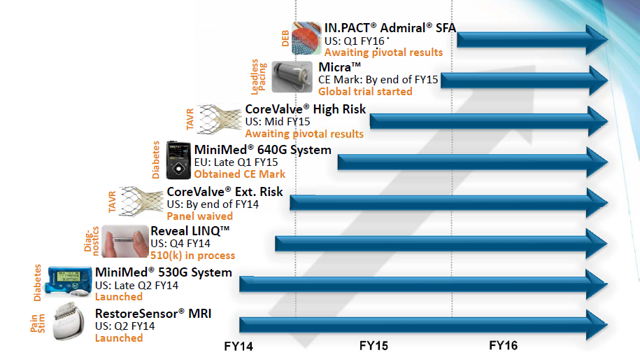 Source: JP Morgan Healthcare Conference Presentation
Medtronic's emerging market revenue currently accounts for 12.5% of the company's total revenue. Medtronic's emerging market revenue grew 12% on a constant currency basis for the most recent quarter. The business expects double-digit emerging market growth to continue, and possibly increase over the next several years. Medtronic's high growth in emerging markets is encouraging for long-term shareholders as it provides a large opportunity for growth going forward.
Shareholders of Medtronic can expect a compound annual growth rate of between 7.5% and 10.5% going forward from growth, dividends and repurchases. Medtronic expects revenue growth of 3.5% to 6.5% per year over the next several years. The company's current dividend yield is 1.89%. Medtronic is expected to repurchase about 2% of shares outstanding though 2014.
BDX Current Events
About 60% of BDX's revenue comes from international markets. Emerging market growth in particular is driving BDX's growth. The company's constant currency international sales have grown 9.2% year-over-year for the most recent 6 month period.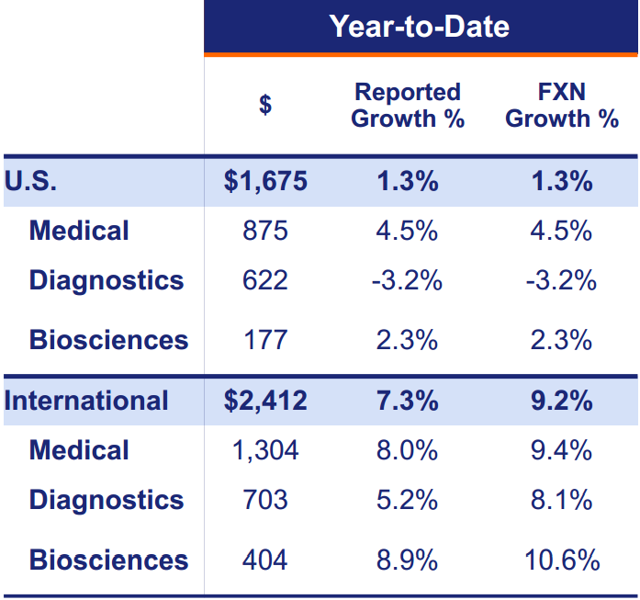 Much like Medtronic, BDX's future growth will come from both innovation and international expansion. In 2013, 13% of total revenue was from acquisitions and new products. BDX's long history of innovation makes it highly likely that the business will continue to invent new products that drive revenue growth.
Medical product sales will continue to increase in emerging markets as more people are lifted from poverty every day. BDX is well positioned to take advantage of this global trend. Currently, close to 25% of the company's revenues comes from emerging markets. The company's currency adjusted Chinese revenue is growing at around 17%. Sales of emerging market safety products are growing at 19% for 2014. BDX's strong emerging market growth will likely persist into the future as it continues to expand its offerings.
Shareholders of BDX can expect a CAGR of around 8.5% to 9% from growth (4.5% to 5%), dividends (2%) and share repurchases (2%).
Valuation
BDX trades at about a 50% premium to Medtronic. BDX is expecting revenue growth of 3.5% to 6.5%, versus 4.5% to 5% for Medtronic. Based on peer P/E ratio, BDX is somewhat overvalued while Medtronic is either undervalued or fairly valued.
| | | |
| --- | --- | --- |
| Ticker | Company | P/E |
| BDX | Becton, Dickinson and Company | 24.29 |
| MDT | Medtronic, Inc. | 16.83 |
| BCR | CR Bard Inc. | 15.85 |
| BAX | Baxter International Inc. | 20.16 |
| COV | Covidien plc | 20.3 |
| ZMH | Zimmer Holdings, Inc. | 22.87 |
| STJ | St. Jude Medical Inc. | 24.95 |
| ABT | Abbott Laboratories | 28.45 |
| SYK | Stryker Corp. | 39.63 |
Comparison 1: Dividend History
Medtronic has increased its dividend for 35 consecutive years, versus 42 consecutive years for BDX. Both companies have a long history of rewarding shareholders through dividend increases.
Why it matters: The Dividend Aristocrats (stocks with 25-plus years of rising dividends) have outperformed the S&P 500 over the last 10 years by 2.88 percentage points per year. (Source: S&P 500 Dividend Aristocrats Factsheet, February 28 2014, page 20)
Comparison 2: Dividend Yield
Both companies have a dividend yield of 1.89% as of May 21st. The S&P 500 currently has a dividend yield of 1.86%, so these companies have an average market yield.
Why it Matters: Stocks with higher dividend yields have historically outperformed stocks with lower dividend yields. The highest-yielding quintile of stocks outperformed the lowest-yielding quintile by 1.76 percentage points per year from 1928 to 2013. (Source: Dividends: A Review of Historical Returns)
Comparison 3: Payout Ratio
BDX has a payout ratio of 42.50%, versus just 30.90% for Medtronic. Both companies have a low payout ratio with ample room to increase dividends faster than overall company growth for several years. Medtronic wins this category, as its payout ratio is significantly lower than BDX.
Why it Matters: High-yield, low-payout ratio stocks outperformed high-yield, high-payout ratio stocks by 8.2 percentage points per year from 1990 to 2006. (Source: High Yield, Low Payout by Barefoot, Patel, & Yao, page 3)
Comparison 4: Growth Rate
BDX has managed to grow revenue per share over 8% per year for the last 10 years, compared to 6.4% or Medtronic. BDX wins this round thanks to its higher per share growth rate in the last 10 years. Going forward, it is unclear which company will grow faster.
Why it Matters: Growing dividend stocks have outperformed stocks with unchanging dividends by 2.4 percentage points per year from 1972 to 2013. (Source: Rising Dividends Fund, Oppenheimer, page 4)
Comparison 5: Volatility
Medtronic has a long-term standard deviation of about 24%, versus only around 20% for BDX. BDX has an exceptionally low standard deviation, which indicates it has stable cash flows and a strong competitive advantage. BDX wins this category.
Why it Matters: The S&P Low Volatility index outperformed the S&P 500 by 2 percentage points per year for the 20-year period ending September 30th, 2011. (Source: Low & Slow Could Win the Race, page 3)
Conclusion
BDX and Medtronic are almost evenly ranked based on the 5 Buy Rules from the 8 Rules of Dividend Investing. BDX is the slight winner, but by a very slim margin. The companies both rank highly for different reasons. BDX ranks highly due to its growth rate and volatility, while Medtronic ranks highly for its low payout ratio and sound scores in every other category. Both businesses make excellent long-term investments.
Disclosure: I have no positions in any stocks mentioned, and no plans to initiate any positions within the next 72 hours. I wrote this article myself, and it expresses my own opinions. I am not receiving compensation for it (other than from Seeking Alpha). I have no business relationship with any company whose stock is mentioned in this article.