"If you do not change direction, you may end up where you are heading." - Lao Tzu
I've noted in several of my writings here on SeekingAlpha and on MarketWatch that an "alpha crash" was taking place in small-cap stocks which no one seemed to be talking about. All of last year's outperformance in small-caps relative to large-caps was erased in but a few short weeks, in stunning divergence against the S&P 500 (NYSEARCA:SPY) which remains near its all-time highs. As a matter of fact, if you looked at intermarket behavior since the start of the year, high flying momentum stocks, homebuilders (NYSEARCA:XHB), Retailers (NYSEARCA:XRT), etc., you would unequivocally be right in saying we are in the midst of a correction. If you only looked at the Dow Jones Industrial Average (NYSEARCA:DIA) or the S&P 500, you would say we aren't.
Of course, the other side of the small-cap alpha crash is now oversold relative behavior which may be due for leadership. When it comes to markets, with one extreme tends to come the other. Take a look below at the price ratio of the Russell 2000 ETF (NYSEARCA:IWM) relative to the S&P 500 . As a reminder, a rising price ratio means the numerator/IWM is outperforming (up more/down less) the denominator/SPY.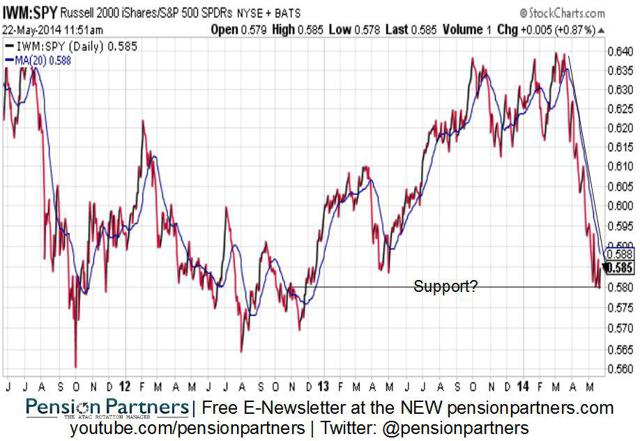 It would not surprise me to see small-caps stage strength. Remember that this is the ratio against large-caps. One way the ratio can rise is with large-caps actually going down more than small-caps. The implication would be that the correction, which has manifested itself in some areas of the market but not headline averages, will soon do so. The only thing that makes me pause in thinking this happens is that Utilities (NYSEARCA:XLU) and Treasuries (NYSEARCA:TLT) are both overbought. As noted in two award-winning white papers I co-authored (http://papers.ssrn.com/sol3/cf_dev/AbsByAuth.cfm?per_id=2224980), those areas tend to be early predictors of coming volatility. If they are indeed overbought and weaken from here, then odds would NOT favor a big drop to come in the near-term. In addition, emerging markets are showing some signs of strength. Our absolute return mutual fund and separate accounts currently favor that areas from a momentum standpoint, which also makes it hard to see a significant drop in stocks to come. That does not mean it can't happen of course. Investing and trading is always about probabilities.
For now, it appears more likely than not that small-caps might come back.
Disclosure: I have no positions in any stocks mentioned, and no plans to initiate any positions within the next 72 hours. I wrote this article myself, and it expresses my own opinions. I am not receiving compensation for it (other than from Seeking Alpha). I have no business relationship with any company whose stock is mentioned in this article.
Additional disclosure: This writing is for informational purposes only and does not constitute an offer to sell, a solicitation to buy, or a recommendation regarding any securities transaction, or as an offer to provide advisory or other services by Pension Partners, LLC in any jurisdiction in which such offer, solicitation, purchase or sale would be unlawful under the securities laws of such jurisdiction. The information contained in this writing should not be construed as financial or investment advice on any subject matter. Pension Partners, LLC expressly disclaims all liability in respect to actions taken based on any or all of the information on this writing.