The 25-day SEC-enforced period on underwriter research that began with the May 6 IPO of GasLog Partners LP (NYSE:GLOP) will come to an end on May 31, allowing the IPO underwriters to release research reports on the GasLog LNG carrier spinoff and likely causing at least a temporary rise in the price of GLOP shares.
GLOP's IPO priced at the high end of its expected range at $21 per share and saw solid first day returns of approximately 24%; the stock has since seen small gains. GLOP closed at $26.75 per share on May 20.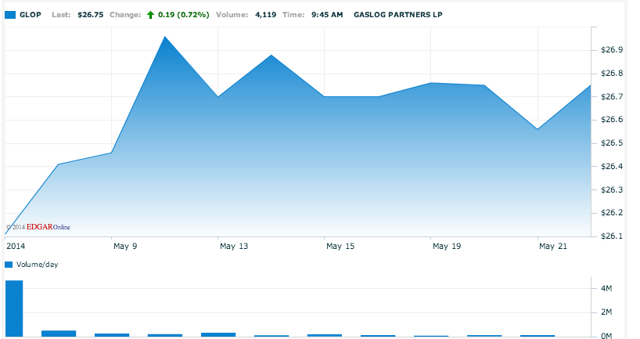 Click to enlarge
(Nasdaq.com)
Underwriters Could Attempt To Bolster GLOP Share Price
The IPO underwriters, including Citigroup Global Markets, Inc., Wells Fargo Securities LLC, Credit Suisse Securities LLC, Barclays Capital, Inc., DNB Markets, Inc., Deutsche Bank Securities, Inc., UBS Investment Bank and Evercore Group LLC, will try to bolster GLOP's value by publishing positive research reports on the firm beginning on the 31st.
Both the results of recent academic studies and data from our past two years of research have provided empirical evidence of a correlation between the quantity and visibility of IPO underwriters and an increase in the price of shares with the expiration of the quiet period.
Share prices will typically begin to rise several days in advance of the expiration as savvy investors buy up shares in an effort to take advantage of the underwriters' forthcoming positive reports. These early purchases lead to a perception of rising demand, causing an increase in share prices before the quiet period reaches its conclusion.
Overview of GasLog Partners
GLOP is an LP formed to own and operate liquefied natural gas (LNG) carriers engaged under long-term charters of five or more years. The firm's initial fleet consists of three ships acquired from GasLog, which owns GLOP's general partner and effectively controls the firm.
GLOP plans to expand its fleet both through further acquisitions from GasLog and from other sources. The firm has the option to purchase twelve additional LNG carriers from GasLog up to 36 months after each vessel's acceptance by its charterer or 36 months after the completion of the IPO. GLOP hopes to leverage GasLog's established reputation and connections to acquire a larger fleet and to find desirable charters.
GLOP competes with other LNG carrier owners, including Teekay LNG Partners LP (NYSE:TGP), Dynagas LNG (NYSE:DLNG), Golar LNG (NASDAQ:GLNG), and Maran Gas.
See our preview of GLOP for additional information.
Very Strong Management, With Diversity of Experiences
Andrew J. Orekar became CEO of GLOP with the completion of the firm's IPO.
He previously served as Managing Director and Global Head of Chemicals and Agriculture Investment Banking with Goldman Sachs & Co., where he spent the past fifteen years.
Mr. Orekar received a B.S. in Finance and a B.A. in English from the University of Pennsylvania.
Positive Conclusion For Investors
As global demand for LNGs and LNG carriers continues to rise, GLOP should be able to expand its fleet quickly and to find suitable charterers.
The firm's connection to GasLog should also pay dividends.
The upcoming quiet period expiration will serve as an excellent opportunity for potential investors to get a piece of GLOP.
We invite readers interested in joining the discussion on IPO quiet period expirations to click the +Follow button above the title of this article.
Disclosure: I am long GLOP. I wrote this article myself, and it expresses my own opinions. I am not receiving compensation for it (other than from Seeking Alpha). I have no business relationship with any company whose stock is mentioned in this article.