Any time a business reports falling revenues, operating profits and earnings per share and faces rapid change in its industry, huge opportunities open up. The same goes for businesses that predominantly rely on cuts to its operating expenses in order to deliver value for shareholders, oftentimes as part of a comprehensive restructuring program. While many investors run for the hills on the slightest sign of setbacks, causing volatility in the process, savvy investors think twice and, most importantly, do not give in to panic or negativity. Investors, unfortunately, also tend to underestimate the determination with which companies are adapting to a transforming industry and underestimate the probability of a business turnaround.
Advanced Micro Devices (NYSE:AMD) presented first quarter results last month which reflected a lot of the characteristics described above. Q1 2014 revenues came in at $1,397 million, down 12% sequentially, but up 28% from last year's first quarter. AMD's operating expenses for the first quarter 2014 stood at $421 million compared to $462 million in Q4 2013 and compared to $491 million in Q1 2013. Adjusted earnings per share were reported at $0.02 in Q1 2014 vs. $0.06 in the previous quarter and vs. a net loss of $0.13 in the year ago quarter.
Advanced Micro Devices, or Intel Corporation (NASDAQ:INTC) for that matter, have been battling the decline in the traditional PC business for a long time -- challenges that have been much discussed among investors and analysts in the past. To make matters worse, the decline in traditional PC shipments is not stopping: PC shipments are forecast to continue to decline 7-10% in 2014 (Source: AMD Q1 2014 Investor Presentation, slide 14).
AMD is busy transforming its business model strengthening areas such as graphics and servers. What's important, though, is the speed with which AMD gears its business toward growth segments: (see business transformation chart below):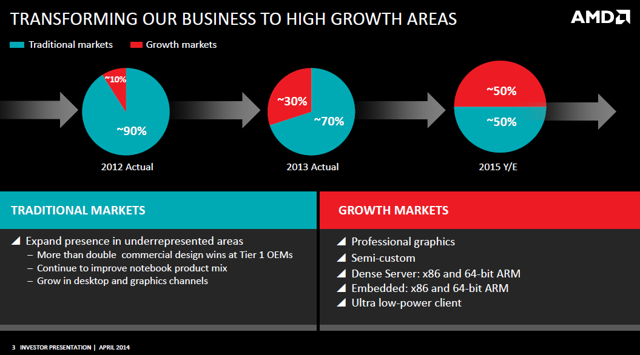 (Source: Advanced Micro Devices Q1 2014 Investor Presentation)
Chart situation
No doubt, shares of Advanced Micro Devices have been quite volatile over the last year as the chip maker transitioned its business model and battled top-line challenges. AMD was quoting as high as $8 per share just two years ago and shares fell off a cliff as AMD announced it needs to reposition its chip making business in 2012.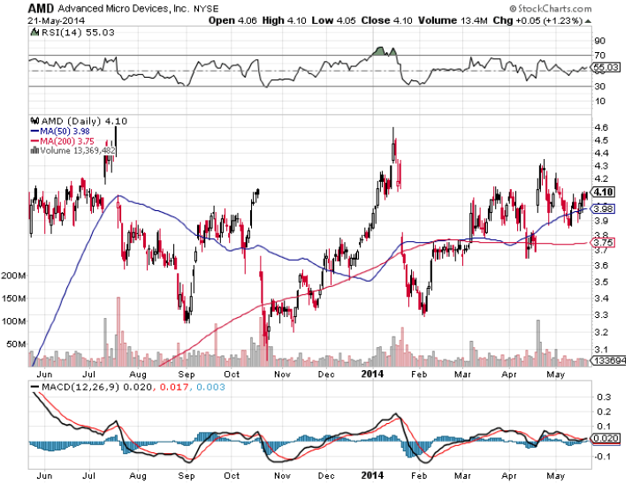 (Source: StockCharts.com)
Market valuation
Some investors probably question AMD's high earnings multiple. Compared to other companies in the semiconductor business, Advanced Micro Devices has the highest forward earnings multiple of over eighteen. Not exactly bargain territory. Intel, on the other hand, trades at a much more reasonable earnings multiple of thirteen and Micron Technology (NASDAQ:MU), a high-growth semiconductor/memory chip maker whose market capitalization has skyrocketed over the last two years, trades at less than nine times earnings.
Despite differences in business models and Micron's focus on the flash memory segment, Micron's inclusion in the peer group below is driven by two particular reasons: First, it can be characterized as a turnaround bet just like Advanced Micro Devices. Secondly, Micron's earnings multiple is extremely low relative to its peers (and growth prospects), which is a result of more optimistic earnings estimates from the analyst community.
In a related article about Micron Technology I have asserted that shares of the chip maker are likely to experience tailwinds in coming quarters due to analysts' earnings estimate upward revisions -- which will be justified partly by cyclical upswings in the semiconductor business and partly because analysts underestimated the earnings prospects of semiconductor businesses.
Higher earnings estimates lead to lower earnings multiples which should make AMD both absolutely and relatively much more attractive than the P/E comparison chart below suggests.
The following two charts depict the P/E and P/S ratios of Advanced Micro Devices, Intel and Micron Technology.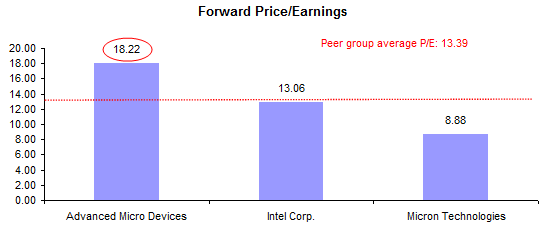 (Source: Achilles Research, Finviz.com)
AMD's price to sales ratio is the lowest in the semiconductor peer group at only 0.56. Intel and Micron Technology trade at significantly higher sales multiples of more than 2x.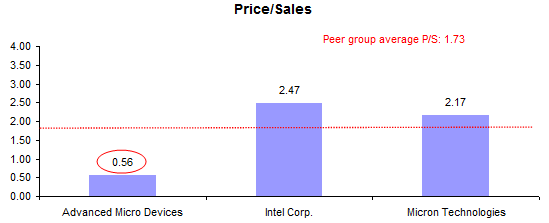 (Source: Achilles Research, Finviz.com)
A summary table containing key valuation metrics for Advanced Micro Devices, Intel and Micron Technology is provided below:

(Source: Achilles Research, Finviz.com)
Bottom line
I like Advanced Micro Devices because, as a classic turnaround example, investors are only going to believe results when they see it. As usual in the stock market, investors need to discount the obvious and bet on the unexpected -- a solid turnaround of AMD. Micron Technology is another example of a successful restructuring in the high growth tech business. AMD's turnaround plan with a much stronger focus on growth areas such as professional graphics, servers and embedded applications (both x86 and ARM) sounds convincing and management seems able to execute its business plan. With analysts' earnings estimate upward revisions providing tailwinds for AMD's stock price, I think AMD could get back to the $8 level over the next 1-2 years and, therefore, has decent potential to double. Strong Buy.
Disclosure: I am long MU. I wrote this article myself, and it expresses my own opinions. I am not receiving compensation for it (other than from Seeking Alpha). I have no business relationship with any company whose stock is mentioned in this article.