GoPro (NASDAQ:GPRO) has decided to take the plunge into life as a publicly traded firm. On May 19th, the maker of wearable video action cameras filed for a $100 million IPO. GoPro will trade on the Nasdaq Stock Exchange under the symbol GPRO. This move has been heavily rumored for months as GoPro had disclosed that it submitted a confidential filing with the SEC in February 2014.
GoPro's cameras have served to transform the manner in which life experiences are captured and shared on film. According to GoPro CEO Nick Woodman, the original idea behind GoPro was to help surfers capture action shots of themselves surfing. Ideally, these shots would serve to make these surfers look like professionals. Since then, the idea has spread to the mainstream consumer as individuals have adopted the notion of being uniquely captured on film while engaging in deeply rooted passions such as skydiving, windsurfing, jet skiing, etc.
The NPD Group's Retail Tracking Service pointed out that the GoPro camcorder was the top selling U.S. camcorder in 2013. GoPro was in the top 6 in terms of sales as a camera accessory firm. Additionally, the market share of GoPro's Hero cameras increased by over 30% in less than two years.
GoPro programming consists of the combination of original content produced by GoPro as well as the user-generated content of its user-base. Users can edit and create their videos using GoPro Studio. GoPro Studio is a desktop application that has been downloaded more than 4 million times by users. GoPro has a strong foothold in social media due to the numerous photos and videos that are shared daily on platforms such as Facebook (NASDAQ:FB), Twitter (NYSE:TWTR) and especially YouTube.
In the first quarter of 2014, users uploaded nearly 3 years worth of video with the term "GoPro" in the title to the YouTube platform. Here are some other astonishing YouTube Statistics for the first quarter of 2014:
- 6000 daily uploads by users
- More than 1 billion views
- Over 50 million watched hours
As a result, GoPro is the top-ranked brand on the YouTube Brand Channel Leaderboard. Thus, its brand recognition and loyalty continues to surge.
Does it make for a good investment? Let's find out.
It is no secret that GoPro's growth in terms of revenue and net income has exploded in the past four years. This is demonstrated in the following chart. Investors will be happy to know that revenue growth has not been an issue for GoPro leading up to the IPO.


WHY INVESTORS SHOULD NOT BE OVERLY CONCERNED ABOUT GOPRO'S YEAR-OVER-YEAR DECLINE IN Q1 2014
GoPro's revenue growth declined by 8% year-over-year to a revenue total of $235.7 million. Yet, the filing revealed that Q1 2013 revenues were given an unusual boost due to stalled production of GoPro's HERO3 black capture device in the fourth quarter of 2012.
This delay in production carried over to the next quarter. As a result, this served to inflate the number of units sold and revenue incurred for GoPro during the first quarter of 2013. Here is the side-by-side comparison of GoPro's revenue totals for 4Q 2012 and 1Q 2013.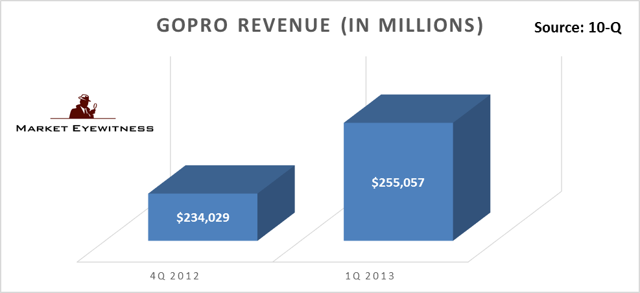 If there were no delays in GoPro's recent HERO3 black capture device in 4Q 2012, GoPro would have reported a much stronger revenue total for that particular quarter. Consequently, the firm would have reported a significantly lesser revenue total for the first quarter of 2013.
After all, GoPro has significant seasonality in its sales. GoPro's fourth quarter totals are usually stronger as a result of the holiday season while its first quarter totals are usually weaker. Thus, the revenue totals for 4Q 2012 and 1Q 2013 are reflective of a very unusual circumstance.
Therefore, it is safe to assume that GoPro would have reported a year-over-year increase for the first quarter of 2014 under normal circumstances.
NEW REVENUE STREAMS
Additionally, GoPro expects to tap into several new revenue streams in the near future. One source of revenue will be derived from its recent agreement with Microsoft (NASDAQ:MSFT) to commence development of the GoPro Channel on Xbox Live. GoPro is anticipating revenue from advertising and sponsorship from its YouTube, Virgin America and Xbox Live channels by the second quarter of this year. Given GoPro's dominance of the YouTube platform, there is no question that this is an advantageous opportunity.
Along with seasonality, GoPro's future investments in sales and marketing as well as research and development are expected to impact future performance. GoPro's profitability fell by 52% year-over-year in the 1st quarter of 2014. The main catalyst for the particular result was the 139% increase in R&D expenditures year-over year. As we can see in the following charts, GoPro has already set a tone for increased R&D expenditures for the rest of the year based on 1Q 2014 results.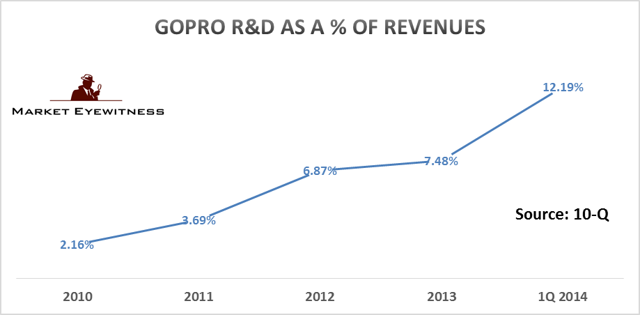 KEY RISKS
It is clear that GoPro is heavily dependent on the holiday season (Aka 4th quarter) for a successful year in terms of sales and revenues. For 2012 and 2013, GoPro's 4th quarter revenues accounted for 44% and 37% of the firm's total revenues for the year. Overall, GoPro's seasonality will result in some unpredictability in their revenue totals in spite of its growth.
Additionally, there should be cause for concern regarding GoPro's significant dependence on CEO Nick Woodman. It is documented that he is crucial to the direction and management of the firm as well as the R&D process. This will have to be solved in the long term. If GoPro is to become an industry stalwart, they will have to realize that their CEO can't be involved in the process as he is now. Thus, Go-Pro will have to develop a long-term plan in which their initiatives can be accomplished without their CEO playing the role of micro-manager.
BOTTOM LINE
In spite of the fact that GoPro faces intense competition in an industry full of stalwarts, GoPro's wearable technology gives it a unique competitive advantage over the rest of the pack. The video shots are mesmerizing. But beyond that, it has profitability, substantial revenue growth and an engaged user-base with strong loyalty to the brand. Its revenues are poised to grow substantially due to a strong number of potential revenue streams. As unpredictable as the revenue totals will be quarter-to-quarter, investors can be fully confident of year-to-year revenue growth. Overall, investors should proceed after GoPro with confidence.
Disclosure: I have no positions in any stocks mentioned, and no plans to initiate any positions within the next 72 hours. I wrote this article myself, and it expresses my own opinions. I am not receiving compensation for it (other than from Seeking Alpha). I have no business relationship with any company whose stock is mentioned in this article.