Introduction
This week, Microsoft's (NASDAQ:MSFT) announced its best attempt yet in bridging the mobile productivity problem between tablets and notebooks, that is, the problem of consumers owning a tablet and a laptop at the same time. The burden of having to own both a tablet and a laptop is one that affects 96% of iPad owners. With the latest launch of the Surface Pro 3, you get the thinnest Intel Core device ever launched, while providing users with the power of an ultrabook in a tablet form factor. In addition, users can improve productivity with a significantly improved pen-writing experience, making students a high-value target. This is an experience found in no other product, and is truly innovation at its finest by Microsoft. Surface Pro 3 is the biggest and most forward-moving step MSFT has ever taken, and for this article, I will briefly focus on the new product and discuss its potential impact.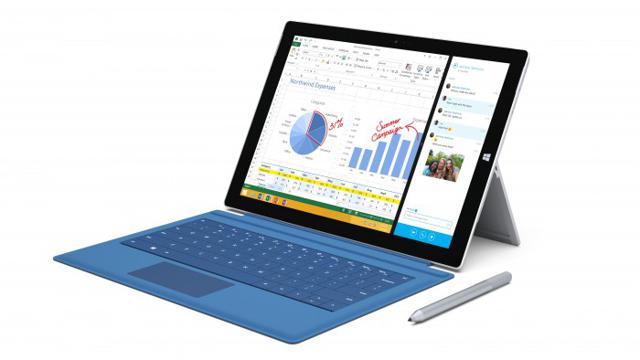 Source: Digital Trends
Replacing the laptop
During the conference, Microsoft's vice president, Panos Panay laid out a problem that has persisted since the birth of the tablet. He mentioned that 96% of the people who owned an iPad also owned a laptop. This isn't how it was supposed to play out. A few years ago, we were expecting that the tablet would start to kill the laptop, but instead, it ended up becoming an additional luxury in our lives. Tablets have been primarily designed for videos, web browsing, e-mail, and other simple tasks, while laptops are designed for productivity and getting work done.
Just to use the conference room as an example, the entire room was filled with reporters using MacBooks, not tablets. What happened was that the tablet just became a larger smartphone and entertainment device that never allowed most people to get the productivity that they would get in a computer. With the Surface Pro 3, you finally get the product that draws the line in replacing the laptop.
Surface Pro 3
It's fairly common for a product to take three generations to actually reach its optimal point of quality and innovation, and with the Surface Pro 3, Microsoft nailed it; even in the ad. In nearly all forms, the Surface Pro 3 is leaps ahead of its predecessors. This time, it innovated the thinnest Intel (NASDAQ:INTC) Core product ever at 9.1mm thick, and increased the screen size by 38% by going with a 12-inch display at a 3:2 aspect ratio, compared to the former 16:9 ratio on the previous smaller 10.6-inch display. With the new display sporting a 2160 x 1440 resolution, Surface is now at a pixel density that is only a hair under that of Apple's (NASDAQ:AAPL) MacBook Pro with Retina display. This is crucial, because there are nearly no large-screen alternatives to Apple's high-pixel dense displays, and with a price tag of $799, it'll be the best screen found on a laptop within this price range.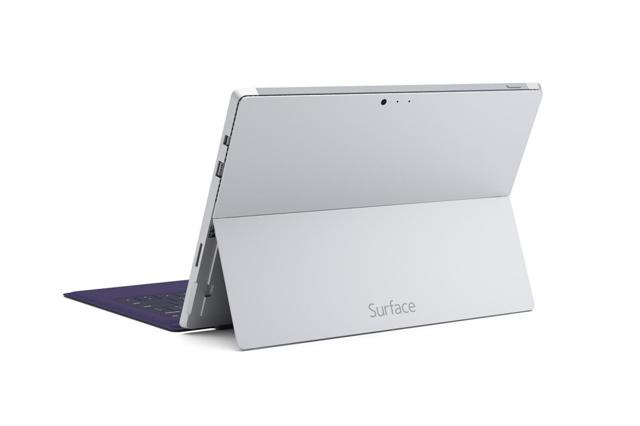 Source: Digital Trends
If you've read my article about Mac dominating the PC market, you will have learned that design is a very important factor to me. One thing Panay heavily emphasized was that there were no compromises in making this new product, and with the Surface Pro 3, so far he's right. Microsoft made the new device more powerful, thinner, and lighter, even though it's larger. Even the battery life was improved by 15%. With the thin magnesium chassis, the Pro 3 is (arguably) the best-looking tablet in its class. We're talking about a design where the sleek edges and premium materials compare to Apple's products - something that I don't see on this scale anywhere.
Another advantage of the new device is its diverse options. One frustrating thing with OEMs is that there are so many varying products on the market, and the low-end products are always highly inferior to their more expensive counterparts, which are usually a different model. With the new Surface Pro, you get a wide range of options, from a $799 Core i3 processor with 64GB of storage to a Core i7 with 512GB. Although this may not appeal to everyone, these are the kind of factors that help people shop for products and even maintain resale value, which is something Apple products are famed for.
Is it Revolutionary?
In the coming days and weeks, many reviewers will be offering good perspectives on how it performs in the real-world. So far, the short-term reviews are very positive, with many pleased with the product; especially by its new display and kickstand that enables in-lap usage. Without a doubt, this will be the most successful Surface Pro yet, and will be the first step in revolutionizing the industry with a new and evolved product. Its high performance, pen usage, thin tablet form, and productive keyboard attachment creates a whole new experience in a class of its own, and as a student, I find this to be a very powerful tool.
Against the competition
Funnily, Microsoft mentioned that it was not its intent to compete with its OEMs, and technically, they're not competing, directly. However, if a success, this product will eat into every other laptop's sales and even many tablets. In this sense, MSFT is just filling a gap by creating a new product that may lure people away from owning traditional tablets and laptops at the same time. With a starting price of $799, it is cheaper than MacBook Air's recent price drop, and considering how 97% of iPad owners have a laptop, many people may be pleased with Microsoft's new price in the longer run.
No mini version, yet
Many, including myself, were expecting the rumored Surface Mini to accompany the Pro 3, but this wasn't the case. There are various rumors on why, but the main reason seems to be that it wasn't ready yet, and if so, I'm glad they're waiting, because the first Surface received a lot of bad feedback for being a rushed product. However, with the event being heavily focused on introducing a productive tablet capable of replacing the laptop, a solo launch could help people clearly distinguish between the different lines of Surface products. In my experience with Surface Pro, I find that there are many people who are unfamiliar with the idea that it's a full-fledged computer, and this could give Microsoft an opportunity to focus on marketing this product in just this way.
Conclusion
I believe that the Surface Pro 3 easily supports my previous conclusion on how the Surface is vital to Microsoft. It is an industry-leading design that for once supports Surface's goal to slowly eliminate the laptop. If a success, we will likely see this product eat into the sales of other laptops and tablets, including Apple's MacBook series and iPads. If this happens, it won't necessarily be because it's directly competing with them, but because it's a new alternative. Another factor that we witnessed with the Pro 3 was the attention to detail. From the magnetic keyboard that nudges onto the screen for increased stability to the fully adjustable kickstand, this shows that Microsoft is paying attention to the finest details. This is a great sign for the company and products, and is something that will surely be reflected in its future.
Additional Images of Surface from Digital Trends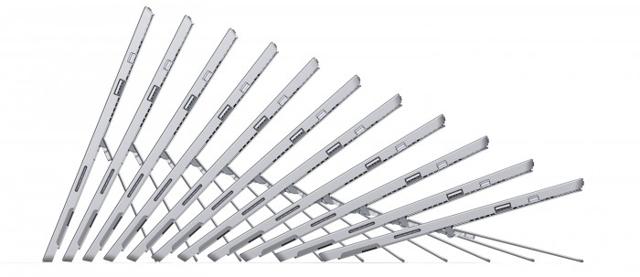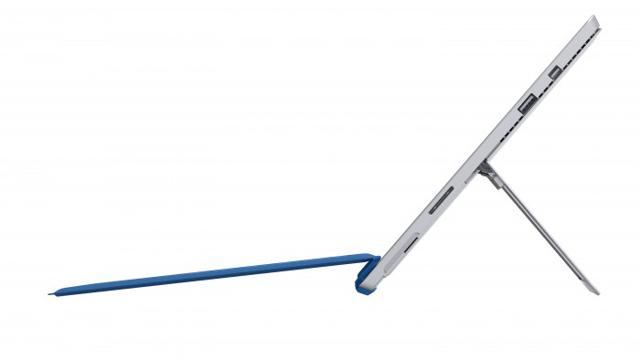 Disclosure: I have no positions in any stocks mentioned, and no plans to initiate any positions within the next 72 hours. I wrote this article myself, and it expresses my own opinions. I am not receiving compensation for it (other than from Seeking Alpha). I have no business relationship with any company whose stock is mentioned in this article.