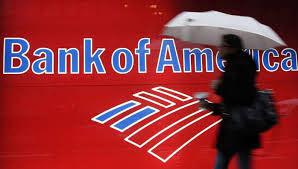 The list is extremely long in regards to bad news related to Bank of America (NYSE:BAC). At the top of the list is the regulatory capital miscalculation and legal issues related to the 2008 housing debacle. Moreover, each time a single piece of bad news comes out, a myriad of polemical pieces are published regarding the same news item amplifying the negative effect on the bank's shares. This can be seen by the precipitous drop in past weeks.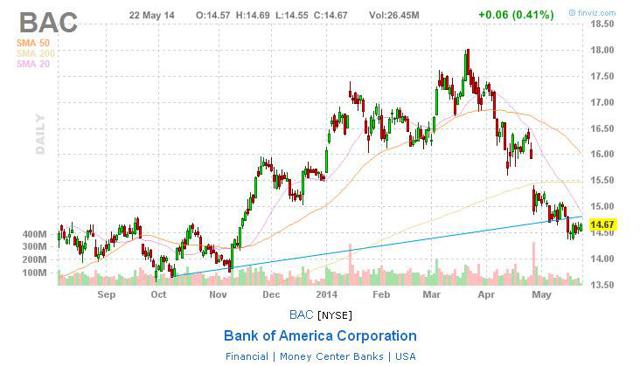 Click to enlarge
(Source: Finviz.com)
Nonetheless, something caught my eye over the last five days. The trend has actually reversed and has started to climb its way back to $15.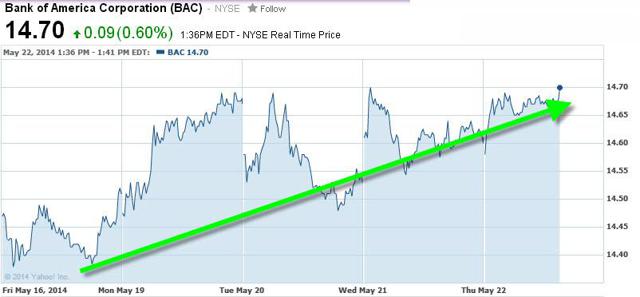 Click to enlarge
(Source: Yahoo.com)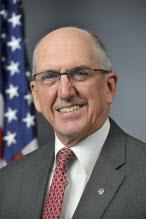 This trend has continued in the face of some extremely inflammatory headlines out recently related to the legal liabilities of the big banks. Michael P. Stephens, the Acting Inspector General for the Federal Housing Finance Agency Office of Inspector General, stated recently:
"Banks are probably in the "fifth inning" of mortgage investigations. That's partly because the companies have been slow in negotiations and seeking broad settlements. They may be anxious to get it behind them, but obviously not too anxious to write a check. I don't see anything in the near future that's going to wipe the slate clean with all of the investigations."
A headline like this a few weeks ago would have caused Bank of America's stock to drop 5% in one day. Yet, now the stock is actually up in direct contradiction to it. This is telling to me. I believe it is the first signal that the selling pressure has abated and all the weak hands have been wrung out of the stock. Only hardcore long shareholders with a long-term time horizon and courage in their convictions remain. After watching this epic struggle play out many times through the years, it becomes easier and easier to identify these slight changes that forebode a shift in sentiment regarding a stock. The entry point for starting a position is a major factor in determining your ultimate return. Even so, the sooner you get involved in the process the higher the risk may be; but, the reward could be greater as well. The reversal of trend is definitively not confirmed at this point, yet by the time it is, the stock could be 10% higher. If you have a low risk tolerance, this is not the time to get involved. But if you can handle a little volatility going forward the risk may prove to be well worth the reward. The stock is trading at historic lows, is undervalued on a relative and absolute basis, has improving fundamentals, and appears to have found a bottom. What more could you ask for in regards to an investment opportunity?
Trading at historic lows
The stock is basically trading at the same price as it was in 1990. That was 24 years ago people. Talk about a major buying opportunity.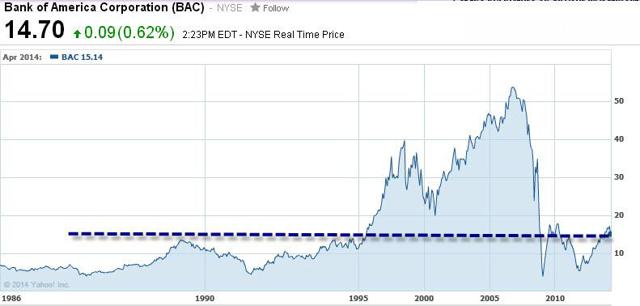 Click to enlarge
(Source: Yahoo.com)
Sometimes to make a prescient investment you have to take a step back and look at the big picture to gain your bearings. The drone of negative noise on a day-to-day basis can warp your perspective and cause you to sell at the very time you should be buying.
Undervalued on a relative basis and absolute basis
Bank of America shares are trading for one of the lowest PEG ratios amongst all the big banks. There is no doubt the stock is a buy compared to the competition.

Click to enlarge
(Source: Finviz.com)
More specifically, the bank has a PEG ratio of less than 1 and a price to book value of 0.70.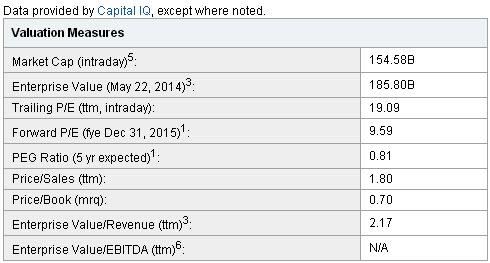 (Source: Yahoo.com)
This implies the stock has a significant margin of safety and is undervalued on an absolute basis. There is no disputing this fact.
Improving fundamentals
EPS is expected to grow by 20% next year and 64% over the next five years. The five-year 64% EPS growth rate is triple that of any other global money center bank. Moreover, these projections are underpinned by the bank's recent performance. No one can dispute the fact the bank's fundamentals have been trending positively, as evidenced by the recent earnings beat on both the top and bottom lines. Need I say more?
Conclusion
You have to buy low in order to sell high. The fact that the bank is trading at a 30% discount to book value gives you some wiggle room to be slightly wrong in regards to your upside potential target. High risk and high reward go hand in hand. I see an inkling of a trend reversal in the stock. The trend has turned positive over the last few days. The stock had no negative reaction to the latest derogatory headline. It may be time to stick your toe in the water if you are considering opening a position in Bank of America. If you are already long at a higher-cost basis, this could be an opportunity for dollar cost averaging into the stock. If you are short, it may be time to cover. Do your own due diligence and make your own mind up. No one truly knows what the future holds. Time is the ultimate arbiter of truth and an investment's value. It will be interesting to revisit this article at a future date and see if my positive perceptions were validated.
Disclosure: I have no positions in any stocks mentioned, and no plans to initiate any positions within the next 72 hours. I wrote this article myself, and it expresses my own opinions. I am not receiving compensation for it (other than from Seeking Alpha). I have no business relationship with any company whose stock is mentioned in this article.