ETF Spotlight on WisdomTree Pacific ex-Japan Total Dividend Fund (DND), part of a weekly series.
Assets: $78 million
Objective: Tracks the WisdomTree Pacific ex-Japan Dividend index,which tracks companies in Hong Kong, Singapore, Australia or New Zealand. The companies are weighted based on annual cash dividends paid.
Holdings: Top companies include China Mobile (NYSE:CHL) (8.9%), Westpac Banking Corp. (NYSE:WBK) (5.6%), Commonwealth Bank of Australia (OTCPK:CMWAY) (5.3%) and BHP Billiton (NYSE:BHP) (5%).
What You Should Know
Financials are by far the largest sector in the fund, with 38.3% of the weighting
Telecommunications and industrials follow, with 17.5% and 10.2% of the weighting, respectively
Australia is the most-represented country in the fund, with 58.9% of the weighting; China has 14.5%; Hong Kong has 13.2%; Singapore has 11.4%
DND currently yields 4.53%
It's up 5.2% in the last three months, though it's still 2.6% below its long-term trend line
DND has a 0.48% expense ratio
The Latest News
While much of Asia has appeared to bounce back from the recession, Japan is still struggling; this fund is a good way to get exposure to the more solidly positioned countries in the Pacific region.

Christina Larson, contributing editor at Foreign Policy, says that of the top 10 cities in the world, five of the biggest global cities are located in Asia, reports Steve Chiotakis for MarketPlace. In places like India and China, more and more people are being drawn to cities where innovation, change and jobs can be readily found.
Asian companies, for the most part, look optimistic, expecting demand for high-end parts to remain solid. Rob Subbaraman, chief economist for non-Japan Asia at Nomura International in Hong Kong, comments that emerging Asia is best situated to bounce back if another global slowdown occurs, noting the region's large foreign exchange reserves, current account surpluses, low external and public debt, healthy banks and wiggle room to cut rates.
click to enlarge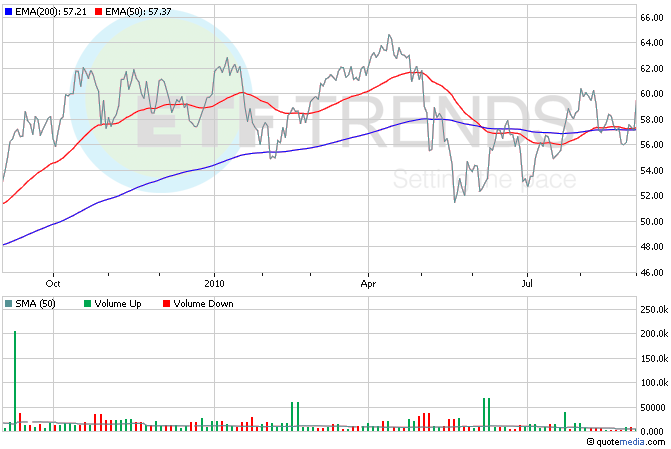 Disclosure: None