Royal Bank of Canada (NYSE:RY), commonly called RBC, reported strong Q2 earnings today. The adjusted EPS was $1.49, easily beating the street consensus of $1.44. This article updates my investment thesis in RBC and provides readers with an insightful look at the earnings drivers for the latest quarter. All dollar figures, including EPS and per share figures, are in Canadian dollars because the company's reporting currency is in Canadian dollars. However, the share price targets are provided in both US and Canadian dollars for readers' convenience.
Graph 1 below provides a quick summary of the latest quarterly trend in EPS and ROE.
Graph 1: Quarterly EPS vs. ROE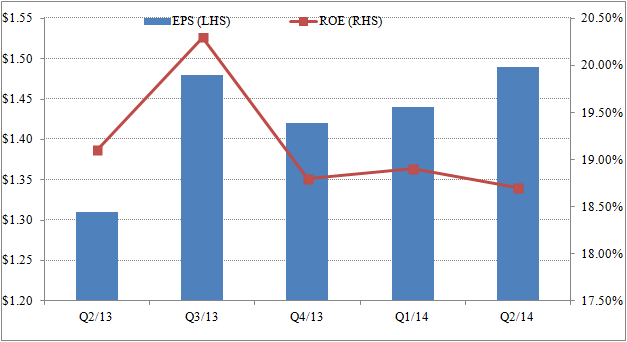 Source: RBC Q2 Financial Supplement
The results were driven mainly by a stellar performance in the wealth management division and the capital markets divisions. The bank earned $2.2 billion in the latest quarter, its 4th consecutive quarter of earning more than $2 billion. Regarding the quarter's performance, Gord Nixon, RBC's CEO said:
"We delivered earnings of $2.2 billion and a return on equity of 19% while maintaining a strong capital position. These results demonstrate the earnings power of RBC, our prudent approach to risk management and our ability to manage costs effectively. We continue to extend our leadership positions in Canada and select global markets through our ongoing focus on our clients."
Investment Thesis:
RBC's ability to grow its dividend annually and offer a competitive dividend yield is a paramount reason to own RBC. Investors should also own RBC because of its (1) high return on equity at its major operations, which ranges from 14.5% to 37.7%, (2) solid profitability in its core Canadian P&C banking operations, and (3) growing earnings from its wealth management and capital market divisions.
RBC is a profitable bank that has demonstrated consistent and reliable earnings growth in the 7-10% range. Although it may be harder to grow in the future, the main growth drivers will be in the capital markets and wealth management divisions. It has one of the best Canadian P&C banking franchise in Canada, which provides the free cash flow for future expansion and return of capital back to shareholders (see the section below regarding dividends). RBC's earnings mix, as shown in graph 2, is diversified although the majority of its earnings is still derived from Canadian banking. Nonetheless, wealth management's share should increase gradually towards 20%.
The next section will discuss RBC's dividend and buybacks. Then I will provide updated analysis of RBC's operating division before discussing the latest management change and valuation.
Graph 2: RBC's Earnings Mix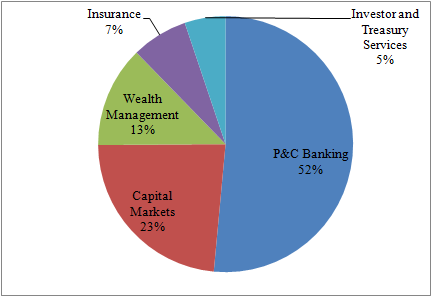 Source: RBC Q2 Financial Supplement. Personal & Commerical (P&C) Banking includes Canadian Banking (90% of P&C earnings) and Caribbean P&C banking.
Dividend and Buybacks:
As mentioned in my prior articles, RBC has been paying its dividend since the mid 19th century and has never cut it. One of the main reasons to own any Canadian bank is for its rich dividend yield, which provides a growing stream of income to investors. The attractiveness of RBC's dividend has increased due to the recent decline in bond yields, which pushed the 10-year US Treasury yield down to 2.5% from 3.0%.
As shown in graph 3 below, the dividend has been gradually increasing and the payout ratio is stable. The bank aims to payout 40-50% of adjusted earnings and is on target to meet the objective. My estimated EPS for the current fiscal year is $6.00 and my projected dividend per share is $2.84, which represents a payout ratio of approximately 47%. My $2.84 dividend estimate for fiscal 2014 includes a projected quarterly dividend hike next quarter from $0.71 to $0.75. Given the bank's robust earnings power in Q2/14, a $0.04 increase in the quarterly dividend is very likely and is in-line with the bank's pattern of increasing the dividend in Q3 (please see graph 4 below).
Internal capital generation has been strong. Therefore, management decided last quarter to launch a share buyback program to repurchase up to 30 million shares. In the latest quarter, RBC repurchased 1.4 million shares at an average cost of $71.43 (aggregate value of $100 million). Buybacks should increase in the upcoming quarters because of higher internal capital generation from higher earnings growth.
Graph 3: Adjusted EPS, Dividends and the Payout Ratio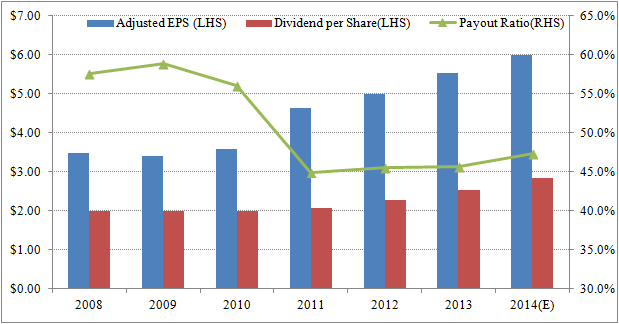 Source: RBC Q2 Financial Supplement. The fiscal 2014 (year ending October 31) numbers are my own estimates.
Graph 4: 3-Year Quarterly Dividend History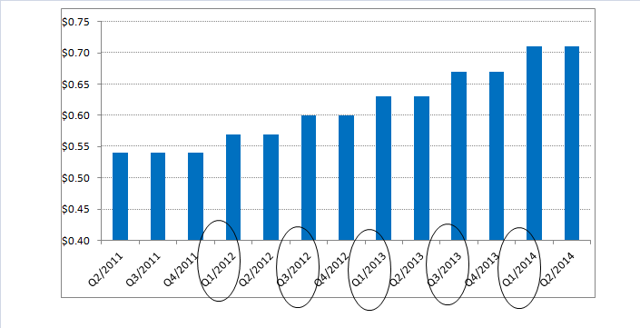 Click to enlarge
Source: RBC Investor Relations. The circles highlight the quarterly dividend increases, which have followed the pattern of hiking dividends bi-quarterly in Q1 and Q3.
Canadian Banking:
The Canadian banking division is the bread and butter for all Canadian banks and it is especially important to RBC. RBC has the most cost effective and the most profitable P&C banking franchise in Canada. The earnings momentum continued in the latest quarter with earnings up 8.4% year-over-year (Y/Y) to $1.11 billion. This is the 8th consecutive quarter that the bank has earned more than $1 billion in profit. The momentum is likely to continue in future quarters driven by modest loan growth (near the 5% range), positive operating leverage and effective cost control.
Although earnings were down 2.4% quarter-over-quarter (Q/Q), the underlying earnings drivers were strong. Q/Q comparisons for Q2 is often negative because of the fewer days in Q2 vs. Q1, since Q2 includes February and April.
The main earnings drivers for Canadian banking were modest loan growth of 3.1%, positive operating leverage of 0.9%, and a small 1 bp increase in net interest margins (NYSE:NIM). Loan growth was driven by higher volume growth, better business mix and lower provisions, but was partially offset by price pressures due to spread compression. The only negative in the report was the slight 130 bps increase in the efficiency ratio (non-interest expense divided by total revenue). The trend in ROE is positive and it has been steadily increasing since Q4/13. ROE will continue to be at or above current levels because of RBC's economies of scale and large market share in the Canadian P&C space.
Looking ahead, Canadian banking will continue to deliver slow but profitable earnings growth. Management has guided for positive operating leverage and efficiency ratio in the low 40s. I expect the efficiency ratio to be near 44% in the long run. The short-term headwind is margin compression. Despite the interest rates dropping since the start of the year, RBC was able to report a stable NIM for the quarter. Although that figure may move around Q/Q, I expect the bank can maintain the current margin levels.
Table 1: Canadian Banking Financial and Operating Data

Source: RBC Q2 Financial Supplement
Graph 5: Canadian Banking Loan Book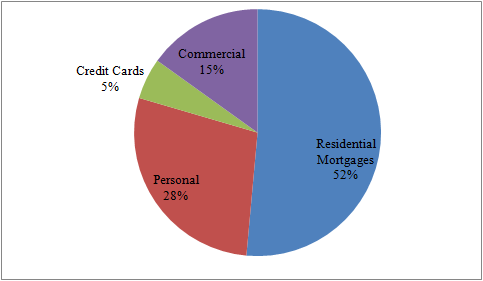 Source: RBC Q2 Financial Supplement
One main concern among investors is the bank's exposure to the overheated Canadian real estate market given residential mortgage is 52% of the loan book (as shown in graph 5 above). However, there are 2 factors two consider. First, 40% of the mortgage book is insured by the CMHC, which is backed by the government's AAA rating. Second, the bank's overall Loan-to-Value (LTV) ratio for the uninsured portfolio is at 56% (see slide 9 of the quarterly presentation), which implies housing price need to decline more than 40% before eroding the bank's equity capital. Furthermore, the LTV ratio for newly acquired or originated mortgages is also reasonable at 70% as shown in table 2 below. Overall, although housing prices are likely to fall in the future, the damage to Canadian banks may be overstated by the media. Given Stephen Poloz, the Bank of Canada Governor, has taken a more dovish stance on monetary policy, interest rates are unlikely to move higher anytime soon, which should be positive for the housing sector.
Table 2: LTV Ratio For New Non-Insured Residential Mortgages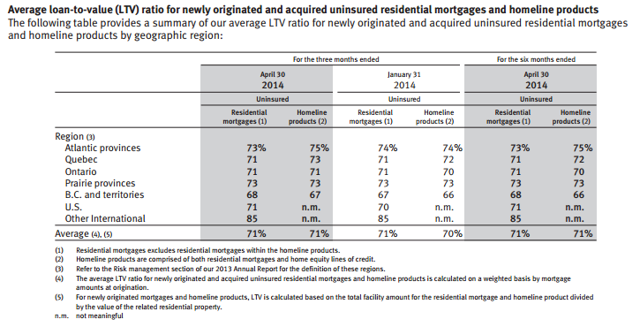 Click to enlarge
Source: RBC Q2 Report To Shareholders Page 26
Capital Markets:
The performance of the capital market division exceeded my expectations. Net income increased by 32.4% Y/Y to $507 million, mainly driven by higher equity trading volumes, debt origination, and M&A activities.
While I expected a rough quarter for trading revenues, trading revenues actually increased over 31% Y/Y and 8.9% Q/Q. FICC (Fixed Income, Currencies and Commodities) surprised with a 32% Y/Y jump in revenues, which demonstrates the resilience of RBC's FICC business despite the 20% revenue declines experience by global peers like JPMorgan (NYSE:JPM) and Citigroup (NYSE:C). Equity trading revenue was particularly strong, displaying an astonishing 86.3% Y/Y increase from $139 million to $259 million. There is no doubt that RBC benefited from the positive portrayal in Michael Lewis's new book Flash Boys, which characterized RBC as the "good guy" vs. other Wall Street banks.
Corporate and Investment banking revenue rose 11.3% Y/Y to $800 million. The strength this subdivision should be expected given the robust M&A activities, which increase advisory fees and lead to lucrative tasks such as underwriting new debt. M&A activities will continue to be robust in the quarters ahead since interest rates remain near zero and the lack of organic growth implies additional M&A. Capital raising from corporations is gaining momentum. Examples include AT&T (NYSE:T)'s plan to raise $7.5 billion in debt to pay for its acquisition of DirecTV (DTV). RBC is likely to grab a share of the action.
Operating metrics were mixed. The efficiency ratio increased slightly, but the bank was able to achieve an operating leverage of 3.9% due to higher revenue growth. ROE has been increasing from 12.6% Q3/13 to 14.5% in the latest quarter. Looking ahead, higher revenue growth and positive operating leverage will drive earnings growth in the next few quarters.
Table 3: Capital Markets Financial and Operating Data

Source: RBC Q2 Financial Supplement. CIB represents the corporate and investment banking subdivision within the capital market division.
Wealth Management:
The wealth management division is the main growth driver for the bank. The division delivered a 25.2% Y/Y increase in earnings to $278 million. The growth was driven by healthy increases in both Assets under Administration (AUA) and Assets under Management (AUM). Profitability is improving: ROE increased from 16.4% in Q2/13 to 20.2% in Q2/14. Expense reduction also added to underlying profit; the efficiency ratio decreasing from 76.5 in Q1/14 to 74.5% in Q2/14. A healthy positive operating leverage of 1.3% added to the earnings growth in Q2/14.
Looking ahead, this division should experience excellent growth. RBC's management is aiming to achieve a target of $2 billion in annual earnings by the end of 2015 from the current rate of $1.1 billion ($278 million x4). This is an ambitious goal, but may be achieved through acquisitions. Organic growth alone may bring earnings near $1.6 billion by the end of 2015. Therefore, an acquisition may be needed to bridge the $400 million gap. Given its disinclined acquisition history, I don't think the bank will overpay in today's overpriced environment. The bank may drop the $2 billion goal but the current growth trajectory is still positive. Achieving earnings of $1.6 billion by end of 2016 implies growth of 45% from the current level. AUA and AUM growth, positive operating leverage and effective cost control will drive wealth management earnings in the future.
Table 4: Wealth Management Financial and Operating Data

Click to enlarge
Source: RBC Q2 Financial Supplement
Insurance:
The insurance division has been a headache for the bank during the last year after RBC took a large write-down due to new insurance rules. The drop in earnings in Q4/13 reflects the write-down, but earnings have recovered to the previous run-rate of approximately $160 million per quarter. Operating metrics continue to improve with the efficiency ratio decreasing 14.3% to 73.8% in the latest quarter. ROE has improved to 42.1% from the 31.8% in Q4/13. Operating leverage was a positive 12.9% compared to the negative operating leverage in Q4/13 and Q1/14. Looking ahead, the improvement of the operating metrics mentioned above should allow the bank to generate a run-rate of $160 million in insurance earnings during the next few quarters.
Table 5: Insurance Financial and Operating Data

Click to enlarge
Source: RBC Q2 Financial Supplement
Investor and Treasury Services:
This division is RBC's global custodial bank, which has over $3.5 trillion of assets under administration. Earnings increased 72.3% Y/Y to $112 million due to higher net interest income and growth in AUA. AUA has been increasing steadily in the 10-15% range during the last few quarters and is likely to continue growing at a similar rate in the future. The efficiency ratio decreased 0.3% Q/Q to 68.3%. Continued cost improvements and AUA growth is likely to drive healthy double digit earnings growth in the future, although growth rates won't be as stellar as recent quarters.
Table 6: Investor & Treasury Services Financial and Operating Data

Click to enlarge
Source: RBC Q2 Financial Supplement
Credit and Capital:
Healthy credit conditions resulted in lower provisions for the bank. Provision for credit losses (NYSE:PCL) decreased 15.3% Y/Y to only $244 million in the latest quarter. The PCL ratio decreased to 0.23% from 0.28% in the prior quarter and 0.29% in Q2/13. Gross impaired loans , also called non-performing loans, decreased 9.6% Y/Y to $1.98 billion from $2.19 billion. Gross impaired loans represents 0.46% of the total loan portfolio, which implies credit quality remains stable. Gross impaired loan formations, the amount of loans deemed impaired during the current quarter, decreased 12.2%. Overall, the credit data in the latest quarter shows continued improvement in the credit quality, which should be beneficial for future earnings, although the quarterly PCL number is not likely to decrease significantly from the current $244 million.
Table 7: Credit Related Data

Source: RBC Q2 Financial Supplement
RBC's capital ratios remain healthy. Tier 1 common equity ratio, CET1, remained unchanged from the prior quarter at 9.7%, while the core Tier 1 ratio decreased slightly to 11.4% from 11.5%. The asset to capital multiple decreased by 0.1X to 17.5X in Q2/14. The inverse of this multiple is a rough proxy for the leverage ratio, e.g., a 17.5X multiple implies a leverage ratio of 5.7% (1/17.5). OFSI, Canada's banking regulator, is likely to introduce new leverage ratios later in the year, which may mirror the leverage rules in the US.
Table 8: Capital Ratios

Source: RBC Q2 Financial Supplement
Graph 6: Tier 1 Equity Ratio Comparison Between Q2/14 vs. Q1/14

Click to enlarge
Source: RBC Q2 Report to Shareholders Page 41
Management Change:
Today's conference call marks the last call hosted by Gord Nixon, RBC's current CEO. He will be handing off the baton to current President Dave McKay. Mr. Nixon has been a fabulous CEO who has led RBC since 2001. Shareholders should not expect any strategic shift. Mr. Mckay has signaled he will continue the current strategy, which is for the bank to be the undisputed leader of in Canada and a leading global provider of wealth and capital market solutions.
Valuation:
RBC is trading at 2.4 times book ($31.85) and 3.1 times tangible book ($24.00). Although these multiples are high compared to other global banks, RBC's multiples are justified because its ROE of 20% is at least 2 times higher than the average 10% earned by other global banks (please see graph 9 in my prior Scotiabank article that analyzed the profitability of Canadian banks vs. US banks).
As shown in graph 7 below, RBC's current price to book multiple of 2.4 is in-line with the 10-year average of 2.5. Against peers, RBC is still maintaining its premium valuation of 10% above peer average due to economies of scale in its Canadian P&C banking and profitable capital markets business.
Graph 7: RBC's Historical Price-to-Book Multiples (10-Years)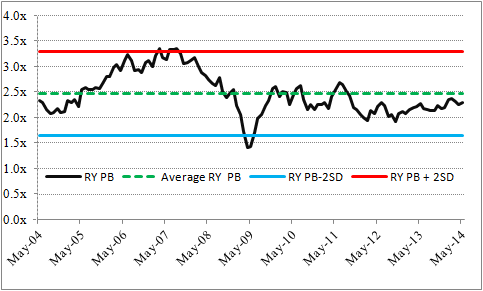 Source: Bloomberg
Graph 8: RBC's Price-to-Book Multiples vs. Peers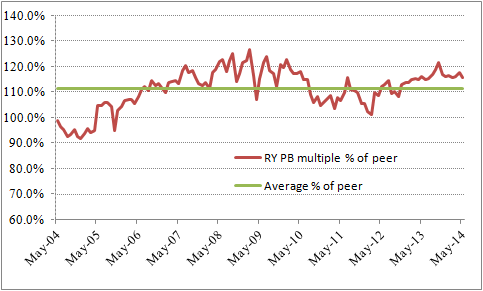 Source: Bloomberg. Peers include Toronto Dominion Bank (NYSE:TD), Scotiabank (NYSE:BNS), Bank of Montreal (NYSE:BMO) and Canadian Imperial Bank of Commerce (NYSE:CM).
My intrinsic value estimate for RBC is $75.70 (C$84.00). The $75.70 target is calculated by multiplying my estimated Q2/15 book value of $32.06 (C$35.01) by 2.4. The 2.4 multiple is consistent with the current price to book multiple and is slightly below the 10-year average of 2.5. My estimate is approximately $4.50 higher than my prior estimate in February because I assumed a higher multiple (2.4 instead of 2.35). The underlying net asset value growth of $0.78 in the quarter ($1.49 EPS minus $0.71 dividend) also contributed to the $4.50 increase to the valuation.
Table 9: Sensitivity Table for Valuation (Share price in US dollars)

Source: Author's own Calculations. The light blue shows the possibilities that are below today's price of $69.22, while the light green shows the possibilities that are above today's price. For Canadian readers, multiply the figures in the table by the USDCAD exchange rate of 1.092.
Conclusion:
RBC is an excellent name to own because of its consistent dividend growth, growth potential in wealth management and capital markets, and healthy ROEs in its major business operations. RBC's high dividend, current yield of 3.8%, is likely to attract investors because the yields on bonds is very low and other banks (ex-Canadian ones) are offering little to no dividends at all. However, investors who currently do not own the shares may want to wait for a pullback before commiting a new position because the current valuation is high vs. other Canadian banks. Nonetheless, RBC's business operations are solid and the stock is a good long-term holding. Investors should watch out for the $0.04 dividend hike next quarter.
Disclosure: I have no positions in any stocks mentioned, and no plans to initiate any positions within the next 72 hours. I wrote this article myself, and it expresses my own opinions. I am not receiving compensation for it (other than from Seeking Alpha). I have no business relationship with any company whose stock is mentioned in this article.
Additional disclosure: This article is for informational purposes only and does not constitute an offer to buy or sell any securities discussed in the article. The stock mentioned in this article does not represent financial advice. The target price presented in this article is based on current information and are subject to change without further notice. Investors are recommended to conduct further due diligence before committing capital to any investment.