The bulls were looking for a reason to buy at these low levels and yesterday provided that oversold opportunity. China PMI came in slightly better than expected and that was a big relief to most concerned over the continuous soft data we have seen recently. The bulls gapped-up on this news only to see better-than-expected ISM index numbers, which fueled another leg up on the day.
The bulls were able to shrug off the terrible ADP employment numbers as well, which was encouraging. Estimates were for an increase of 13,000 (actually a wide range of estimates that were even higher) but instead, nonfarm private employment decreased 10,000 from July to August on a seasonally adjusted basis. While this doesn't necessarily mean Friday's job reports will be lower than expected, it surely does not give confidence it will meet or exceed expectations. This leads to a very important question for both bulls and bears. If we have weaker than expected numbers on Friday, do we lose all these gains?

As I've stated before, a downtrending market tends to see highly emotional and strong bounces. This is a time that one needs to sell into and play intraday momentum rather than buy aggressively for the long-term because we do not have confirmation of a trend change. A bounce, after many negative days, tends to make bulls feel underinvested and too quickly paying up when the move has not been confirmed. Other times, the bulls are so far in the red that they buy up hoping the market continues to move up so they can break-even quicker. What we need is follow-through after yesterday to confirm this move before we can feel comfortable adding aggressively. This will not only turn some bears to bulls but it will give more confidence in buying as well. Bears don't turn to bulls in just one day and we truly need the bears to repent and turn bullish.

The good news for bottom callers is that we have a strong bearish sentiment much like we have seen in March 2009, right before we started the most unloved rally in recent memory. The bad news is a typical correction tends to happen after some highly emotional and aggressive green days. Any sign of weakness will have these new bulls run to the exits at once, creating a strong wave of selling. So is this a trap or the start of another rally?
If we can receive some timely news on keeping the Bush tax cuts, I think we can see a very nice rally from here but without more positive news, I believe our upside is limited. Technically speaking, we closed just below resistance at the 50-day simple moving average of 1081 in the S&P 500. If we can break that resistance today with some vigor, I will look to add to my longs more aggressively and cover the shorts that I added yesterday. Without follow-through, I will have no choice but to add to my shorts even more and look to make money on the dark side.
The monthly chart below (click to enlarge) shows our downtrend up until August. It slightly resembles the crash of 2008, which I also outlined on the chart. We need a strong September to break us out of the downtrend and yesterday was a fantastic start to the month. However, we have many more days to go before September is over.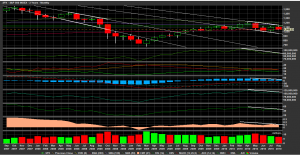 For comparison's sake, in 2010 only, you can compare yesterday to either May or July. May was highly volatile at this time and created a trap before falling further. July saw a similar event but started the move north with continuous confirmation. Without any more good earnings reports to help boost us up, I fear more downside risk right now. What we need is better-than-expected job numbers on Friday. This would surely help the market rally and breakout from the recent downtrend that I highlighted on the chart.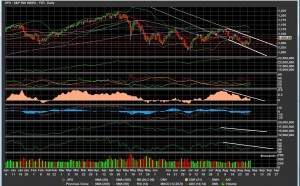 In portfolio news, I used this bounce to close out some long positions and added to ProShares UltraShort S&P 500 (NYSEARCA:SDS) at resistance levels. SDS is my main hedge on the dark side. To capitalize on copper's bullish momentum, I added a new long position in the form of iShares MSCI Chile Index (NYSEARCA:ECH) yesterday morning. I will look to make ECH a bigger position if it continues to move in a healthy pattern. Even with those positions, I am still predominantly sitting in cash and will wait for the direction to be clear before I aggressively add. My style of investing makes me underinvested for days like yesterday but when the trend identifies itself, I make my gains quickly at that point in time. Contrary to what most will admit, the majority of market players who were excited about yesterday's gains were also deep in the red because they held too long. Let's see if we can find some follow-through and finish the week strong.
As always, do your own homework to see if you agree. Good luck out there.

Disclosure: Long SDS and ECH but positions may change at any time