Consider the chart below that shows the 4-week average of initial jobless claims in black and the inverted GDP growth rate in red leading 5 months. The red GDP growth scale is calibrated to show the statistical correlation with jobless claims.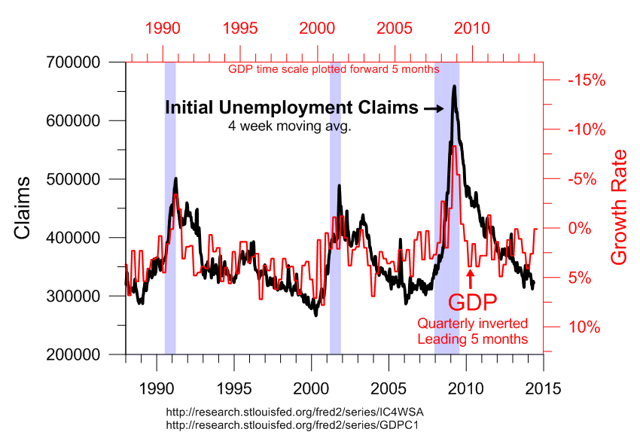 In the period following recessions, the black line tends to be above the red line, which means GDP growth accelerates (drops on chart) relatively faster than jobless claims fall. This was true following the recessions beginning in 1990, 2001 and 2007.
Leading into theses recessions there was a period where the red line on average was noticeably above the black line, as the growth rate faltered before jobless claims started to increase, even allowing for the 5-month lead time.
A similar gap with the red line above the black line started a little over a year ago. In the prior two recessions, the gap started about two years before the recession. If the same pattern follows in this business cycle, the beginning of the recession would be less than a year away.
The four-week moving average of claims moved slightly down to 322,500. Given the five-month lead time that maximizes the correlation between quarterly GDP growth and jobless claims this down move is the afterglow of past strength in the economy, not an indicator that growth is currently strong and will improve.
Weakening GDP growth in the last 2 quarters suggests jobless claims will rise in coming months. When the four-week moving average rises to somewhere in the 335,000 to 360,000 range, the recession will probably be underway. Of course, the official beginning of any recession would not be announced until about a year after the fact.
GDP growth will likely have a stronger quarter or two; this would still be consistent with a recession starting sometime in the next year.
Current levels of the stock market (NYSEARCA:SPY) likely depend on the belief that no recession is in sight and that growth will accelerate to a 3% to 4% rate. If the reality is different, as the gap in the chart suggests, the change in perception towards a less rosy reality could result in substantial market declines.
Disclosure: I am short SPY. I wrote this article myself, and it expresses my own opinions. I am not receiving compensation for it (other than from Seeking Alpha). I have no business relationship with any company whose stock is mentioned in this article.
Additional disclosure: There is no guarantee analysis of historical data their trends and correlations enable accurate forecasts. The data presented is from sources believed to be reliable, but its accuracy cannot be guaranteed. Past performance does not indicate future results. This is not a recommendation to buy or sell specific securities. This is not an offer to manage money.