GameStop (NYSE:GME) reported their Q1 2014 earnings results Thursday evening. Results were basically in-line during this seasonally light time of year. The company said they had launch market-share of over 60% for the two key software titles in the quarter, Titanfall and Infamous Second Son compared to six big titles that came out a year ago. GameStop also guided to strong Q2 comparable sales of +12-19% y/y thanks to strong pre-orders of Ubisoft's Grand Theft Auto-like game Watch Dogs.
But as is often the case, the key "game-changer" nugget of the quarter was revealed during the earnings conference call. GameStop gave stunning, I repeat absolutely stunning, metrics on how they are gaining market-share this new console cycle. Management said according to NPD in the first 6 months of this cycle vs. last cycle industry-wide hardware sales are up 107%, software is up 45%, and accessories are flat at 0%. GameStop however is up 182% in hardware, up 83% in software, and up 48% in accessories. GameStop is 40% of all the hardware growth and 83% of all the software growth this new console cycle with a dominant 49.4% market-share on the PS4 and Xbox One. In Q1 software attach rates at GameStop were 4.6, 78% higher than the rest of the industry. Overall software attach rates since launch is 3.6 at GameStop, 64% better than NPD.
The whole crux of the bear argument is GameStop is the Tower Records and Blockbuster of gaming and will lose market-share as time goes on. In reality these facts that the bears now can't deny show the opposite is happening. GameStop is gaining more dominant market-share this cycle.
I believe the main bear thesis for GameStop was thrown out the window when Microsoft gave up on digital DRM for the Xbox One. Microsoft did try to disintermediate GameStop with a no physical used games policy, but gamers revolted. When Sony decided to go with the old used games model and used it as a key differentiating marketing point, Microsoft was forced to reverse their decision. Games aren't like CD music or DVDs. Gamers don't want to give up the significant value they receive from being able to trade-in their used physical discs. Console digital downloads today have no trade-in value and are sold at the same price as physical discs. It's all about the incentives.
The numbers GameStop gave on the conference call are now proving instead of losing share, GameStop is gaining share this cycle. This will lead to more software sales later as the virtuous cycle of buy-sell-trade-in continues. So GameStop has almost 50% market-share of Xbox One and PS4. The company said they have over 60% market-share of the 2 big new console generation software releases in the past quarter, Titanfall and Infamous Second Son. This means there is little to no reason to believe that this dominant market-share of new console sales will not continue the rest of 2014 and 2015. The power of GameStop's 28 million (1 out of 4 U.S. households) strong personalized PowerUp Rewards program is working.
But what about streaming? If you know the history of streaming games it's filled with failures. OnLive being the main example. Gamers don't want to play old generation games with big latency and lag, when in fact buying old used PS3/Xbox 360 games at GameStop is a cheaper and better experience.
So now with these new metrics of GameStop gaining market-share this cycle, the bear case is the ultimate trap. What drives video-game industry sales is good software titles. And the pipeline is stacked for the rest of 2014 and 2015. GameStop said they see strong pre-orders for Watch Dogs this quarter and are excited about the prospects of Pokemon, Assassin's Creed, and Destiny this holiday. And 2015 looks even better with a new Halo coming out, Star Wars Battlefront, a true Battlefield sequel from DICE, and a likely Red Dead sequel from Take-Two.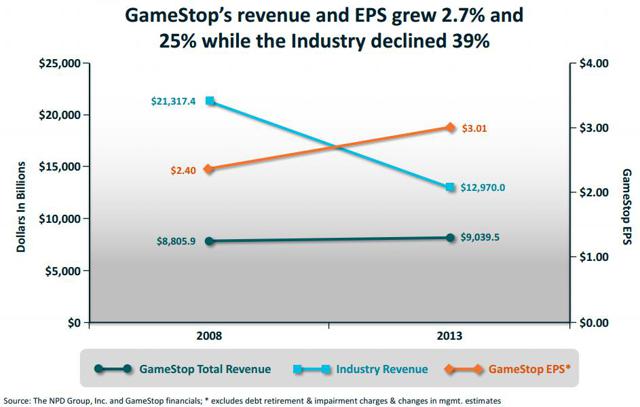 Source: GameStop Investor Day
2014 and 2015 will be strong software growth years for this new console generation as the hardware installed base grows. And with GameStop now proven to be gaining market-share; that means sales, earnings, and free-cash-flow will show a growth trajectory into 2015, which will surprise the bears. It's all about the bottoms up games revenue build and then market-share over the next 18 months, and GameStop is poised to ramp growth nicely.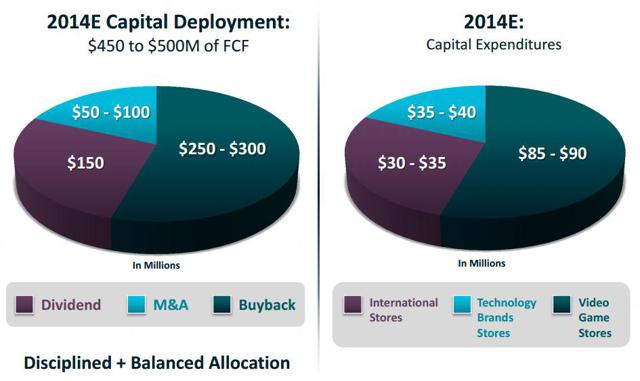 Source: GameStop Investor Day
The company guided to $450-500 million of free-cash-flow, which is a double-digit free-cash-flow yield at today's stock price close. I believe once the market gets visibility on GameStop's new console market-share gains and the amazing 2015 software title growth pipeline, the stock will re-rate as the bear thesis will be proven false. The company also vowed to use 100% of free-cash-flow in dividends and stock re-purchases, which will even add more fuel to the fire.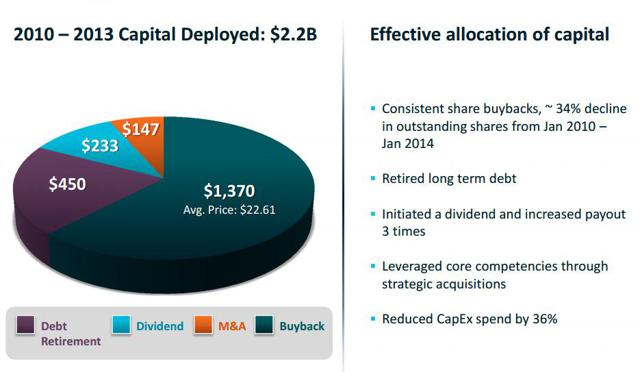 Source: GameStop Investor Day
My estimated fair-value is $5 earnings power in calendar year 2015 and a market-like multiple of 16Xs = stock price of $80 within 2 years.
Disclosure: I am long GME. I wrote this article myself, and it expresses my own opinions. I am not receiving compensation for it (other than from Seeking Alpha). I have no business relationship with any company whose stock is mentioned in this article.