Marathon Petroleum Corporation (NYSE:MPC) was spun off of Marathon Oil (NYSE:MRO) in 2011 as the company focused on its oil production and exploration efforts. Marathon Petroleum is the nation's fourth-largest refiner and also one of the largest convenience store operators in the country. A move by the company on Thursday put the company in an extremely dominant position in the Eastern half of the country with both retail outlets and oil transportation.
Marathon Petroleum announced (Full slideshow) the acquisition of Hess's retail operations. Marathon is paying $2.87 billion, with $2.4 billion in cash, $230 million in working capital, and $274 million in capital leases. The deal gives Marathon Petroleum these key assets:
· 1256 Hess retail locations
· Transport fleet capacity to transport 1 billion gallons a year
· Strong pipeline shipper history
· Prime undeveloped real estate bank for organic growth
There is minimal overlap in this deal, which makes it a huge win for Marathon. Hess has convenience stores in 15 states and dominates the East Coast. Marathon has a presence in 9 states with its Marathon and Speedway brands. This combines the fourth and fifth largest gas station operators and makes the largest company owned and operated convenience store chain in the United States by revenue.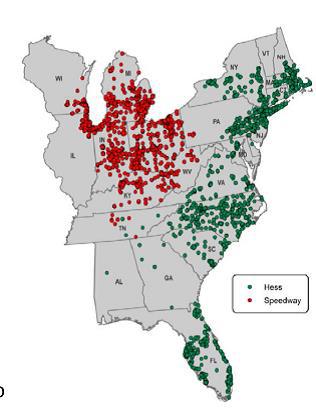 Here is Marathon's breakdown on how this is a Transformative Transaction for MPC and Speedway:
· Accelerates strategy to grow higher valued and stable cash flow businesses
· Provides larger growth platform to leverage integrated business in new markets
· Meaningfully expands scale and provides multiple levels of strategic opportunity
Marathon's Speedway segment has 1478 stores that generate $14.5 billion in annual sales. The stores sell 3.1 billion gallons of gas a year and take in an additional $3.1 billion in merchandise sales. The combined company will have $27.6 billion in annual sales. Together, the 2733 stores will sell 6.2 billion gallons of gas and $4.8 billion in merchandise sales. Marathon will rebrand the Hess gas stations under the Speedway brand within three years.
The key growth here could be the integration of Speedy Rewards, Marathon's hugely successful rewards program that has generated market leading merchandise sales. Speedy Rewards has 3.7 million active members. This is one of the reason's Marathon sees $190 million in EBITDA synergies by 2017. In 2013, this Hess segment had EBITDA of $175 million. In fact, Speedway locations have $17,300 more in merchandise sales on average than Hess locations. Marathon believes there is an extra $250 million in merchandise potential annually. Speedway has seen 3.5% growth per year in merchandise and fuel sales. Speedway continues to rank number one in its peer group for EBITDA with an average of $338 million per store. Hess ranks in the bottom with an average of $139 million. The peer average is $224 million per store.
In the first quarter, Speedway saw earnings decline to $58 million from $67 million. This was a result of lower gasoline margins of $0.116 versus $0.131 per gallon. Merchandise sales at convenience stores grew to $722 million, with same store sales growth of 5.3%. In the last fiscal year, Speedway saw record earnings of $375 million, up from the prior year's $310 million. Full-year merchandise sales hit $3.1 billion, with strong gasoline margins $0.144 per gallon and same store sales growth of 4.3% on merchandise.
Back in January, rumors popped up that Couche-Tard was eyeing possibly acquiring the Hess retail operations. Marathon has done well here to snap up an asset that several companies wanted, due to its strength on the East Coast. Marathon will use cash and debt to finance the deal.
Aside from the huge combination of retail outlets, Marathon is also getting a huge leg up in oil transportation. The deal brings an incremental 200 million barrels per day of refined products placement capacity. This now increases assured gasoline sales to 75% of production, which is a huge key knowing that oil produced has a home to go to.
A Reuters article points out that the highly sought after Colonial Pipeline goes from the Gulf Coast to the East Coast (New York to Houston) and handles 40,000 barrels per day. The new combination of Hess and Marathon opens up new trading opportunities and will help Marathon substantially. Prior to its deal, Marathon's nearest refinery was 500 miles away from New York City.
One company not getting much attention in the deal is Dunkin' Donuts (NASDAQ:DNKN). With Dunkin' Donuts in 650 Hess retail outlets, Hess is the largest franchisor of the popular donut brand. Dunkin' Donuts continues to work on its growth away from the East Coast, where it has a dominant position. Might the acquisition by Marathon lead to Dunkin' Donuts getting into some Speedway or Marathon outlets? I wouldn't be shocked to see a deal worked out by the companies. Hess also had franchise deals with Wendy's, Dairy Queen, and Bojangles.
The acquisition also unites the retail assets of two large oil companies more interested in pursuing oil production and exploration.
In the first quarter, Marathon Petroleum saw earnings of $199 million, or $0.67 per share. The company spent a lot of money on its refining turnaround, which should yield better results later on in the year. Earnings were down for both the refining and Speedway segment, as margins took a hit for oil and gasoline.
The last fiscal year saw earnings per share of $6.84. The company's results were hurt by lower refinery margins. The company saw a profit of $13.24 per barrel versus $17.85 in the prior year. Refinery profits shrunk to $3.2 billion, from $5.1 billion the prior year, as a result. Speedway profit rose to $375 million and pipeline transportation stayed relatively the same at $210 million.
One common theme for Marathon Petroleum is its decision to return cash to shareholders via dividends and share buybacks. In the first quarter, Marathon Petroleum returned $812 million to shareholders. In fiscal 2013, Marathon returned $3.28 billion to shareholders through dividends and buybacks. With more stable cash flow from its retail operations, the dividend yield will most likely be lifted going forward. In 2013, Marathon's total dividend and buyback yield was 14.6%, led by 12.6% in share buybacks. This was significantly higher than Marathon's peer group.
Analysts on Yahoo Finance see Marathon Petroleum earnings $9.05 per share in fiscal 2014 and $10.47 in fiscal 2015. Those numbers will likely be updated once the deal closes. Revenue is expected to decline in each of the next two years, but that will also change with the addition of the Hess operations.
Shares of Marathon Petroleum were down during Thursday's trading session. Over the last fifty two weeks, shares have traded between $61.32 and $97.70. I believe investors will send shares up once analysts and investors alike are able to soak in the synergies and potential growth of the combined company. Shares of Marathon Petroleum are down 2% on the 2014 year, but still up 135% since their 2011 spinoff.
Information from this article was obtained through several presentations found on Marathon's investor relations website.
Disclosure: I have no positions in any stocks mentioned, but may initiate a long position in MPC over the next 72 hours. I wrote this article myself, and it expresses my own opinions. I am not receiving compensation for it (other than from Seeking Alpha). I have no business relationship with any company whose stock is mentioned in this article.