Toronto Dominion Bank (NYSE:TD), commonly called TD, reported strong Q2 earnings Thursday. The adjusted EPS was $1.09, easily beating the street consensus of $1.02. This article aims to update my investment thesis in TD and provide readers with an insightful look at the drivers of earnings for the latest quarter. All currency are in Canadian dollars because the company's reporting currency is in Canadian dollars. However, the share price target is provided in both US and Canadian dollars for the readers' convenience.
Graph 1: Quarterly EPS vs. ROE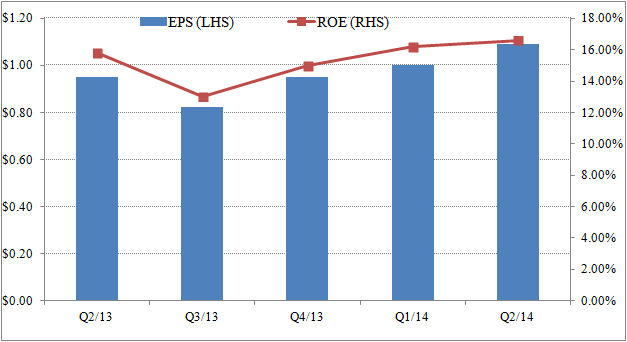 Source: TD Q2 Financial Supplement
TD's results in Q2/14 were driven mainly by organic growth, favourable currency transaction from its US segment, strong credit performance and contribution from its past acquisitions (Epoch, Aeroplan, Target's credit card portfolio). TD's retail businesses experienced earnings growth of 16% Y/Y while its smaller wholesale division experienced a 6% Y/Y earnings drop.
The bank earned $2.1 billion in the latest quarter, its first quarter of earning more than $2 billion. Adjusted EPS is up 14.7% year-over-year (Y/Y) and 2.8% quarter-over-quarter (Q/Q). Regarding the quarter's performance, Ed Clark, TD's CEO said:
"By any measure, our results this quarter were outstanding. Adjusted earnings were $2.1 billion, up 14% from the same period last year, driven by strong organic growth and contributions from our recent acquisitions. These results demonstrate the considerable earnings power of our business model"
Investment Thesis:
Investors should own TD because it provides a balanced mix between a competitive dividend yield and growth potential. TD's unparalleled customer service and strategic position in its retail banking businesses (both in US and Canada) will continue to deliver high single digit earnings growth in the medium term, in-line with the bank's own EPS growth target of 7-10%.
As shown in graph 2 below, TD is heavily focused on the retail business (90% of total earnings), which is more stable and profitable. Although the retail banking business is extremely competitive, TD's superior customer service and longer service hours, which includes Sunday banking, should attract new customers. Growth will be driven by its US retail segment as higher volume growth and weaker Canadian dollar boost earnings growth.
Although TD has the lowest dividend yield among the Canadian banks, the 3.5% yield is still higher than most fixed income alternatives and the yield on most bank stocks. TD also has the highest dividend growth and is likely to continue its high dividend growth in future years.
TD's large focus on retail also implies low volatility in its quarterly earnings numbers, which can offer investors a peace of mind when other banks are struggling with their wholesale operations.
Graph 2: TD's Earnings Mix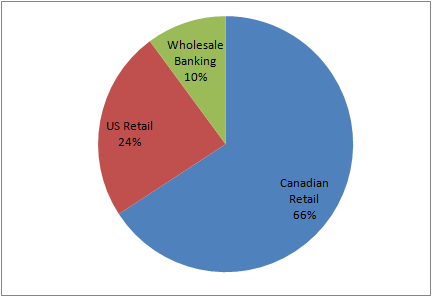 Source: TD Q2 Financial Supplement
The next section will discuss TD's dividend & buybacks. Then I will provide updated analysis of TD's operating division before discussing valuation.
Dividends & Share Buybacks:
As mentioned in my prior articles, TD has the best 20-year dividend growth rate record of 11.5% compounded annually. One of the main reasons to own any Canadian bank is for its rich dividend yield, which provides a growing stream of income to investors. The attractiveness of TD's dividend has increased due to the recent decline in bond yields, which pushed the 10-year US Treasury yield down to 2.5% from 3.0%.
As shown in graph 3 below, the dividend has been gradually increasing and the payout ratio is stable. The bank aims to payout 40-50% of adjusted earnings and is on target to meet the objective. My estimated EPS for the current fiscal year is $4.25 and my projected dividend per share is $1.84, which represents a payout ratio of approximately 44%.
As mentioned in my prior TD article, the company decided last quarter to change its dividend policy of making annual changes to the dividend instead of bi-quarterly changes. Although the news disappointed some income investors, I believe management can deliver on more aggressive dividend hikes in future years if earnings growth can justify larger increases. Since I'm optimistic regarding TD's earnings trajectory, I'm also optimistic regarding its future dividend hikes. I expect TD to hike its quarterly dividend by about 4 cents in Q1/15, which will represent a 9% increase from the current 47 cents. If earnings growth remains strong, a 5 cent (11% increase) increase may be warranted. Thus, the frequency of increases may be lower but the probability of a larger hike is higher. Dividend growth investors should prefer TD's new approach.
Although buybacks have less important role in TD's capital return strategy, investors should not ignore buybacks. TD currently has an active repurchase program to purchase up to 6 million shares. 18 million shares (aggregate value of $780.2 million) has already been repurchased under the current program. TD has the ability to expand its current program if internal capital generation remains strong.
Graph 3: Adjusted EPS, Dividend per Share and the Payout Ratio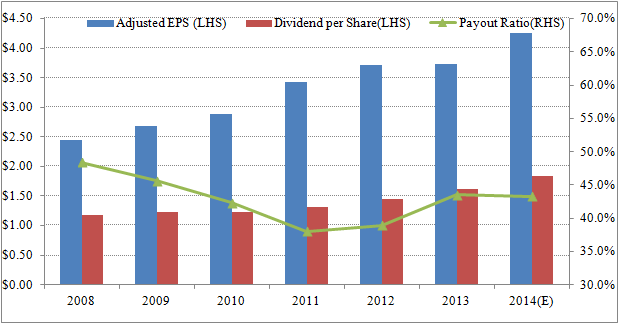 Source: TD Q2 Financial Supplement
Canadian Retail:
The Canadian retail division includes the following subdivisions: Canadian personal & Commercial (P&C) banking, Canadian auto finance and Canadian wealth management. The division had an excellent quarter, reporting earnings increase of 12.4% Y/Y and 0.7% Q/Q. The 12.4% earnings increase was driven by the 14.9% Y/Y increase in Canadian P&C banking and the 12.9% Y/Y increase in wealth management. The insurance subdivision reported a 2.6% Y/Y decline due to an 8% Y/Y increase in claims relating to severe weather. Overall, financial metrics were slightly weaker with ROE down 0.2% to 43.7% and the efficiency ratio (non-interest income divided by total revenue) up 0.7% to 42.5%. However, the 3.0% positive operating leverage achieved in the quarter is impressive given the tough competitive environment in Canadian retail.
Earnings from Canadian P&C banking were driven by a modest loan growth of 5.9% and higher margins. Net interest margin or NIM increased 5 bps Y/Y to 2.97%.
Earnings from Wealth management was driven by higher fee income, particularly due to the continued growth in Assets under Management (AUM) and Assets under Administration (AUA). AUA increased 4.1% Y/Y while AUM increased 7.8%.
Looking ahead, Management expects modest volume growth (mid single digit percentage growth) and stable margins. The emphasis on cost control is still key to delivering positive operating leverage in future quarters. The efficiency ratio is likely to remain in the low 40s. Given the flattening of the yield curve and increased competition in Canadian retail, margins are likely to remain under pressure, although the bank may be able to stabilize NIM near the current 2.97% level. Please see TD's quarterly factsheet for further comment regarding the business outlook for Canadian retail.
Table 1: Canadian Retail's Financial and Operating Data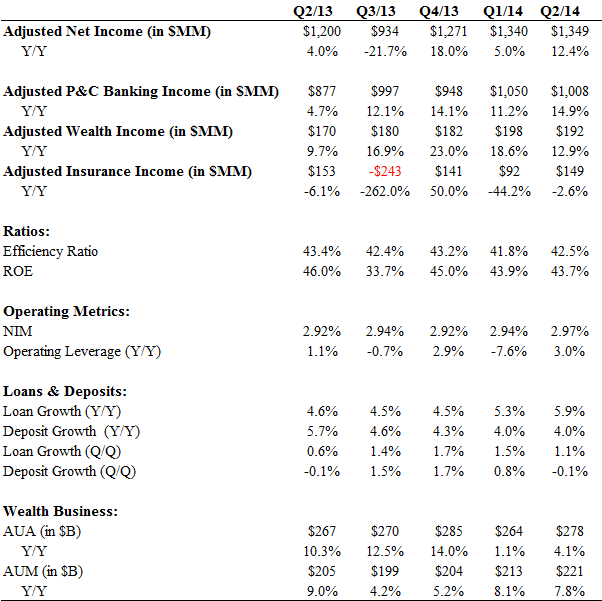 Source: TD Q2 Financial Supplement
Graph 4: Canadian Retail Loan Book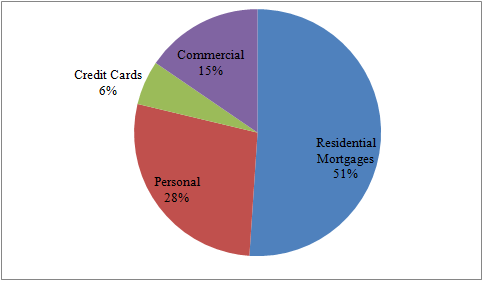 Source: TD Q2 Financial Supplement
One main concern among investors is the bank's exposure to the overheated Canadian real estate market given residential mortgage is 51% of the loan book (as shown in graph 4 above). However, there are 2 factors two consider. First, 65% of the mortgage book is insured by the CMHC, which is backed by the government's AAA rating. Second, the bank's overall Loan-to-Value (LTV) ratio for the uninsured portfolio is at 60% (see slide 24 of the quarterly presentation), which implies housing prices need to decline more than 40% before eroding the bank's equity capital. Furthermore, the LTV ratio for newly acquired or originated mortgages is also reasonable at 70% as shown in table 2 below. Overall, although housing prices are likely to fall in the future, the damage to Canadian banks may be overstated by the media. Given Stephen Poloz, the Bank of Canada Governor, has taken a more dovish stance on monetary policy, interest rates are unlikely to move higher anytime soon, which should be positive for the housing sector.
Table 2: LTV Ratio For New Non-Insured Residential Mortgages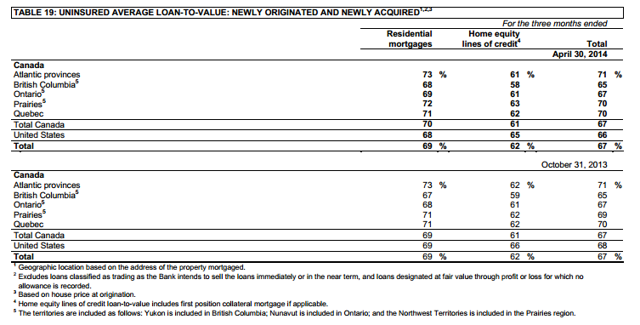 Source: TD Q2 Report to Shareholders Page 23
US Retail:
The US retail division includes the following subdivisions: US personal & Commercial (P&C) banking, US auto finance and US wealth management. In addition, this division also receives income from its 40.42% stake in TD Ameritrade (NASDAQ:AMTD). The division had an excellent quarter, reporting earnings increase of 25.7% Y/Y and 11.1% Q/Q. On a constant currency basis, net income still delivered an impressive growth 15.4%. The 25.7% earnings increase was driven by benefits from a weaker Canadian dollar, strong loan growth of 8.9% (constant currency basis), and robust AUA and AUM growth in the wealth business. Overall, financial metrics show slight improvements with ROE increasing 90 bps Y/Y and NIM increasing 10 bps Y/Y. However, expense control was still weak given the efficiency ratio increased 60 bps Y/Y and 90 bps Q/Q.
Looking ahead, US retail will contribute meaningfully to the bank's underlying earnings growth. Although the operating environment remains challenging, the bank can still deliver loan growth in the high single digit range. Management has stated it will pay more attention to cost control and bring the efficiency ratio down to the 60 level in the medium term. Furthermore, wealth management is likely to continue delivering strong earnings for the US retail division. Finally, TD will benefit as the US economy recovers from a harsh winter. Its large US P&C banking exposure and its overweight allocation to commercial loans in its US loan book (see graph 5) will receive a major tailwind from the growing US economy.
Table 3: US Retail's Financial and Operating Data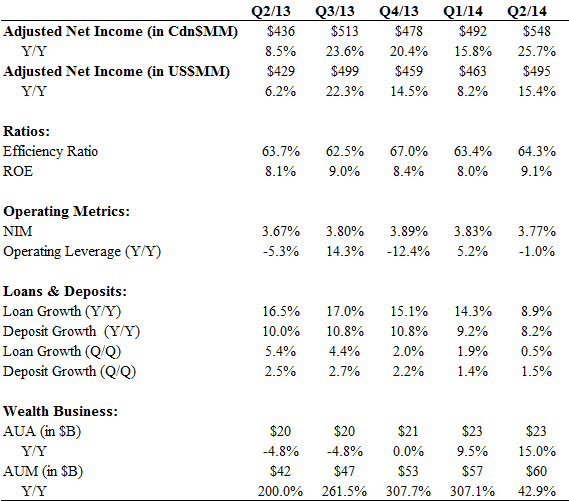 Source: TD Q2 Financial Supplement
Graph 5: US Retail Loan Book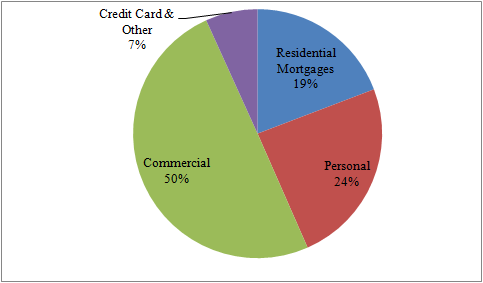 Source: TD Q2 Financial Supplement
Wholesale Banking:
As expected, wholesale banking delivered poor results although its trading related income (up 3.6% Y/Y) was stronger than I anticipated. Net income dropped 5.9% Y/Y and 11.1% Q/Q. The main culprit was expenses during the quarter. The efficiency ratio increased by 250 bps Q/Q to 59.7%. ROE was affected by the increase in expenses, dropping to 18.2% in Q2/14.
Looking ahead, performance at TD's wholesale banking unit may improve in the future but that's highly dependent on its ability to control costs. Higher M&A and debt origination activities may benefit the bank's wholesale banking segment.
Table 4: US Retail's Financial and Operating Data

Source: TD Q2 Financial Supplement
Credit & Capital:
Healthy credit conditions resulted in lower provisions for the bank. Provision for credit losses (PCL) decreased 6.0% Y/Y to $392 million in the latest quarter. The PCL ratio decreased to 0.33% from 0.40% in the prior quarter and 0.39% in Q2/13. Gross impaired loans, also called non-performing loans, increased 8.5% Y/Y due to the phase-in of its past acquisitions, which included the purchase of Target's (NYSE:TGT) credit card portfolio. Gross impaired loans represents 0.58% of the total loan portfolio, which implies credit quality remains stable. Gross impaired loan formations, the amount of loans deemed impaired during the current quarter, increased slightly by 1.3%. Overall, the credit data in the latest quarter shows continued improvement in the credit quality, which should be beneficial for future earnings, although the quarterly PCL number is not likely to decrease significantly from the current $392 million.
Table 5: Credit Related Data

Source: TD Q2 Financial Supplement
TD's capital ratios remain healthy. Tier 1 common equity ratio, CET1, of 9.2% was up 0.4% Y/Y and 0.3% Q/Q. The core Tier 1 ratio increased to 10.9% from 10.5%.
Table 6: Capital related Data

Source: TD Q2 Financial Supplement
Valuation:
TD is trading at 1.95 times book ($27.17) and 2.92 times tangible book ($18.16). Although these multiples are high compared to other global banks, TD's multiples are justified because its ROE of 16.5% is at least 1.6 times higher than the average 10% earned by other global banks.
As shown in graph 6 below, TD's current price-to-book multiple of 1.95 is in-line with the 10-year average of 2.0. Against peers, TD is trading near the peer average of 2.05. TD has been trading at a significant discount, from 2008-2012, compared to the peer average because investors were worried about its expansion in the US after the $8.5 billion purchase of Commerce Bancorp in 2007. With its US retail results coming in better than expected, I believe TD should at least trade in line with the peer average in the future.
Graph 6: TD's Historical Price-to-Book Multiples (10-Years)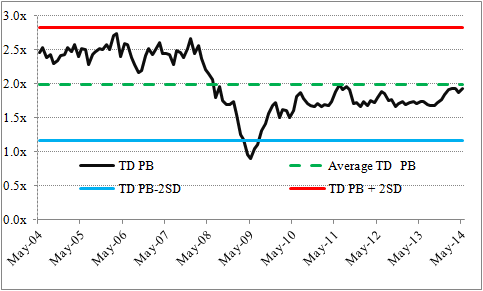 Source: Bloomberg. PB is the short form for the Price-to-book ratio.
Graph 7: TD's Price-to-Book Multiples vs. Peers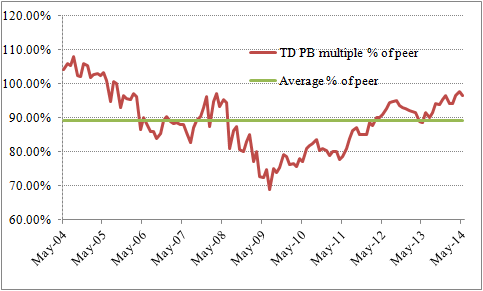 Source: Bloomberg. Peers include Royal Bank of Canada (NYSE:RY), Scotiabank (NYSE:BNS), Bank of Montreal (NYSE:BMO) and Canadian Imperial Bank of Commerce (NYSE:CM).
My intrinsic value estimate for TD is US$55.00 (C$61.00). The US$55.00 target is calculated by multiplying my estimated Q2/15 book value of US$26.75 (C$29.70) by 2.05. The 2.05 multiple is consistent with the current price-to-book multiple and is slightly above the 10-year average of 2.0. My estimate is approximately $1.90 higher than my prior estimate in February because I assumed a higher multiple (2.05 instead of 2.0) since the peer average has increased to 2.05. The underlying net asset value growth of $0.62 per share in the quarter ($1.09 EPS minus $0.47 dividend) also contributed to the $4.50 increase to the valuation.
Table 7: Sensitivity Table for Valuation (Share price in US dollars)

Source: Author's own Calculations. The light blue shows the possibilities that are below today's price of US$48.82, while the light green shows the possibilities that are above today's price. For Canadian readers, multiply the figures in the table by the USDCAD exchange rate of 1.092.
Conclusion:
"At the half-year mark, earnings growth has exceeded our expectations. In addition to great execution on acquisitions and good organic growth in a tough operating environment, we benefited from strong credit performance and favourable currency translation. This is enabling us to invest more in our businesses for the long term, and will help us to achieve results in our 7-10% earnings target range this year. Looking ahead, our strategy remains focused on delivering legendary experiences, attracting new customers and leveraging the power of TD across our businesses."

Ed Clark, TD's CEO
I share Mr. Clark's enthusiasm for TD's future and is convinced that the bank can deliver medium-term earnings growth in the 7-10% range. TD's retail focus can deliver strong and stable results in the future, which will allow the bank to hike its dividend more aggressively in Q1/15. Given TD is expanding its ROE and is benefiting from the strengthening of the US economy, its shares should perform well in the upcoming quarters, especially vs. peers.
Disclosure: I have no positions in any stocks mentioned, and no plans to initiate any positions within the next 72 hours. I wrote this article myself, and it expresses my own opinions. I am not receiving compensation for it (other than from Seeking Alpha). I have no business relationship with any company whose stock is mentioned in this article.
Additional disclosure: This article is for informational purposes only and does not constitute an offer to buy or sell any securities discussed in the article. The stock mentioned in this article does not represent financial advice. The target price presented in this article is based on current information and are subject to change without further notice. Investors are recommended to conduct further due diligence before committing capital to any investment.