Brown-Forman Corp. (NYSE:BF.B), a leading global producer and distributor of premium alcoholic beverages, reported fiscal 2011 first-quarter earnings that declined 8.2% to $111.4 million or 76 cents per share, from $121.4 million or 81 cents in the prior-year quarter. The quarterly result also came in behind the Zacks Consensus Estimate of 84 cents per share.

Quarterly Details

Brown-Forman's net sales during the quarter rose 0.9% to $744.9 million, but missed the Zacks Consensus Estimate of $757.0 million. The modest growth was mainly driven by Jack Daniels, el Jimador, New Mix, Sonoma-Cutrer, Woodford Reserve, Tequila Herradura and Finlandia, partially offset by a decline in Southern Comfort. Geographically, the company witnessed growth in Australia, Germany, Mexico, the U.K. and Turkey, which more than offset lackluster domestic sales.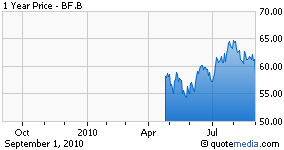 Brown-Forman's gross margin remained essentially flat, posting a decline of 0.3% year-over-year $378.8 million, while gross margin dipped 70 basis points (bps) to 50.9%. Advertising expense increased 0.4% year-over-year to $76.3 million, mainly due to higher spending to support brands, especially in international markets.

During the quarter, selling, general and administrative expenses rose 12.5% to $131.9 million, mainly due to increased expenses related to the development of its distribution network and higher pension costs. Consequently, Brown-Forman's operating profit slipped 10.1% year-over-year to $172.7 million, while operating margin contracted 280 bps to 23.2%.

Balance Sheet and Cash Flow

Brown-Forman exited the quarter with cash and cash equivalents of $260.8 million, compared to $286.5 million in the year-ago quarter. Long-term debt at the end of the quarter was $508.8 million, reflecting a debt-to-capitalization ratio of 21.4%.

During fiscal 2010, Brown-Forman generated $96.6 million of cash from operations and utilized $47.8 million towards share buybacks and $44.0 million towards dividend payments.

Outlook and Zacks Consensus

Looking ahead, Brown-Forman continues to expect earnings of $2.98 to $3.38 per share in fiscal 2011. The guidance is in line with the Zacks Consensus Estimate of $3.28 per share, which edged up a penny over the past month as 1 of 8 covering analysts raised his or her expectation. For the next fiscal year, the Zacks Consensus Estimate moved up a penny over the past month to $3.60 per share as 1 of 6 covering analysts upwardly revised.

Brown-Forman currently has a short-term Zacks #2 Rank (Buy) and a long-term Outperform recommendation.