After the retreat in its stock price, it is now an excellent opportunity for a long-term investment in Seagate Technology (NASDAQ:STX) stock at a cheap price. Although Seagate significantly outperformed the market in 2013, its stock price has declined 16.5% from its January 21, 2014, peak value of $61.24. Seagate has compelling valuation metrics and solid earnings growth prospects. Furthermore, the company is returning value to its shareholders by stock buyback and by increasing dividend payments. In this article, I will explain why, in my opinion, Seagate stock is a smart investment right now.
The Company
Seagate Technology designs, manufactures, and sells electronic data storage products. The company offers hard disk drives, solid state hybrid drives, and solid state drives, which are designed for enterprise servers, mainframes, and workstations; for desktop and notebook computers; and for various end user devices, such as digital video recorders, gaming consoles, personal data backup systems, portable external storage systems, and digital media systems. The company was founded in 1979 and is headquartered in Dublin, Ireland.
Valuation Metrics
The table below presents the valuation metrics of STX, the data were taken from Yahoo Finance and finviz.com.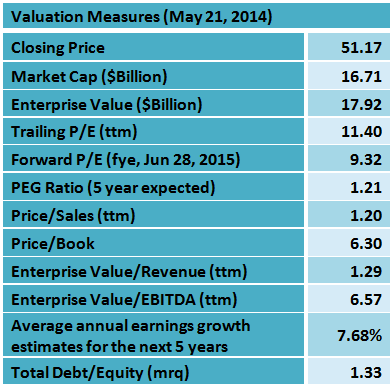 Seagate's valuation metrics are very good; the trailing P/E is very low at 11.40, and the Enterprise Value/EBITDA ratio is extremely low at 6.57. According to James P. O'Shaughnessy, the Enterprise Value/EBITDA ratio is the best-performing single value factor. In his impressive book "What Works on Wall Street," Mr. O'Shaughnessy demonstrates that 46 years back-testing, from 1963 to 2009, have shown that companies with the lowest EV/ EBITDA ratio had given the best return. Mr. O'Shaughnessy explains that EV/ EBITDA is a better way to assess value - that is, how cheap or expensive it is - than looking at the PE ratio alone. The EV/ EBITDA is neutral to a company's capital structure and capital expenditures. Stocks that have very high debt levels often have low PE ratios, but this does not necessarily mean that they are cheap in relation to other securities.
Latest Quarter Results
On April 29, Seagate reported its third-quarter fiscal 2014 financial results, which beat EPS expectations by $0.09 (7.20%) and was in-line on revenues. The Company reported revenue of approximately $3.4 billion, gross margin of 28.2%, net income of $395 million and diluted earnings per share of $1.17. On a non-GAAP basis, which excludes the net impact of certain items, Seagate reported gross margin of 28.5%, net income of $453 million and diluted earnings per share of $1.34.
During the third quarter, the Company generated approximately $443 million in operating cash flow, paid cash dividends of $140 million and repurchased 3.5 million ordinary shares for $184 million. There were 326 million ordinary shares issued and outstanding as of the end of the quarter. Cash, cash equivalents, restricted cash, and short-term investments totaled approximately $2.3 billion at the end of the quarter.
In the report, Steve Luczo, Seagate's chairman and chief executive officer said:
Seagate's March quarter results reflect ongoing effective execution in a dynamic market environment. We are positioning the Company to lead in the evolving storage ecosystem by leveraging and investing in our market-leading product portfolio to enable shifts in the storage landscape in hyperscale, performance and mobility. In addition, we are maintaining our focus on operational discipline through conservative demand forecasting and supply management.
Dividend
Seagate has been paying dividends since 2003, but had stopped its payments in 2009 and 2010.The forward annual dividend yield is high at 3.36% and the payout ratio is only 35%. The annual rate of dividend growth over the past five years was high at 19.4%.
Source: Charles Schwab
Competitors
A comparison of key fundamental data between Seagate and its main competitors is shown in the table below.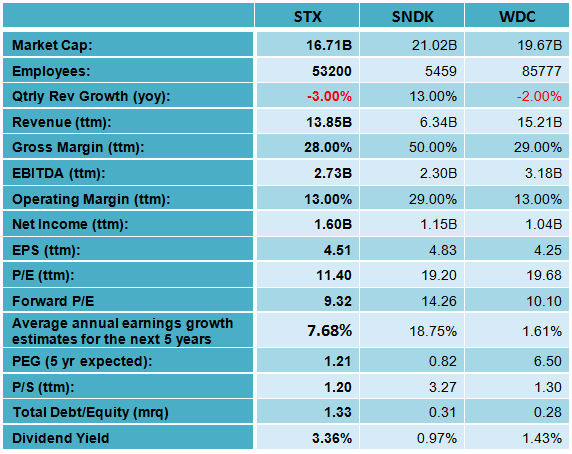 Seagate has lower trailing and forward P/E, and much higher dividend yield than its competitors, but it has also a higher debt-to-equity ratio.
Seagate's Return on Capital parameters have been much better than its industry median, its sector median and the S&P 500 median, as shown in the tables below.

Source: Portfolio123
Technical Analysis
The charts below give some technical analysis information.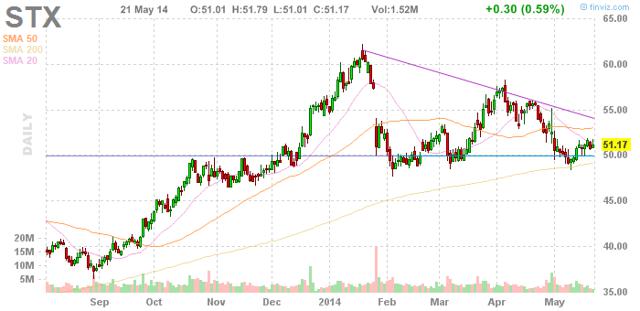 Chart: finviz.com
The STX stock price is 0.38% below its 20-day simple moving average, 3.52% below its 50-day simple moving average and 4.06% above its 200-day simple moving average. That indicates a short-term and a mid-term downtrend and a long-term uptrend.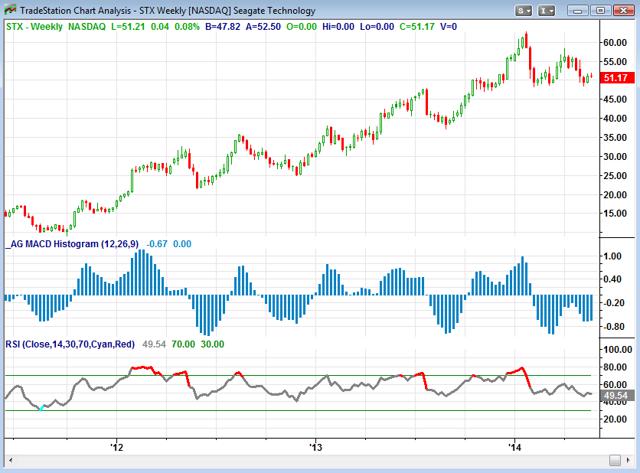 Chart: TradeStation Group, Inc.
The weekly MACD histogram, a particularly valuable indicator by technicians, is negative at 0.67 and ascending, which is a neutral signal (a rising MACD histogram and crossing the zero line from below is considered an extremely bullish signal). The RSI oscillator is at 49.54 which does not indicate oversold or overbought conditions.
Analyst Opinion
Analysts opinion is divided, among the twenty seven analysts covering the stock, three rate it as a strong buy, eight rate it as a buy, fifteen rate it as a hold, and one analyst rates it as an underperform.
TipRanks is a website that ranks experts (analysts and bloggers) according to their performance. According to TipRanks, among the analysts covering STX stock there are only two analysts who have the four or five star rating, both of them recommend the stock.
Major Developments
On December 23, 2013 Seagate announced that they have entered into a definitive agreement under which Seagate will acquire all outstanding shares of Xyratex Ltd (NASDAQ:XRTX), in an all-cash transaction valued at $13.25 per share, or a total of approximately $374 million, and on March 31, Seagate announced that it has completed the acquisition.
Xyratex had two main product lines, which are complementary to Seagate's business:
Storage test equipment; Xyratex is a top supplier of storage test equipment and will bring expertise that even Seagate will find useful.
Storage enclosures and subsystems; Xyratex built the finest disk enclosures in the industry, popular with major vendors.
I consider the acquisition of Xyratex very positive to Seagate since it expands Seagate's storage solutions portfolio with Xyratex's enterprise data storage systems business and high-performance computing business.
Conclusion
Seagate has compelling valuation metrics; its EV/EBITDA ratio is extremely low at 6.57. Seagate is generating a lot of cash; its ttm price to free cash flow of 13.27 is among the lowest of all S&P 500 tech stocks. The company continued to deliver large sums of cash back to shareholders, during the third quarter the company generated approximately $443 million in operating cash flow, paid cash dividends of $140 million and repurchased 3.5 million ordinary shares for approximately $184 million. Furthermore, the new acquisition of Xyratex will expand Seagate's storage solutions portfolio even more.
I consider Seagate's stock as a good combination of value and growth dividend stock, and in my opinion, after the retreat in its stock price, it is now an excellent opportunity for a long-term investment in a good company at a cheap price.
Disclosure: I am long STX. I wrote this article myself, and it expresses my own opinions. I am not receiving compensation for it (other than from Seeking Alpha). I have no business relationship with any company whose stock is mentioned in this article.