After extending the deadline of its original offer Tuesday, Canadian convenience store operator Alimentation Couche-Tard has increased its takeover offer for Casey's General Stores (NASDAQ: CASY) to $38.50 per share in cash, or approximately $2 billion.
Couche-Tard`s bid has caused quite a stir in the past months, as Casey`s board claimed its offer undervalued the company and appealed to shareholders not to accept. The newly revised offer comes after Casey`s launched a $500 million stock buyback at $38 per share, compared with Couche-Tard`s original bid of $36.50.
The Canadian convenience-store operator is hoping to acquire Casey's to further build its presence south of the border.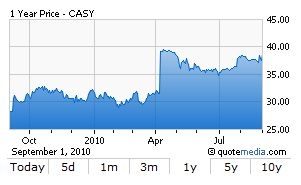 Couche-Tard's increased all-cash offer represents a 2.3% premium to Tuesday`s closing price, a 32% premium over the one-year average closing share price of Casey's as of April 8 2010 (the last trading day prior to the public disclosure of Couche-Tard's proposal), and a 22% premium over the closing price of $31.59 per share of Casey's on April 8, 2010.
"In Casey's self-tender offer, the shareholders of Casey's made clear their views on the value of Casey's. The fact that a majority of the then-outstanding shares of Casey's were tendered at $38.00 per share demonstrates that our revised offer to acquire 100% of the outstanding shares of Casey's for $38.50 per share in cash is compelling," said president and CEO of Couche-Tard Alain Bouchard. "We believe that our revised offer is the most attractive strategic alternative available to the Casey's shareholders, and delivers immediate cash value superior to what Casey's can deliver continuing as a standalone company."
To finance the deal, Couche-Tard also secured a credit agreement with a consortium of Canadian and international banks, including The Bank of Nova Scotia, HSBC Bank Canada, Caisse de dépôt et placement du Québec and Rabobank Nederland, to provide the company with up to $1.5 billion in funds as a four year unsecured term loan facility.
The initial interest rate on Couche-Tard's new facility is expected to be LIBOR plus 300 basis points or the US Base Rate plus 175 basis points, as applicable, and the loan is prepayable at any time with no penalty, it said.
Casey`s completed its stock buyback Tuesday, lowering its amount of shares outstanding by 26%. Though the stock value of Couche-Tard`s latest offer is below its previous prices, Casey`s borrowed to pay for the buyback and thus the $2 billion includes debt of approximately $528 million.
"In contrast to assertions made by Casey's, we obtained financing on terms significantly more favorable than the terms of the notes issued by Casey's to finance its leveraged recapitalization plan, despite Couche-Tard's higher leverage and the leverage of a combined Couche-Tard and Casey's on a pro forma basis," Bouchard concluded.
Couche-Tard is the largest independent convenience store operator in North America in terms of number of company-operated stores. Its network is comprised of 5,869 convenience stores, 4,141 of which include motor fuel dispensing, located in 11 large geographic markets, including eight in the United States and three in Canada covering all ten provinces.
Disclosure: No position