Alright, let's face it - the first version of Microsoft's (NASDAQ:MSFT) Surface, coupled with its first version of Windows 8 - was anything but amazing. When Microsoft updated Windows 8 to Windows 8.1 and launched the Surface 2, it seemed a much better combination.
I've owned a Surface 2 for months now and generally have no complaints with it. I've gotten used to the tiles interface, I enjoy being able to multi-task in two programs on the same screen, and I enjoy the small pocket that the device sits in - it's not a laptop and it's not a tablet. With the attached keyboard/cover, it's a little bit of both. This niche seems to be the focus for Microsoft Surface, as a product, going forward.
I've been long Microsoft for the better part of a couple of months now. I like having Satya Nadella at the helm and I'm pleased with the job that he's been doing so far for the company.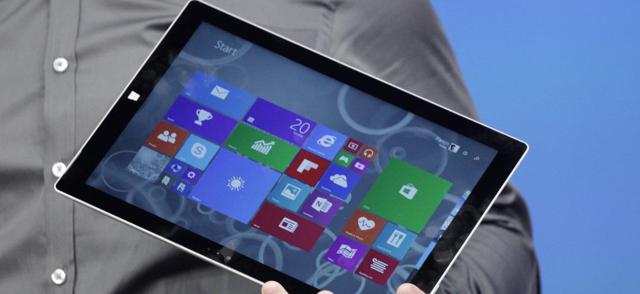 Click to enlarge
Earlier this week, Microsoft introduced its new Surface Pro 3 tablet, and it's looking impressive. The i3 version will ship 6/20, the i5/i7 product is going to be shipping by 8/31/2014, according to the Microsoft store. Depending on what version you purchase, the price starts at $799 and goes up to $1,949. That may seem like an aggressive price range for a new line of "tablets"; unless you consider that Microsoft has made these to compete directly with laptops - most notably mentioned by Microsoft was the MacBook Air.
The Surface 3 is going to sport a 12" screen at 3:2 aspect ratio, a major improvement from the 10.6" screens at 16:9 on the original Surface. Microsoft has figured out a way to cram the Intel Core i series underneath the hood, as well.
The Surface 3's size makes it ripe to compete with laptops. The price point, as well as the detachable keyboard cover also make the tablet ideal for competing against laptops.
In addition, the company's keyboard cover, when combined with the built-in stand that comes on the product, make it easy to adjust the product to nearly any angle, making it a bit easier to operate on your lap when you're traveling or sitting. I, like many others, figured they'd just include the keyboard on this generation of Surfaces - we were wrong.
It certainly seems that Microsoft's focus - as a company - is on productivity. Thus, we were not treated to a "Surface Mini". It does seem like we're going to privy to a docking station right from the get go with the Surface 3; this was a point of contention for some Surface 2 users - the docking station didn't come into well after the product was released.
When Microsoft was releasing it during their promotional event last week, they compared it mostly to a laptop - the MacBook Air. When it came to the question of weight, Surface was put on a scale alongside a MacBook Air. When the price was questioned by bloggers and reporters, the retort were that even though it's $799, it's "cheaper than a MacBook Air." The Surface 3 is clearly set up to compete directly with these laptops.
What Microsoft needs from its tablets is something that can go head to head not only with iPad, but with the growing popularity of Apple laptop products. Make no doubt, when compared to PC counterparts, the Surface looks to be a much cleaner and nicer product. But, aesthetics is the traditional forte of those at Apple and Microsoft could have a tough time getting in with those that want a "product that looks stylish". Surface 3 is definitely, however, a step in the right direction.
The Surface 3 is a good looking product, no doubt. For those that are in the corporate world and use Office 24/7 like myself, there is still some appeal to me to go with the Microsoft product instead of using Office on the iPad or Mac.
While tablet growth is slowing down a bit now, if Microsoft can "double dip" on the tablet market, as well as the laptop market, they might be able to make a significant move with the Surface 3. There is no doubt this product is set up to dethrone iPad and MacBook Air - we're going to have to wait several quarters to see if there's any meaningful impact from the device.
Satisfied with the Surface 3 as presented, I remain long Microsoft.
Best of luck to all investors.
Disclosure: I am long MSFT, AAPL. I wrote this article myself, and it expresses my own opinions. I am not receiving compensation for it (other than from Seeking Alpha). I have no business relationship with any company whose stock is mentioned in this article.