Apache Corp. (NYSE:APA), the independent energy company that explores and produces natural gas, crude oil, and natural gas liquids, recently announced the authorization of an additional repurchase of 10 million Apache common shares. This addition will supplement the 30 million share buyback program announced by the company in May 2013. Combined, these will bring the company's share repurchase plan to 40 million shares. Therefore, in this article, I will discuss the higher return to shareholders that Apache has planned to make. I will also analyze some of the initiatives enacted by the company's management that are increasing the company's confidence in its future prospects.
Share Repurchase Program and Dividends
Up until now, Apache has repurchased 24.3 million shares under its previous 30 million share buyback program authorized in May 2013 by spending approximately $2.1 billion. On May 15th, 2014, the board of directors at Apache increased the buyback program that was originally announced in May 2013. Now, a further 10 million shares can be repurchased by Apache combined with the leftover from the original 30 million.
Apache's board of directors has also raised the regular quarterly cash dividend of $0.25 per share on the company's common stock. This higher dividend per share is an increase from $0.20 per share paid by Apache in its previous quarter. The higher dividend of $0.25 per share is payable on Aug. 22nd, 2014 to stockholders of record on July 22nd, 2014. Apache has a history of paying dividends to common stockholders since 1965. The company has increased its dividend by 67% since 2012.
The increase in returns made to shareholders reflects the confidence Apache's management has in its strategies and the future outlook of the company. According to G. Steven Farris, the chairman, CEO, and president of Apache, management has increased the buyback authorization because of its belief in Apache's ability to execute the board's future growth plans for the company. According to the company's top management, Apache's portfolio has been rebalanced for foreseeable and lucrative growth driven by the company's oil and liquids-rich onshore North American assets. Hence, since Apache has been restructuring its portfolio to concentrate on more profitable and high-growth liquid-rich resources, the company's management considers that buying back shares will be a good investment at the existing level. Consequently, as the share repurchase program will reduce the number of outstanding shares this will directly escalate the earnings per share of Apache.
Restructuring of Portfolio
Gulf of Mexico Assets Sale
Apache has recently announced the sale of its non-operated interests in the Lucius and Heidelberg development projects and 11 primary-term deep-water exploration blocks in the Deepwater Gulf of Mexico. Freeport-McMoRan Copper & Gold Inc. (NYSE:FCX) has agreed to buy these Apache assets for a consideration of $1.4 billion. The effective date of the transaction is May 1st, 2014 while the transaction is expected to close by June 30th, 2014 subject to customary completion conditions.
Mining giant Freeport-McMoRan has planned to sell some of its Eagle Ford shale assets in Texas to Encana Corp. (NYSE:ECA), Canada's top natural gas company. This will be done to raise as much as $3.1 billion in order to finance the consideration of $1.4 billion payable to Apache for assets in the Gulf of Mexico.
The assets that are being disposed by Apache in the Gulf of Mexico have 55 million oil-equivalent barrels in estimated proved, probable, and possible reserves. The Lucius unit is comprised of Keathley Canyon blocks 874, 875, 918 and 919, and Apache has an 11.7% working interest there. The Heidelberg unit includes Green Canyon blocks 859, 903, 904 and 948 and Apache has a 12.5% working interest there. Apache's working interest in the 11 primary-term deep-water exploration blocks ranges from 16.67% to 60%. During Q4 FY 2013, Apache's Gulf of Mexico Deepwater Region added 9,167 barrels of oil equivalent per day to the company's total production. None of the company's producing operations are involved in the sale of the Gulf of Mexico assets that was recently announced.
The company disclosed that it will concentrate more on exploration opportunities in water depths less than 1,000 feet (305 meters) in the Gulf of Mexico. This is because the company believes that discoveries on the shelf have quicker cycle times, need a smaller amount of capital expenditure, and offer more opportunities to bring oil and gas to market. According to Thomas E. Voytovich, Apache's executive vice president and chief operating officer for offshore and international operations, the company has combined its deep-water and shelf technical teams to concentrate more on subsalt and other deeper exploration opportunities in water depths less than 1,000 feet. The COO considers this region comparatively untested by the industry.
The company will also pursue joint venture and monetization opportunities for its other deep-water fields in the Gulf of Mexico. Apache has working interests in approximately 650 blocks in the Gulf of Mexico.
Apache, recognized for its capability to unlock oil and gas from rock using hydraulic fracturing, or fracking, has been selling its assets abroad such as the transaction initiated in the Gulf of Mexico. This is being done in order to concentrate on profitable shale fields in North America.
Further Initiatives
Apache has sold its properties in Argentina. The company is also planning to sell a part of its 50% stake in the Kitimat liquefied natural gas export project in British Columbia. Apache's chief executive officer disclosed in a conference call with investors that the company has also reduced its expected capital expenditure for Kitimat in FY 2014 from $1 billion to $600 million.
Considering decent well data, Apache has plans to double the number of rigs running in the Eagle Ford Shale in southern Texas to eight by mid FY 2014.
The initiatives enacted by Apache's management over the past year have radically improved the company's risk profile.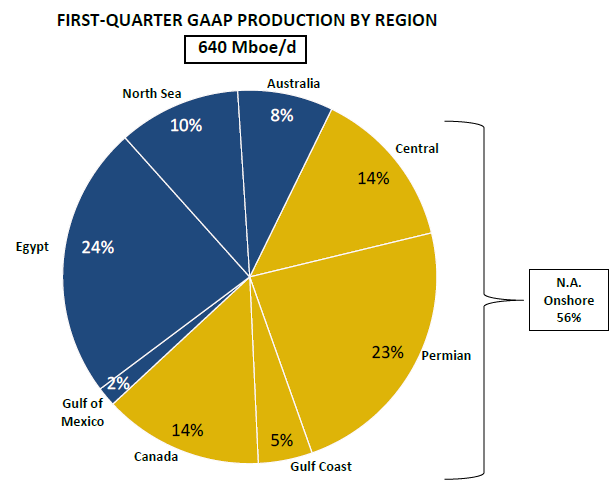 Source: APA First Quarter 2014 Presentation
Apache generated 56% of its total GAAP onshore production from North America in Q1 FY 2014 (see pie chart above). The focus on North America has reduced the company's exposure to high-risk regions overseas. The company is also focusing more on liquids that offer a much more unwavering pricing pattern than the more volatile natural gas (see pie chart below).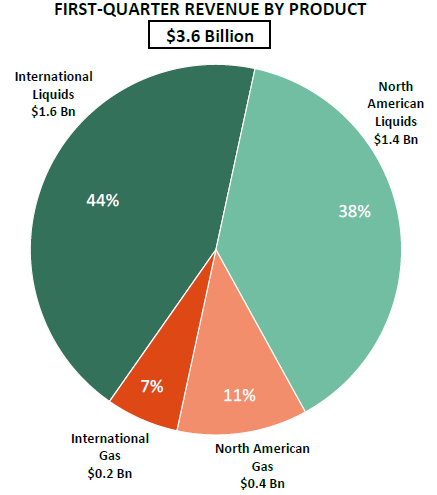 Source: APA First Quarter 2014 Presentation
Price Targets and My View on Apache
While Apache's stock is currently trading at around $89.73, Barclays has recently changed its price target on Apache's shares to $113. The firm currently has an overweight rating on the stock. The analysts at KLR Group instigated coverage on shares of Apache and set a buy rating and a price target of $119 on the stock. Overall, the stock has a consensus price target of $100.74 that indicates upside potential for the company's stock.
The company is effectively restructuring itself to focus on more profitable and high-growth areas. These include concentrating operations in North America and adding more liquids to the product mix. The company has recently announced the sale of its non-operative assets in the Gulf of Mexico that will bring in $1.4 billion as consideration for the company. The confidence of the company's management in the initiatives they are enacting and the future prospects of the company have allowed them to authorize upsizing of the company's existing share repurchase program. The company has also announced it would pay higher quarterly dividends per share to its shareholders in comparison to the dividends per share paid in the previous quarter. Many of the analysts are also bullish on Apache's stock price indicating that the stock is a good buy.
Disclosure: I have no positions in any stocks mentioned, and no plans to initiate any positions within the next 72 hours.
Business relationship disclosure: The article has been written by a Gemstone Equity Research research analyst. Gemstone Equity Research is not receiving compensation for it (other than from Seeking Alpha). Gemstone Equity Research has no business relationship with any company whose stock is mentioned in this article.