In my two previous installments of this series, I discussed the accumulation phase and the distribution phase of dividend growth investing. While the purest dividend growth investor will focus on only having companies that will increase dividends every year for at least 5 consecutive years, my approach is a bit more relaxed than that.
Now that you have decided that the dividend investing strategy is right for you, and you have found the BTDP (Buy The Dips Portfolio) to be helpful in selecting stocks, your goal (as well as mine) is to grow the dividend income as quickly as possible. That does not have to mean waiting for our great dividend growth stocks to announce dividend increases either. This is not a passive investment strategy, and you DO have control and can make things happen!
Let The BTDP Be Your Anchor Of Stocks, But Seek Out Dividend Opportunity Stocks For Instant Dividend Income Growth
The BTDP consists of the following stocks: AT&T (NYSE:T), Exxon Mobil (NYSE:XOM), Johnson & Johnson (NYSE:JNJ), Coca-Cola (NYSE:KO), Procter & Gamble (NYSE:PG), Altria (NYSE:MO), McDonald's (NYSE:MCD), Chevron (NYSE:CVX), Apple (NASDAQ:AAPL) General Electric (NYSE:GE), Ford (NYSE:F), Microsoft (NASDAQ:MSFT), Wal-Mart (NYSE:WMT), and Pfizer (NYSE:PFE).
There are more stocks than these that will raise dividend payments every year, but I chose these stocks for this portfolio. I would suggest that when developing your own well rounded portfolio that you use mega-cap blue chip stocks, with a history of always paying dividends, and increasing them, year after year.
Your portfolio might not look exactly like this one, but the results for the strategy will be very much the same.
When we began this portfolio, here is what the main focus for our strategy looked like:
| | | | | |
| --- | --- | --- | --- | --- |
| Symbol | Shares | Orig.Yield | Dividend | Yrly Income |
| T | 300 | 5.60% | 1.84 | 552 |
| XOM | 100 | 2.80% | 2.76 | 276 |
| JNJ | 100 | 3.10% | 2.8 | 280 |
| KO | 200 | 3.00% | 1.22 | 244 |
| PG | 100 | 3.10% | 2.41 | 241 |
| GE | 300 | 3.60% | 0.88 | 264 |
| MCD | 100 | 3.50% | 3.24 | 324 |
| CVX | 100 | 3.60% | 4 | 400 |
| AAPL | 15 | 2.25% | 13.16 | 197 |
| MO | 100 | 5.20% | 1.92 | 192 |
| F | 400 | 3.20% | 0.5 | 200 |
| MSFT | 200 | 2.80% | 1.12 | 224 |
| WMT | 100 | 2.50% | 1.92 | 192 |
| PFE | 200 | 3.20% | 1.04 | 208 |
| x | x | 3.60% | x | 3794 |
Notice that the share price is not even shown here; just the dividend yield, the actual dividend, the yearly income from the dividends and the number of shares owned in each stock.
There are several ways to instantly move the income needle upward to reach our goals as quickly as possible.
If you have dry powder, add more shares of any of these stocks. The more shares you have, the higher the yearly dividend income will become, immediately.
Sell some shares of lower paying stocks, and buy more of the higher paying stocks.
Trim several positions and add several dividend opportunity stocks that might not be dividend champions, but will give you a nice pop to your dividend income immediately.
While it might not increase your dividend income, writing covered calls from time to time can enhance your income several times per year.
While writing covered calls can put extra cash in your pocket, and is a relatively conservative strategy, keep in mind that if the stock you sell calls against rises too quickly, your shares can be taken from you. You won't lose money, but you will have to buy the stock back at either a higher or lower price. You will be able to make that move on the very next trading day, and the premium you received is yours to keep no matter what. If the stock continues to soar, you would have limited your upside. The stock might also be called away just prior to going ex-dividend, so you might lose the dividend as well.
Extra caution must be taken to assure that you do not miss your dividends, and I use this strategy only when the premiums for actually selling the calls is at least 1% (12% annually). I also do not go further out than 60-90 days for option expiration, and usually just after a stock has gone ex-dividend already.
The strategy that I like best is to find a few of those high yielders that can be added to your portfolio by either using dry powder, or by trimming some existing positions to add the opportunity stock.
The sector that I look at are REIT stocks that have much higher yields. I happen to like them because in most cases the greater risk is worth the reward, and if I select wisely, over the long term, I could benefit nicely with higher income.
The One REIT That I Like Right Now
I am definitely not advocating an enormous allocation in this stock, but for a risk opportunity and reasonable allocation of funds, this REIT stands out to me.
Annaly Capital (NYSE:NLY)
This is an mREIT that is the largest in the sector and over time has rewarded investors very handsomely with its dividend payments.
As a REIT it has an IRS regulation to pay out at least 90% of the net income earned each quarter. In that way, the company maintains its REIT status and pays no taxes. The receiver of the dividends pay the taxes and the dividends are added to our regular income.
This particular REIT is in the business of buying and selling mortgage backed securities that are only FHA backed. The dividends are a result of the income produced by the spread between the purchase of mortgages and the sale of the mortgages, as well as the payments made by the mortgagee.
The dividends can be impacted by a small spread, or tighter yield curve, as well as the risk of prepayments by the mortgagee from either foreclosure or refinancing at lower rates. Ergo, the Federal Reserve needs to be followed closely as to its policies concerning interest rates.
It Is NOT A Set It And Forget It Stock
Over the long term, NLY has enriched its shareholders who have held its shares through good times and bad.
Take a look at this chart directly from the company website: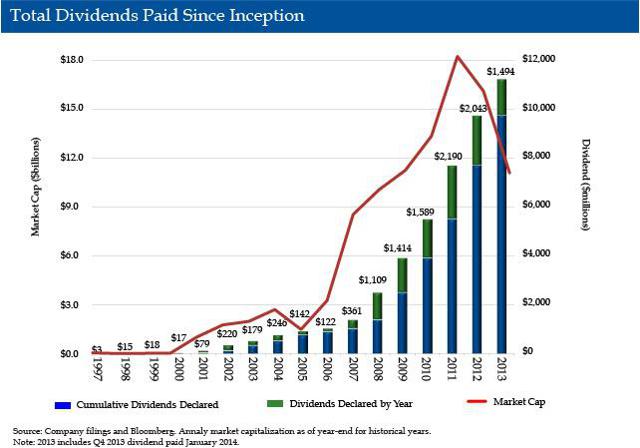 Click to enlarge
Since 1997, the cumulative amount of dividends paid on a single one time investment has been remarkable. While this is not indicative of what the future holds, my opinion is that the stock is currently undervalued, and as the Fed gets out of the way, it could eventually increase dividends.
Not only that, but NLY has morphed itself into more of a hybrid mREIT and now has a portfolio of commercial mortgages (through its acquisition of CreXus) as well as agency backed residential mortgages.
They also have recently entered into the "net lease" business with Inland Real Estate Group.
"We believe that the potential to utilize Inland's extensive experience acquiring, managing, leasing, financing and developing real estate nationwide will complement our ability to take advantage of a variety of opportunities as we expand our commercial platform into ownership of real property," said Wellington J. Denahan, Annaly's Chairman and Chief Executive Officer. This initiative further augments Annaly's continued expansion of its commercial real estate portfolio. As of March 31, 2014, Annaly owned approximately $1.7 billion in commercial real estate assets, an increase from $1.0 billion at June 30, 2013.

Dan Goodwin, Inland's Chairman and Chief Executive Officer said, "We are honored to have been chosen by Annaly to assist in creating an enviable net lease platform and excited about our strategic relationship." Joe Cosenza, a Vice Chairman of Inland and President of Inland Real Estate Acquisitions, Inc., who is leading the Inland team said, "Annaly's impressive expansion of its commercial real estate business highlights the strength of its balance sheet and flexibility, and we look forward to helping one of the largest mortgage REITs leverage upon those attributes."
In plain English, this means that NLY will now have some actual hard assets to produce income in the commercial leasing business with this alliance, not only mortgages. My opinion of this is that NLY has become an mREIT that will have less reliance on the unstable residential mortgage market, which could mean even greater income and higher dividends over the intermediate to long term.
Some basic fundamental metrics of NLY are compelling:
The current share price of $11.74 has a 5% discount to book value.
The enterprise value is over $74 billion - the largest in the business.
A current payout ratio of 52% (from Yahoo Finance).
A current dividend yield of 10.30% at $1.20 per year, per share.
If an investor were to add 500 shares of this stock to the above portfolio, the income per year would immediately increase by about $600, for an investment of just $6,000. The dollars can come from "dry powder", or if there is no extra money lying around, a few shares of each stock already held can be sold (or just a few of them) to garner the $6k to make the purchase.
By trimming and redeploying, you will not get the full $600 increase in income, but you will begin a position in this opportunity stock that could pay off very nicely down the road.
By adding another $6k, your income in this portfolio will increase by about 17% just about instantly.
The Downsides To Be Aware Of
All stocks come with risks. The dividend investment strategy is not immune to the risks. A stock like NLY has a higher risk level as well. Here are some of the basic risks that any investor needs to be cognizant of:
The dividend stocks could cut dividends or stop them completely if we have a fiscal crises that impacts the economy as a whole.
If interest rates rise, then equities have gone down historically.
Rapid interest rate rises will affect the mREIT sector, and NLY could see not only a loss in share price, but a cut in dividends.
If the housing industry goes through another round of high foreclosure rates, NLY will potentially have more issues turning over inventory which would impact earnings and dividends.
While dividend income can rise, the share price of the stocks held could drop. This will affect the total return of any portfolio.
By monitoring your positions and watching for fundamental changes either in the economic environment, interest rate direction, and individual company challenges going forward, a prudent investor will be able to make any adjustments they might want to, well ahead of the "herd".
The Bottom Line
It is all about income and any strategy that can increase my income within my risk tolerance level is a strategy I will implement. If you feel the same way, take a deeper look at Annaly Capital.
Disclaimer: The opinions of this author are not recommendations to either buy or sell any security. Please remember to do your own research prior to making any investment decisions.
Disclosure: I am long AAPL, F, GE, JNJ, KO, MCD, MO, MSFT, NLY, T, XOM. I wrote this article myself, and it expresses my own opinions. I am not receiving compensation for it (other than from Seeking Alpha). I have no business relationship with any company whose stock is mentioned in this article.