In my March 4 article, Public Venture Capital: Turning Micro-Caps Into Macro Wealth Builders, I detailed my philosophy of "Public Venture Capital" (PVC) investing: that buying stock in "early-stage" micro-cap public companies which meet certain criteria creates an opportunity to own very exciting, early-stage companies and enjoy incredibly lucrative returns. Thorough research and due diligence is essential, and there is of, of course, significant risk and volatility with micro-caps, but with PVC, everyday investors can participate in the tremendous upside potential that early-stage investing offers, with the liquidity that private investing does not.
As a refresher, here is the Public Venture Capital formula I have been using to select for my portfolio:
Find a small, publicly-traded "micro-cap" or "nano-cap" company with potentially disruptive technology and experienced executive teams.
Determine the upside by comparing it to a "mature" company in a similar space that has a fully-recognized value in the public markets in the hundreds of millions, if not billions of dollars. My reasoning is that if a company in a similar industry or market sector has reached this level of success, then the micro-cap with a good management team and strong product has more than a fair shot at exponential growth. I like to look for companies that have a minimum upside of 3-5x the current market capitalization, with the potential for 10-20x returns (or more).
Confirm the technology has legs regarding near-term viability for creating a marketable product or service, and confirm that the company can scale to achieve tens to hundreds of millions of dollars in sales. This step involves analyzing the management team for past successes and operational chops.
Lastly, the valuation has to offer massive upside in terms of the stock being unknown and/or undervalued. Fortunately, this is not too difficult as most investors seem to follow and invest a few, already well-known stocks without digging deeper to find the future darlings. THIS is where the real money is made!
All posts in my "Public Venture Capital" series include a micro-cap company that I have personally selected as meeting all of the criteria above, as well as a successful, fully-valued public company in the same industry. The premise is that looking at the mature company in a similar industry offers a preview of the potential the early-stage company has if its management team succeeds.
Integral Technologies, Inc. Overview
Founded in 1996, Integral Technologies (OTCPK:ITKG), has historically been a "development-stage" company, focusing on the research, development, and commercialization of its ElectriPlast technology. ElectriPlast (www.electriplast.com) is an electrically-conductive resin-based material that can be molded into various shapes and sizes associated with plastics and rubbers. In a nutshell, ElectriPlast adds new properties to plastics for improving efficiency or capabilities of standard products. While the technology and intellectual property behind this "new materials" company gets a bit complex, the potential uses for Integral's line of patented hybrid conductive plastics are nearly limitless: ITKG's product has applications in antennas, electronics shielding, lighting/LED circuitry, motors, switch actuators, resistors, medical devices, thermal management, toys, cable connector bodies, and others. For a full background on the Company's colorful history, please see the Seeking Alpha article published on May 1, 2014: Integral Technologies: Insiders Buying Stock For First Time In Company's 18-Year History.
Integral Technologies' market cap is trading in the $25 Million range with a share price around $.28 - right near its 20 and 50-day moving averages. The April 7 announcement - Integral Announces Launch of Hanwha L&C's ElectriPlast® Line - led to a short-term burst in price and trading volume as the company announced significant strides in its partnership that was originally announced last November, which included $500k of advance payments. Hanwha is a global high-tech materials maker based in South Korea, and has launched a dedicated production line to handle demand for ElectriPlast in Asia. The 10-year agreement gave Hanwha exclusive rights to manufacture, sell and distribute ElectriPlast in South Korea, as well as non-exclusive rights for Japan, Taiwan and China. On May 22, Integral announced in a press release headlined Integral Continues to Expand Presence in Asia that Hanwha had completed the second $250k installment payment.
In the press release from April 7, Integral CEO Doug Bathauer said the following:
"Integral and Hanwha L&C established a manufacturing base in South Korea because we both believe in the long-term strength of the ElectriPlast market in Asia. Its strategic location will enable the supply of ElectriPlast to South Korea's consumer electronics industry, which is one of the largest in the world, as well as to China's world-leading auto market. Along with Hanwha L&C, we look forward to tremendous growth in these industries in the years to come, while we strive to provide ElectriPlast to customers across Asia. We expect ElectriPlast to become the predominant hybrid conductive plastic utilized in Asia."
With respect to commercialization, the company stated in its 10-Q report filed on May 15, 2014:
"During the quarter, several actions were taken by the Company to better position the commercialization of ElectriPlast. The Company continued to emphasize the expansion of ElectriPlast's technical and engineering capabilities. … On January 24, 2014, Integral announced the opening of its ElectriPlast Tech Center in Detroit, which provides facility upgrades for staff expansion, while adding resources for greater internal testing, engineering and product development."
This disclosure in the 10-Q was followed up with the press release on May 22 after the management team completed a 10-day trip to Asia done "in response to the growing interest brought about from the recent opening of Hanwha L&C's (Hanwha) ElectriPlast manufacturing line." Integral's team visited Hanwha in Korea and several "global automotive Tier 1's and technology companies in China and Japan." While in Japan, "the team was invited to introduce its technology to an automotive power supply company that provides its products to some of the world's largest Hybrid Electric Vehicle (HEV) and Electric Vehicles (EV) companies."
"This is an important first step into Japan for us," stated Mo Zeidan, ElectriPlast's chief technology officer. "Japan is a global technical leader and we believe our technology will help enable automotive companies and Tier 1's in Japan to meet their light weighting goals."
The stock traded up on the April 7 news, peaking at $.39 before coming back down to the $.26 to $.28 range. Following the up-tick that came from the Hanwha news, investors holding convertible debt have been converting out their notes, putting pressure on the stock. In an 8-K filed on May 2, however, Integral announced it reached a settlement with Asher Enterprises that cleared up all outstanding notes payable to Asher. Additionally, according to Bathauer, who hosted an investor conference call on May 15, there remains approximately $100,000 of convertible debt to JMJ Financial. Bathauer stated he expects this debt to be converted out over the next 4-6 weeks. Once this selling pressure is out of the way, the stock appears poised to trade up significantly as details on Hanwha as well as some of the Company's additional partnerships come to light throughout the year.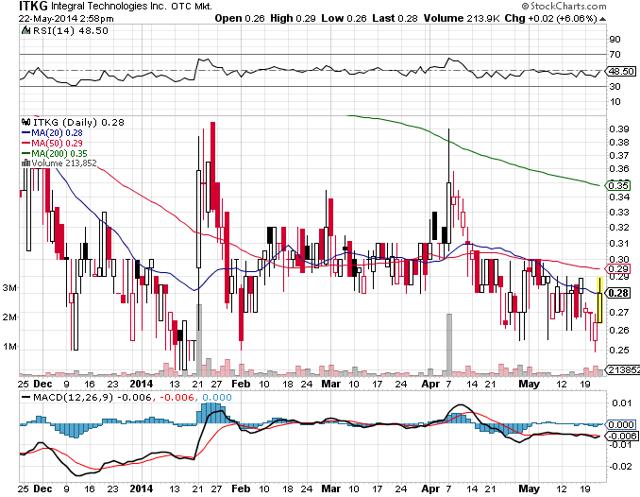 Click to enlarge
Chart courtesy of stockcharts.com
A "mature" comp in this space is Hexcel Corp. (NYSE:HXL) - website: hexcel.com. Hexcel enjoys a market cap of roughly $4 Billion, up approximately 50% from a year ago. It provides advanced materials from composites to hybrid plastics for virtually every aerospace, automotive, and industrial need. This is exactly the same kind of OEM market that ElectriPlast serves. Though the ElectriPlast materials are more narrowly focused than Hexcel's, the disparity in valuation could shrink substantially as Integral penetrates the growing market for advanced plastics with its unique and superior technology. ElectriPlast has essentially merged plastics with metal, allowing for conductive or shielding plastics depending on the final need. The major value add with this technology is a huge weight reduction across aerospace and automotive industries. Weight reduction translates into fuel efficiency.
Intellectual Property
From an Intellectual Property ("IP") standpoint, Integral has a significant and valuable patent portfolio - they own about as many patents as the other 10 companies competing in this field combined, including some major companies you have definitely heard of: IBM (NYSE:IBM), Mitsubishi, DuPont (NYSE:DD). See details on ITKG's patent portfolio here. This kind of IP stronghold - 53 patents issued and 118 patents filed - provides protection for all of the products where Integral can potentially play, building everything from batteries, RFID tags, antennas for cell phones, routers, and even lighting can use ElectriPlast technology. Investors can be thinking of the potential in terms of hundreds of millions or even billions of individual components delivered when the company fully scales into the marketplace. Sirius XM (NASDAQ:SIRI) has already become an Integral customer, along with Lear Corporation (NYSE:LEA), BASF (OTCQX:BASFY), Delphi (OTCPK:DPGYF), and, of course, Hanwha L&C. And since Integral dominates the IP landscape in this market, the company is a viable takeover target for a large player wanting to "own" the space.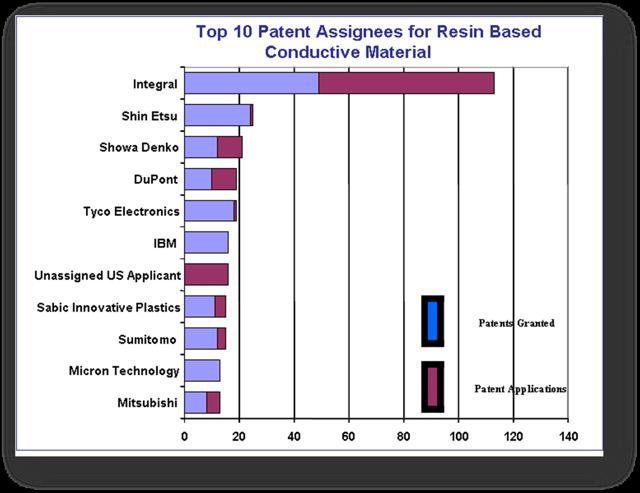 Click to enlarge
Source: Integral Technologies corporate presentation
Market Opportunities
There are some large macroeconomic trends that make Integral extremely well positioned for growth. Increasing energy costs and the recent change in CAFE standards requiring automakers to raise the average fuel efficiency of new cars and trucks to 54.5 miles per gallon by 2025 has sparked a tremendous surge in demand for new lightweight materials. Global industries with large demand for a lighter-weight, moldable material with all the conductive/shielding attributes of metal include auto manufacturers and parts suppliers, power inverter manufacturers, mobile applications, consumer electronics, batteries, and the aeronautical and space industry. There are also custom applications in the defense and intelligence sectors.
We're squarely in the middle of a lightweighting boom as manufacturers look for ways to reduce weight. This push towards lightweighting has already had an effect.
· Electrification of transportation - sales of electric vehicles are projected to more than triple over the next seven years. Electric cars require a lot more electrical components which in turn increases the need for electromagnetic shielding.
· Carbon fiber demand is increasing dramatically - once a specialty "space age" material, carbon fiber is now quickly becoming commoditized and prices are dropping rapidly. In the Company's most recent conference call, Integral's CEO referenced this as a key cost driver. The company began shifting to using carbon fiber in 2011.
Potential Market Size - Automotive
Auto manufacturers are evaluating such applications as electrical cable connector housings, electronics shielding and casing, key actuators and other switching devices, capacitors and related switching devices, electromagnetic ("EMI") field absorbing devices and shield methods, radio frequency absorbing devices, electrostatic discharge field absorbing devices, resistors, electrical motor components, inverter and converter components, housings for vehicle electrical and mechanical parts, and other related applications.
My research indicates that Integral has specifically identified the inverter/converter segment as a particularly compelling opportunity for ElectriPlast. Some of the applications in this space include inverter cases and covers. With Fisker Automotive, via a relationship with Lear, the company already had an electric vehicle manufacturer design and commit to manufacture an inverter incorporating ElectriPlast in the housing, however Fisker went bankrupt as Tesla (NASDAQ:TSLA) became the dominant player on the high-end of the electric vehicle ("EV") market.
With a manufacturing presence now in Asia, let's first take a look at the Asian automotive market in China, Japan, South Korea and Taiwan. Based on auto production projections and making a few assumptions on common parts that conductive plastic could be used for it is estimated that the total conductive plastic market for Asian automotive would be approximately 1 billion pounds in 2014, growing to 1.25 billion pounds by 2018.
Pricing seems to vary a bit depending on exactly what material you are after, but let's use an average price of $5/lb. This means the market potential for Asian automakers = $5 to $6.25 Billion. If we add the US and Europe to these numbers, then the number doubles. Of course, this is a developing market and these are estimates, but the ultimate take-away is that we are dealing with a very large addressable market. All Integral has to do is get a tiny, fractional slice of the market, and this is a tremendously successful investment based on today's valuation!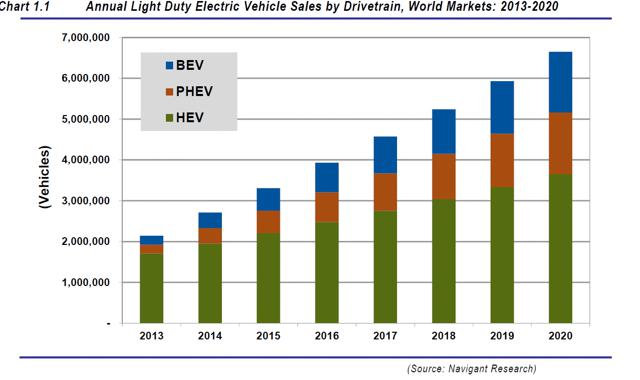 Click to enlarge
"In developing opportunities for ElectriPlast in Asia, we recognize that the momentum right now for us is within the automotive sector, but we won't be a 'one industry' company and are also focusing in other areas, including the consumer electronics sector," Bathauer said in the May 22 press release. "Further, we understand that to support our customers and accelerate our business development efforts, we need to be active in the region and therefore, recently opened our office in Seoul, Korea. The office will focus on developing strategic opportunities with industry and financial partners in Asia."
Integral's strategic partners include Delphi, Hanwha, and BASF, and they're in discussions with a host of other companies and partners that are in various phases of review and investigation regarding adoption of ElectriPlast applications over the next several years. So, it's not a stretch to see how Integral could generate sizable revenues in the future - every partnership can be worth millions to tens of millions of dollars to ITKG.
Management Team
Doug Bathauer has been with the company since 2009, and stepped into the CEO seat in November 2012 from his previous roles in Corporate Development and Corporate Communications. He had a tremendous amount of clean-up work to do in 2013, following sub-optimal leadership dating back to the mid-1990s. Bathauer seems poised to lead the Company into its next phase.
The company also recently added a former Lear Corp. V.P., Slobodan ("Bob") Pavlovic, to their engineering team, and with this appointment, the company will begin engineering hybrid conductive plastics into more and more aerospace and automotive applications. While at Lear, Mr. Pavlovic led the company's advanced engineering groups in establishing Lear as a leader in the use of conductive plastics for HV/HP applications. He also holds over 35 patents-including seven related to conductive plastics applications-along with more than 60 patent applications in progress that cover automotive technology. Aerospace and automotive manufacturers are hitting the wall on weight reduction while maintaining safety standards, but ElectriPlast offers a cost effective solution for chopping 40-60% of the weight out of components while maintaining functionality. Tier 1 automotive and aerospace suppliers are already testing ElectriPlast's material. When one company approves it, all of the OEMs have the door open to use the material. And with the new hire to ElectriPlast's engineering team, that day should hopefully be soon.
Additionally, Bart Snell was announced as the newly-appointed CFO on February 20. Snell was previously CFO of IBM Australia and CFO of IBM's semiconductor operations in Burlington, VT., and was a Director of IBM's world-wide Software Strategy. He's served on Board of Directors of Mobile Satellite Ventures, Terrastar, IBM Australia Leasing Inc., and Motient Corporation.
Risk Factors
As I cautioned in my previous "Public Venture Capital" post, it's important for investors to keep in mind that early-stage investing is not for the faint of heart. Risks include competitive risk, business execution risk, funding (or under-funding) risk, and more. So, please make sure you're aware and comfortable with these risks and that you can afford to lose the money you put into micro-cap investments that I profile in this series. That said, unlike with investments in private companies, micro-cap public companies do have liquidity, so if your financial situation or risk tolerance changes, you can get liquidity by selling your shares.
An additional risk factor is that Integral still needs to clean up over $2 million of legacy debt and other obligations on its balance sheet - see the filings from April 10, 2014 and May 2, 2014 regarding the repayment of an outstanding convertible promissory note payable. Furthermore, "dilution" remains a concern as the company will need to raise additional funds in the future. For example, the Company filed an 8-K detailing a private transaction it recently completed, selling approximately $1.1MM worth of restricted shares to accredited investors at a discount to market.
Finally, as with all market estimates for development-stage technologies, the actual adoption-rate can vary significantly from estimates contained in my analysis. The market-size assumptions are based around the potential applications for which ElectriPlast appears to be well suited as a replacement for all-metal products. Investors must understand that risk does exist due to the relatively early-stage nature of the ElectriPlast technology as it transitions from "development stage" to "product stage." But again, all ITKG needs to do is get a miniscule piece of the pie! The chances of getting their piece of the pie has dramatically increased with the partnership with Hanwha. The final step for commercialization for any development company is the ability to produce high volume product and now this risk is gone which allows them to compete for large contracts and start getting that small piece of the pie that could expand into much larger slices.
Summary
Integral Technologies, a manufacturer and distributor of patented, electrically-conductive resin-based materials, is a compelling "Public Venture Capital" (PVC) stock play with a valuation in the $25 Million range. A mature industry comp, Hexcel Corp., has a market capitalization of greater than $4 Billion, which shows the potential upside even if Integral is only moderately successful. Integral has a substantial IP portfolio, making it a potential takeover candidate in the future, and the recent launch of the company's ElectriPlast® line with South Korea's Hanwha L&C, shows commercial viability.
If, as I suspect, the Hanwha announcements, which include $500k of licensing fees that Integral has already collected, are just the tip of the iceberg, additional deals should lead to serious acceleration in ITKG's stock price. The stock certainly seems worthy of a look for investors comfortable with the risks associated with "public venture capital" micro-cap stocks.
For those interested in learning more, please check out the transcript that was posted on Seeking Alpha on February 21 from Bathauer's first-ever quarterly conference call as well as Integral Technologies: Insiders Buying Stock For First Time In Company's 18-Year History from May 1, 2014, and Investing Like A South Korean Chaebol - Top 4 Stocks To Own, which posted on Seeking Alpha on January 17, 2014.
Disclosure: I am long ITKG. I wrote this article myself, and it expresses my own opinions. I am not receiving compensation for it. I have no business relationship with any company whose stock is mentioned in this article.
Editor's Note: This article covers one or more stocks trading at less than $1 per share and/or with less than a $100 million market cap. Please be aware of the risks associated with these stocks.