Introduction
Since the beginning of 2014, RDNT shares have risen almost 300 percent, an increase we believe was fueled not by earnings but by the company's recent debt refinancing. RDNT received favorable refinancing terms which will save the company an estimated $5.1 million a year in interest. But we believe the reason for the extreme rise in share price in unwarranted, especially given that the maturity was extended only three years, from 2018 to 2021, and the company paid an extra $10 million to refinance. Additionally, its largest long-term debt is a senior first-lien term loan which has a balance of $415 million and matures in 2018. The company has only $291,000 cash and debt that has increased each of the past five years, making it a high-risk investment. Two insiders recently sold, and you should too. Consequently, we assign a SELL rating on the stock with a $2.50 price target.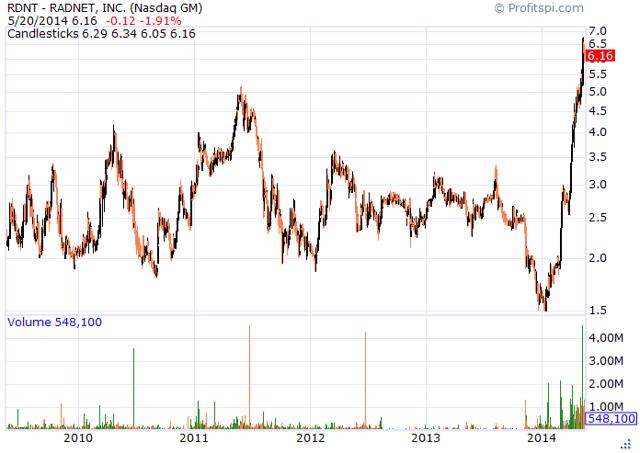 Background
RadNet Inc. (NASDAQ:RDNT) is a California-based healthcare company that provides various diagnostic imaging services. RadNet specializes in MRI, CT scans, position emission tomography, nuclear medicine, mammography, ultrasound, X-rays and other related technologies. Additionally, RadNet works with radiology groups and hospitals to remotely interpret images, and the company also creates and sells technology for image archiving and workflow solutions. RadNet operates in a network of 250 outpatient centers concentrated in California, Maryland, Delaware, New Jersey, New York and Rhode Island. The company was founded in 1984.
Debt Refinancing
On March 3, 2014, RDNT announced a proposed refinancing transaction within its fourth-quarter and full-year 2013 earnings for the purpose of repaying $200 million in senior notes. Those notes carried an interest rate of 10 3/8 percent and were due in 2018. On March 25, 2014, RDNT completed the refinancing. The company estimates the new terms will lower cash-interest obligations by approximately $5.1 million per year. To repay the $200 million in senior notes, RDNT took an additional $30 million on their existing senior secured, first-lien credit facility and a $180 million second-lien loan facility. The first-lien term loan matures in 2018, while the second-lien term loan expires in 2021. In other words, RDNT paid $10 million to extend the maturity an extra three years in order to save $5.1 million a year.

The recent increase in the company's stock price suggests the market is rewarding RDNT for refinancing the $200-million loan, but not much else has changed. In fact, the senior first-lien term loan, which has a balance of $415 million, matures in 2018. With the first-lien loan carrying the largest balance and its cash balance extremely low, it is highly risky to be an investor in RDNT. The company's already-large debt has risen for each of the past five years and continues to do so. Unless RDNT is able to generate enough cash flow to start paying off the debt principal instead of primarily making interest payments, we foresee the company's debt level continuing to rise.

Financials
On May 9, 2014, RDNT announced first-quarter earnings and the company's stock hit a new five-year high. However, those earnings were mediocre, as the company reported revenue of $168.9 million with an adjusted per-share net loss of -.03. RDNT did adjust three 2014 guidance ranges, but the $4-million adjustments of cash-interest expense and free-cash flow generation are due to the expected interest cost savings of $5.1 million a year. Therefore, we feel the guidance was more or less a disappointment.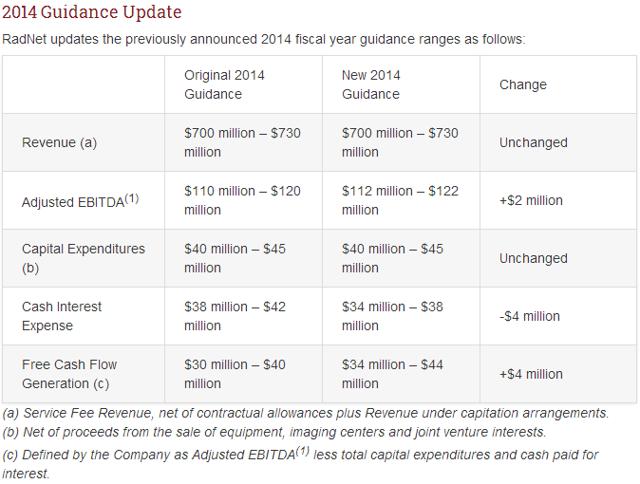 Over the past five years, RDNT has had a market-cap range of between $66 million and $104 million with an average Price-to-Sales (P/S) multiple of .14. Currently, RDNT is trading with a market cap of $253 million and a P/S multiple of .35, leading us to believe the stock soon will return to normal levels because not much has changed regarding debt and earnings.

Using the P/S ratio of .14, we conclude RDNT should be valued at $2.50 per share, which is down more than 50 percent from current levels.
Insiders Sell
On May 13, 2014, just two trading days after RDNT reported Q1 earnings, two insiders sold shares of their company stock. Executive vice president and chief financial officer Mark Stolper sold 75,000 shares - more than 20 percent of his previous holding -- at $6.47 a share. Medical director John Crues sold 16,667 shares as well, at $6.40. These sales are suspect because they so quickly followed the recent rise in its stock price. It is our opinion that insiders are realizing RDNT is heavily overextended and are taking a profit before the share price reverts to its fair value of around $2.50.
Conclusion
Given that RDNT has a $415-million debt set to mature in 2018 and only $291,000 cash, it is a high-risk investment. This recent run in the company's stock price appears unwarranted, and the stock likely will fall back to normal levels. Two insiders just sold, and you should too. Consequently, we assign a SELL rating on the stock with a $2.50 price target.
Disclosure: I am short RDNT. I wrote this article myself, and it expresses my own opinions. I am not receiving compensation for it. I have no business relationship with any company whose stock is mentioned in this article.