J.C. Penney (NYSE:JCP) made a surprisingly positive announcement recently, sending the stock price up 3.26% on 5/22. The company reported better than expected margins, and a moderate sales increase. This has prompted an increase in bullish sentiment from some SA investors, and the folks over at Motley Fool. Although this short term boost is welcome to the hangers-on and for those looking to find a turnaround, the long-run trend for this company continues to hold.
First, the Good News
J.C. Penney's statement on 5/15 offers a glimmer of hope to hangers-on and those hoping that this retail giant can make a great turnaround. J.C. Penney touted a major gross margin increase of 230 basis points, from 30.8% to 33.1%. Another good sign in the report is that the operating loss for the quarter narrowed to $247 million which represents a 49.2 % improvement over last year. Unfortunately, this is still a $352 million quarterly net loss for shareholders. What's buried in the financials is the debt that J.C. Penney took on to do this. Liabilities increased from $7.5 billion to $8.5 billion from a year earlier, an immense 14% increase. This represents a 13% increase in financial leverage. The main cause of this is a roughly $2 billion increase in long term debt: not an inspiring sign by any means. J.C. Penney has had a decent short run market performance, but remains even below its market value in the depths of March 2009.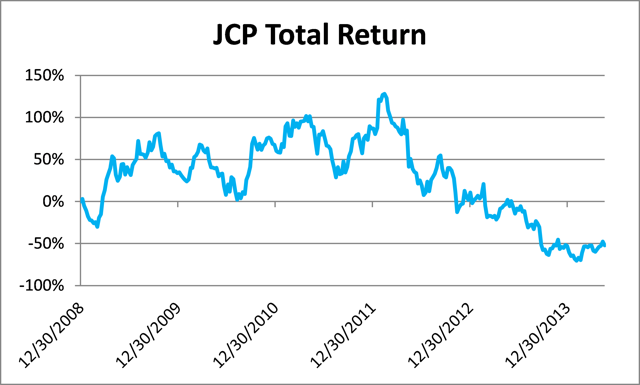 (click to enlarge)
Declining Metrics Across the Board
Since 2006, J.C. Penney has seen declines in every major area of financial performance. Total sales continue to decline, margins continue to fall due to a failure to control costs, and financial leverage is higher than it has been in years. Although the quarterly announcement on 5/15 may have been viewed as positive news by some, it is not enough to signal a bright future for this fading retail chain. The most disturbing metric is that the annual losses during the last two years both amount to over one-third of shareholder equity. If it were not for alarming financial measures, the company would be underwater in terms of assets being less than liability. These long run trends look like a catastrophe in the making. With or without further serious increases in debt or shareholder dilution, J.C. Penney looks like a sinking ship.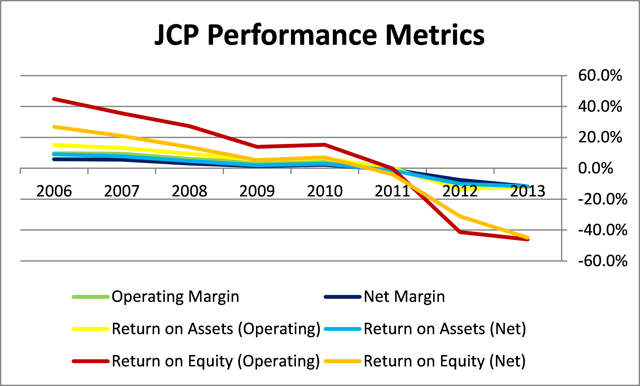 Disclosure: I have no positions in any stocks mentioned, and no plans to initiate any positions within the next 72 hours. I wrote this article myself, and it expresses my own opinions. I am not receiving compensation for it (other than from Seeking Alpha). I have no business relationship with any company whose stock is mentioned in this article.