Twitter (NYSE:TWTR) is increasingly finding itself on the front lines in the battle for public free expression.
In battlegrounds like Turkey, Twitter is pushing back against increasingly serious attempts at censorship and control. This represents a major opportunity for Twitter to champion the democratic values so many Twitter users hold dear.
Like many other tech stocks, TWTR didn't fare as well as hoped in the year's first quarter. However, Twitter's nimble legal department may prove a bright spot in the company's organizational outlook.
Committed Legal Team Headed By Vijaya Gadde
In its legal department, Twitter has assembled a team of passionate and committed legal professionals. Collectively, these bright minds do much to keep Twitter on track through difficult times.
Vijaya Gadde is perhaps the most important attorney now counseling Twitter. Since joining Twitter, Gadde has exemplified the democratic leanings of the modern legal profession at its best. Far removed from any negative stereotype of corporatism, Gadde's performance demonstrates true passion about free speech issues and user protections.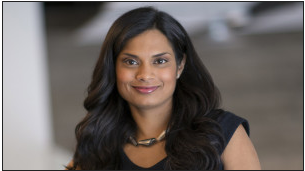 (newsindiatimes.com/twitters-vijaya-gadde.../)
Last August, Gadde was promoted to the status of general counsel in Twitter's legal team. From this position, Gadde is well-placed to take dynamic action in fighting for free speech issues. At a time when the public is losing faith in big corporations, it is crucial for Twitter to prove it has plenty of institutional integrity.
Gadde was Twitter's chief legal officer well before Twitter's historic IPO. Reportedly, Gadde played a very important role in the run-up to the IPO.
Tweets For Investors
As a professional woman in a high-profile position, Gadde adds much-needed diversity to Twitter's organizational chart. While this could prove a boon for TWTR in certain respects, the company still faces deep problems.
Not yet as developed and diverse a company as rival Facebook (NYSE:F), TWTR has struggled significantly in 2014 - partially due to its lockup expiration event and analysts deeming the stock overvalued.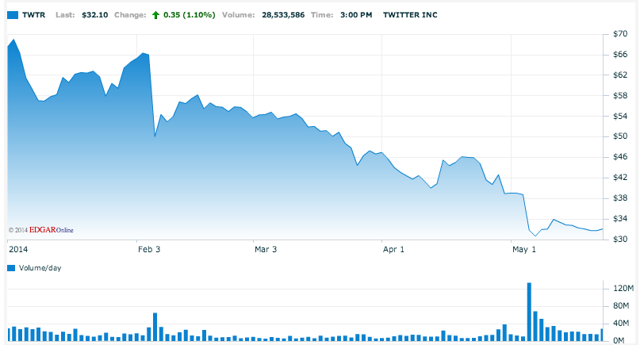 (Nasdaq.com)
Recently, rumors have circulated about potential acquisition of SoundCloud, which could give TWTR an edge in the music industry - although Apple has been trying to corner this market as well.
We recommend investors sell TWTR.
Q2-Q4 in 2014 will be critical in conveying if the company is able to translate its success in the public sphere into profitability for shareholders.
Readers wishing to join the discussion on Twitter should click the +FOLLOW button above the title of this article.
Disclosure: I have no positions in any stocks mentioned, and no plans to initiate any positions within the next 72 hours. I wrote this article myself, and it expresses my own opinions. I am not receiving compensation for it (other than from Seeking Alpha). I have no business relationship with any company whose stock is mentioned in this article.